After wake-up call, Giessen takes D-III crown
by
Rusty Bryan
February 25, 2007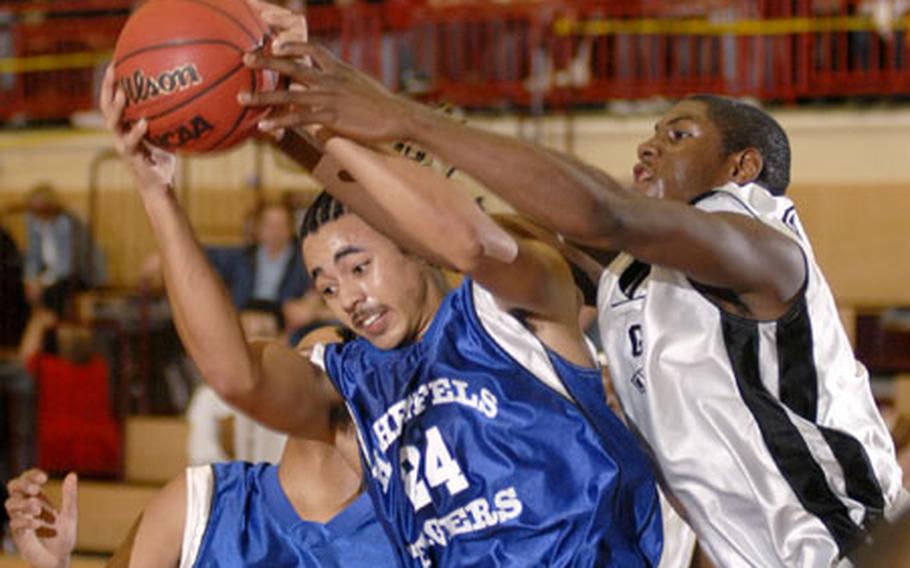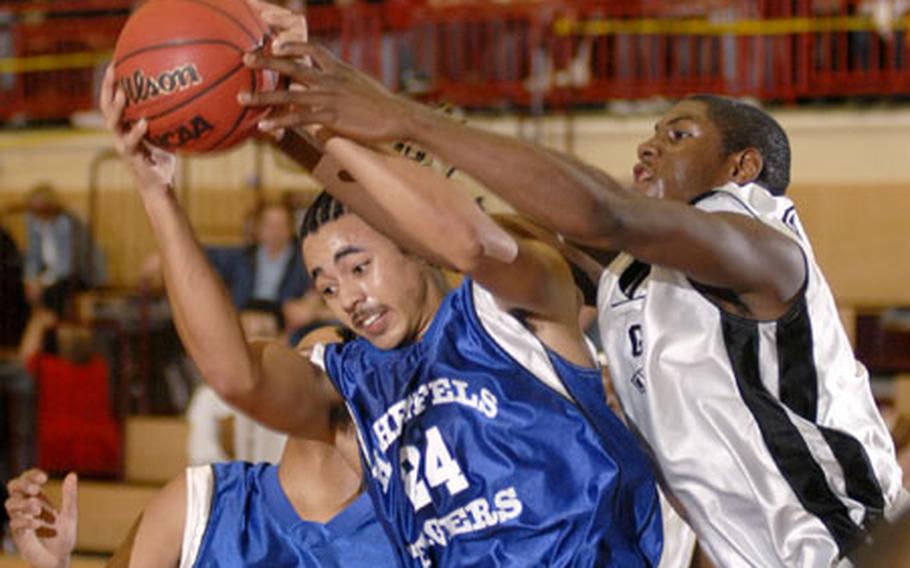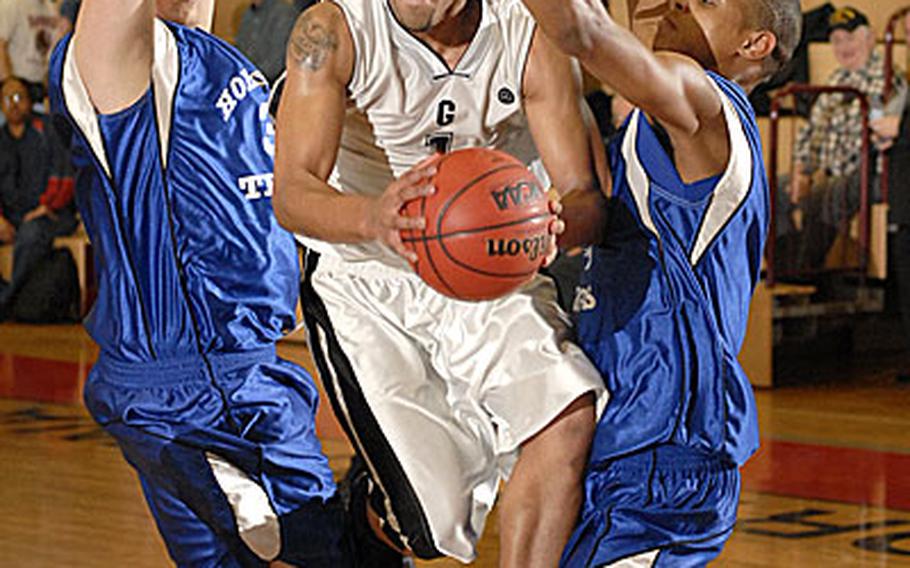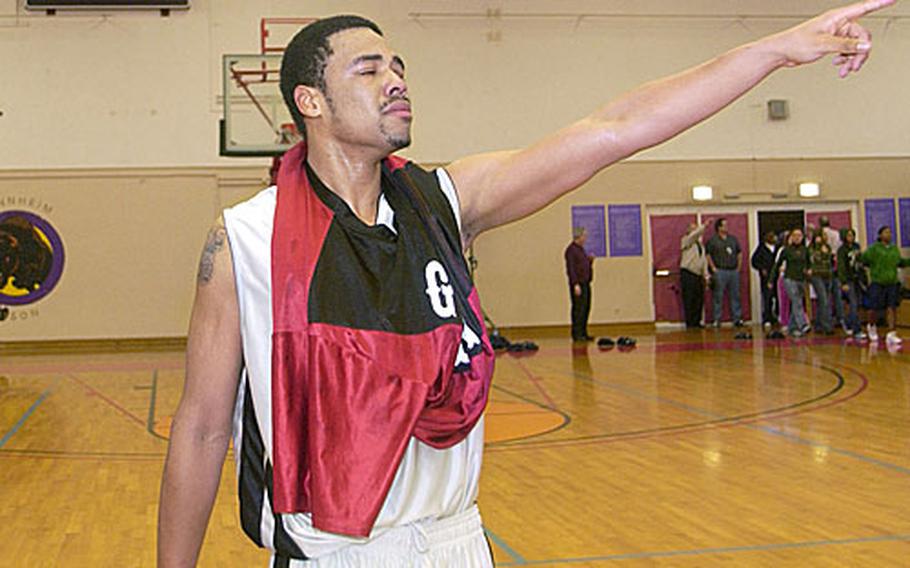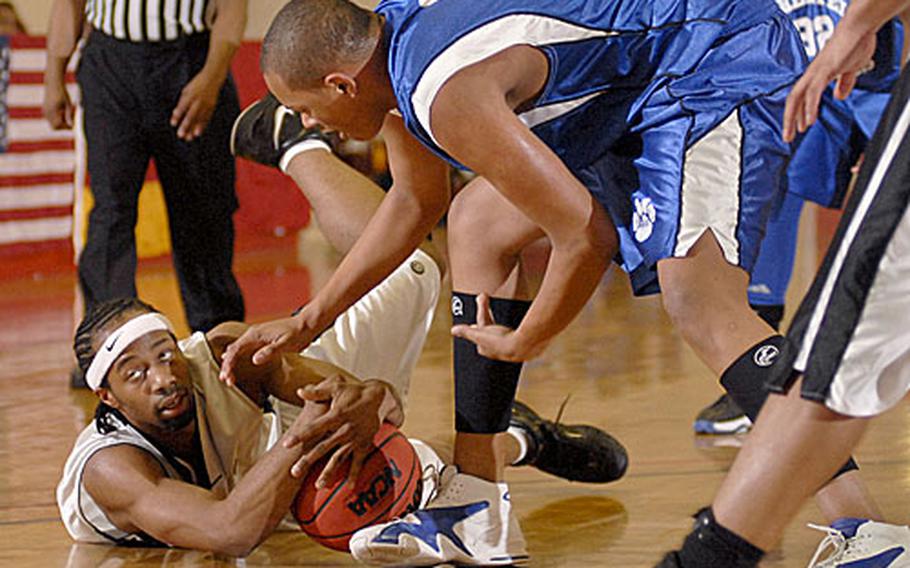 See photo gallery.
MANNHEIM, Germany — The Giessen Griffins played on Saturday as if there were no tomorrow, thumping Hohenfels 77-57 in the European Division III boys championship game behind 24 points from C.J. Battle and 14 each from Rico Rawls and Gary Williams.
Battle, a senior, was playing his last basketball game in a Giessen uniform. So were all his teammates.
The school is scheduled to close its doors forever in June, and the Griffins, who won the Division IV crown last year, wanted to go out in championship style. Two European title plaques in a row fit that bill nicely.
"This is a whole lot better than last year," Battle said. "We had to work a lot harder."
On Thursday, however, going out on top was an iffier proposition than it might have appeared before the tournament began. Hanau, which went 2-12 in the regular season, beat Giessen, which finished the season 18-2, in opening-day pool play.
"That showed us we had to play with a little more intensity," Battle said of Hanau's 47-42 victory.
There was no shortage of intensity Saturday afternoon. Giessen broke a 14-14 first-quarter tie by going on a 17-2 run over the first four minutes of the second quarter. The outburst included three three-point baskets in four tries by Williams, and an active defense that forced seven Hohenfels turnovers.
"As (Ansbach coach) Marcus George said, the Hanau loss was a blessing in disguise. It got us focusing on our goal," said Giessen coach Ron Merriwether, a star player on Giessen's 1994 all-divisions European champions.
Laser-focused, as it turned out. Giessen had to prevail twice on Saturday to claim the crown. In a morning semifinal, the Griffins beat a strong Rota squad, which had romped through pool play 4-0.
Giessen, behind 15 points from Lester Banks and 14 each from Battle and Timothy Fleming, withstood a 31-point outburst by Rota's Jeff Shelton and 17 from Allen Dowden to win 68-61.
Mike Tillberg led Hohenfels, 48-38 victors over Hanau in Saturday's other semifinal, with 18 points in the finale. B.J. Denson added 16, but most of the points from both came after halftime, when the goodbye Griffins, up 40-23, were long gone.
Merriwether indicated his team's success did not come easily.
"The competition is a lot stiffer in Division III," he said. "We did a lot of learning."
And a lot of teaching, according to Battle.
"We did everything we needed to do to win all year," he said. "I give all credit to our coaches."
Giessen 77, Hohenfels 57 Hohenfels......14 9 17 17—57Giessen......14 26 25 12—77Scoring—Hohenfels: Mike Tillberg 18, B.J. Denson 16, Ray Odum 6, Alex LeMasters 4, Anthony Marshall 4, D.J. Davis 4, Kenny Oberlin 2, Marcus Gaddy 2, Reynaldo Marshall 1; Giessen: C.J. Battle 24, Rico Rawls 14, Gary Williams 14, Donald George 10, Timothy Fleming 6, Lester Banks 4, Kyle Burke 3, Marlon Williams 2.
---
---
---
---