After struggling for decades, Taegu wrestling thrives
---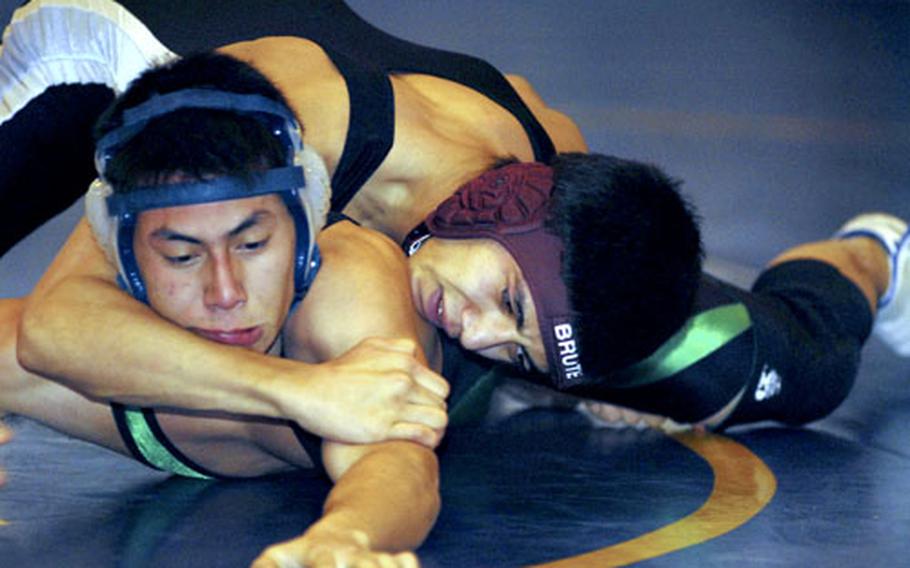 CAMP GEORGE, South Korea — On the radar of Pacific high school wrestling, Taegu American has resembled little more than a tiny blip.
For decades, the school fielded two- or three-wrestler teams. Most years, it lacked a coach with knowledge of the sport. Some years, it lacked a team. Since 2000, the Warriors have won only two Far East tournament bronze medals.
But look at them now.
Twenty-five athletes show up daily for practice; the school fields an almost-full varsity lineup. Coach Bill Riggs is a well-versed, 20-year veteran of DODDS and the sport.
For the first time in school history, Taegu American hosted tri-meets — three of them — with the DODDS-Korea league's other members, Osan and Seoul American. Taegu has beaten Osan three times — the first such dual-meet victories in school history.
South Koreans from the national wrestling federation now officiate at the league's matches; the Daegu Wrestling Federation sent 30 athletes for the Jan. 13 exhibition bouts.
Crowds of 400-plus came to watch; the cheerleaders came to cheer. Concession stands sold everything from burgers to team sweatshirts.
"Wherever I go, everybody's talking about wrestling," said Riggs, 57, who taught and coached for 14 years in Iceland, before coming to Taegu last fall.
Being the architect of a ground-floor program "feels good," he said. "I can build it the way I want to."
"We're more mentally ready," said junior 135-pounder Andrew Davenport. "Last year, I had two or three teammates. This year, we have new recruits who are experienced. … We learn from each other's moves and our coach is experienced."
Said junior 158-pounder Clinton Kim, a transfer from Seoul this season, "We have our first wins, which are definitely something we can build on."
Evelyn Jones, mother of sophomore 141-pounder holdover Greg Jones, said, "There's more spirit; we have a better quality of wrestler; the coach is great; the focus is more on wrestling than playing around."
Riggs' presence marks the first time a faculty member can boast years of coaching experience.
"We're here for the long haul," he said of he and his wife, Joan. "When I dig in, I have a tendency to stay. I went to Keflavik (Iceland) for 3 years and stayed 14 until they kicked me out."
The school there closed in June.
Riggs has recruited wrestlers in school hallways and always keeps his door open for athletes wanting to discuss the sport or just get a bottle of water or fruit.
"With a teacher in school, kids identify with the team," he said. "I'm there checking grades, pulling them in for a study group. Keeping water and fruit in the fridge keeps them away from soda and junk."
Returning wrestlers such as Jones and Davenport, plus four transfers, including Kim from Seoul American, have been instrumental in working with the 7th and 8th graders who wrestle exhibition bouts. "Building the future, that's a key," Riggs said.
Determination, aggression and skill are the three prongs "we live by," he said. "A key is commitment, doing the right things, bonding and working as a unit. … If we have a problem, we lock the locker-room door and the wrestlers work it out themselves."
Having 25 on the team, not four or five, also helps the grapplers "work out better" and gives them confidence going into a dual meet. "There's no more of that 'I'm beaten' mentality," he said.
"Taegu has done a lot to get the program up and running," longtime Seoul American coach Julian Harden said. "…We're growing as a league. Now, we'll see if we can sustain it."
"We can do a lot of things at Far East," Davenport said of the DODDS-Pacific Far East tournament Feb. 15-17 at Yokosuka Naval Base, Japan. "I see us with a couple of finalists. … a couple of champions."
The Warriors lose only one wrestler to graduation, Riggs said. "If we keep going next year, we can fill every weight class. I want it to where when Taegu is coming, they know they have a fight on their hands."
---
---
---
---