AFNORTH senior running back Miller gives Lions his all
by
Rusty Bryan
October 12, 2006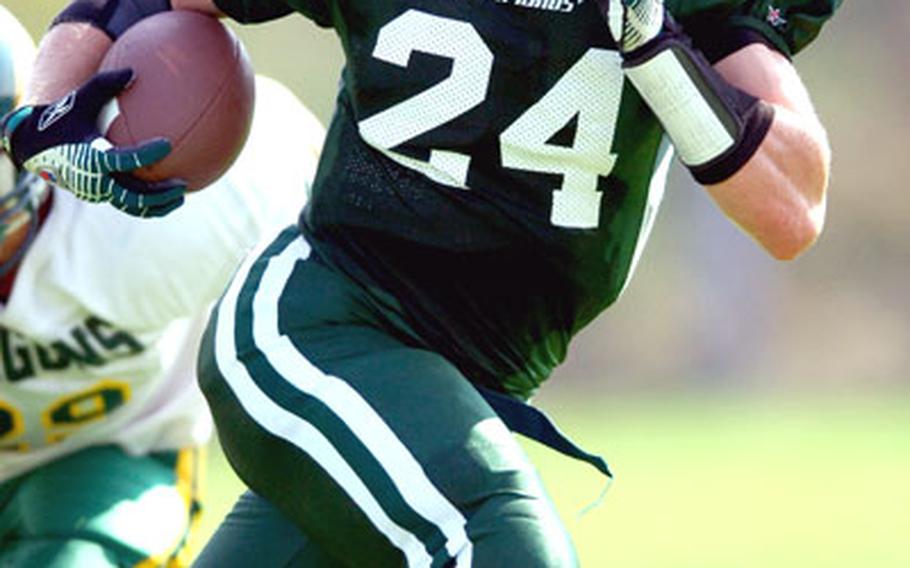 There's a reason why AFNORTH senior running back Sascha Miller is averaging more than 16 yards per carry this season.
Undiluted dedication.
"Sascha Miller has worked his butt off," said Ansbach coach Marcus George, whose Cougars could well find themselves trying to stop Miller in the European Division III playoffs. "He's one of those driven guys."
Miller, who was co-MVP among running backs at the George-run DODDS-Europe football camp in August, has always been determined. But personnel changes at AFNORTH deepened that work ethic, according to his coach, Greg Blankenship.
Miller, who played fullback last year, was told that if he was going to replace All-Europe tailback Jared Waters as the main ball carrier, he'd have to improve his speed and his strength.
His reaction was characteristic.
"He began lifting weights five nights a week," Blankenship said by telephone Thursday, "and working out with Strength Shoes," a sometimes-controversial shoe that eliminates the heel in supporting the body's weight.
"I'm not advocating Strength Shoes, but between the weight training and shoes, he became stronger, faster and quicker than Jared was."
Faster and quicker than Waters is no mean feat. Last season, Waters rushed for a school-record 1,943 yards — with an average of 13.04 a carry — in seven games.
"He passed me the torch," Miller said of Waters in a Sunday phone call. "He wants me to break his record."
That chance probably was lost when Miller, who also plays middle linebacker, had two players roll up on his ankle while he was on defense in AFNORTH's victory over Rota on Sept. 30. Miller is expected to miss the season finale against London Central (1-3) this week and return for the playoffs.
On the field or on the bench, Miller remains dedicated to the Lions' success.
"It's pretty hard sitting on the sidelines, but my overall goal is to lead this team to a championship," he said.
Beyond that, Miller's pointing toward next season.
"I went to a football camp at Ohio State last summer," he said. "There were about 1,400 kids there. It was a good experience."
And a motivational one.
"I didn't stand out," the 5-foot-10, 185-pounder said. "The coaches were looking at size. I know what I have to do. I have to get bigger and faster."
So far, that hasn't been a problem for a worker like Miller.
"In two years, he's grown into a stud," said AFNORTH volunteer assistant Terrance Barbary, who runs a Europe-based recruiting service for DODDS athletes and who watched Miller bench-press 185 pounds 16 times at last May's football combine. "He's one of the strongest athletes in Europe."
Blankenship, who has coached Miller since he arrived at AFNORTH after playing a freshman year in Las Vegas, admires his honor-student tailback for more than his physical prowess.
"He's a wonderful kid in class," said Blankenship, who's teaching Miller computer networking this fall. "He's 100 percent coachable. If we told him we wanted him to play wide receiver, he'd go out there without a word.
"He's a quiet leader. He leads by example. He'll direct the team in the huddle, but he won't yell at them on the field. You don't hear Sascha until he makes the hit."
---
---
---