AFNORTH's Blaesche the tennis player to beat in '03
---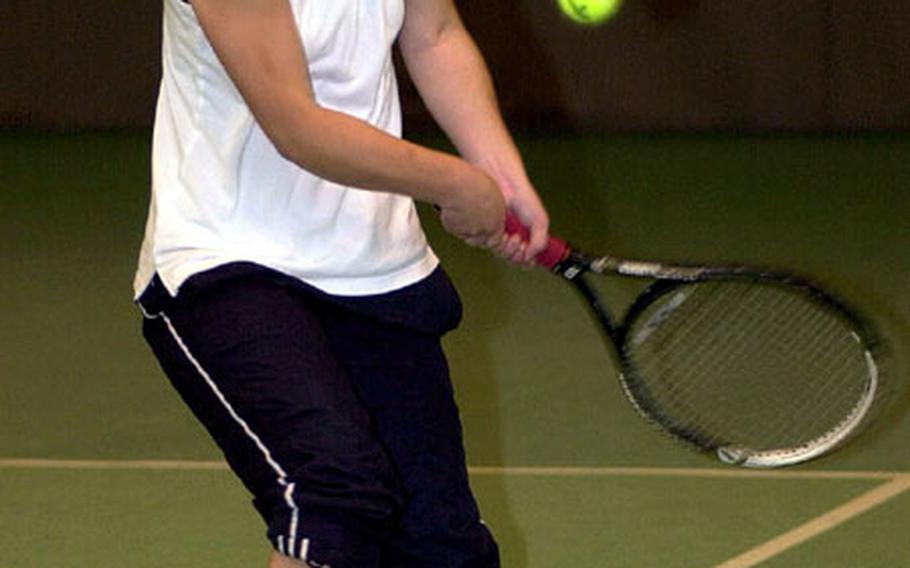 The outlook for high school tennis in Europe for 2003?
Blaesche and more Blaesche.
If ever there was a lock for a championship, it's AFNORTH senior Jessica Blaesche. Barring injury, a decision to turn pro, or the discovery of a birth certificate that says she's older than DODDS-Europe's 19-year age limit, Blaesche's the one for 2003.
As a junior, Blaesche won the 2002 European singles championship, completing an unbeaten season with a 6-1, 6-0 drubbing of Bad Aibling freshman Debbie Jackson.
However, there's undefeated and then there's undefeated.
The game Blaesche dropped to Jackson — with the aid of two double-faults — was the only game Blaesche lost ALL season. She compiled an incredible 132-1 record.
Even more incredibly, Blaesche has a chance to improve on that mark this season.
Since the Jackson family has transferred to the States, there's not a DODDS player left who has even held serve against her or broken her serve.
"She's a great player," said AFNORTH coach Mike Childs, who's coaching tennis for the first time in 35 years. "She has tremendous power."
And DODDS players be warned. Blaesche's younger sister, freshman Julie, reported to the AFNORTH team this season. Like her older sister and her older brother, Ben, third in Europe as a senior last season, Julie has quite a power game.
"She hits the heck out of the ball," Childs said.
With the exception of her sister, Jessica Blaeshe's stiffest competition is expected to come from Ramstein's Cecilia Robles, fourth in Europe in 2002; Hohenfels' Beth Macintire, fifth in Europe last year; and Bitburg's Brittany Garcia and Ashley Weston.
Probably to the envy of the girls, there is no Blaesche in the boys' field this year. Ben graduated after finishing third last season. And since champion Dave Jackson of Bad Aibling also departed, the way is cleared for Jun Koide of International School of Brussels to move up from 2002 runner-up.
Koide lost his title match to Jackson 2-6, 0-6, but he's the only boy who finished in the top 4 last year to return this season. He'll be chased by Jordan Matthews of Bitburg, Javier Boixareu of AFNORTH, Jesse Barlow of Heidelberg and Luis Dawiczyk of Mannheim, all European finalists last year.
Also in the mix are Devon Hayes of Hanau, and Patch's Joe Morrow.
Morrow teamed with Chris Smyser to win last year's doubles crown. Smyser's gone back to the States, but Patch coach Walter Fritz says Morrow has the game to compete for a singles crown.
"He has a good slice serve and hits both ground strokes well," Fritz said. "He has great self-confidence."
Also a European wrestling champion, Morrow has the head and heart to go with his game, said Fritz, who had Morrow working out with Czech and Romanian professionals.
"He focuses so well on what he's being taught," Fritz said.
Morrow will begin to apply what he's learned starting Saturday, when the Panthers host rebuilding Bamberg.
Matches are set for eight other sites Saturday, the first steps leading up to the Division I, II and III championships Oct. 16, 17 and 18, respectively, at the Vitis Tennis Center in Wiesbaden-Nordenstadt.
The European individual championships will close out the season at the same site Oct. 24-25.
---
---
---
---