D-II boys soccer
AFNORTH ends Marymount title run
by
Gregory Broome
May 24, 2018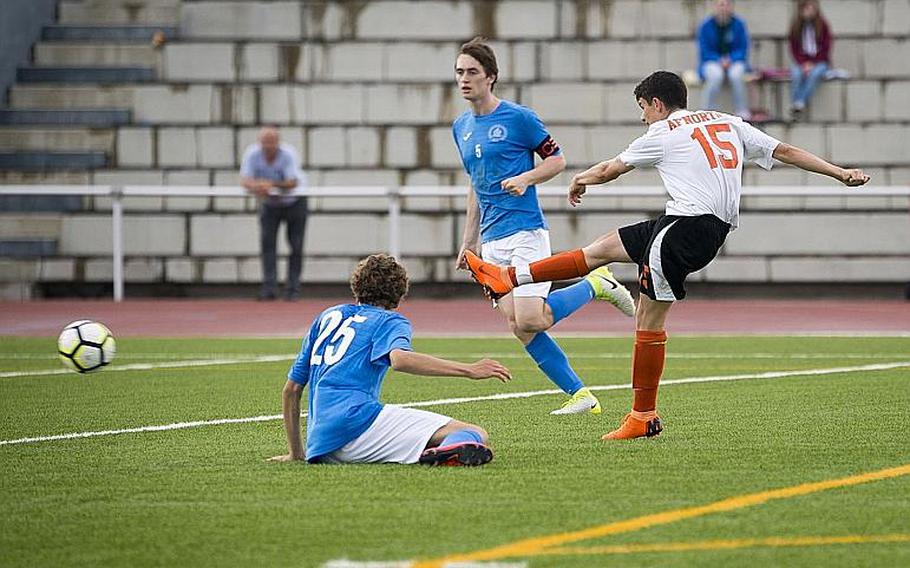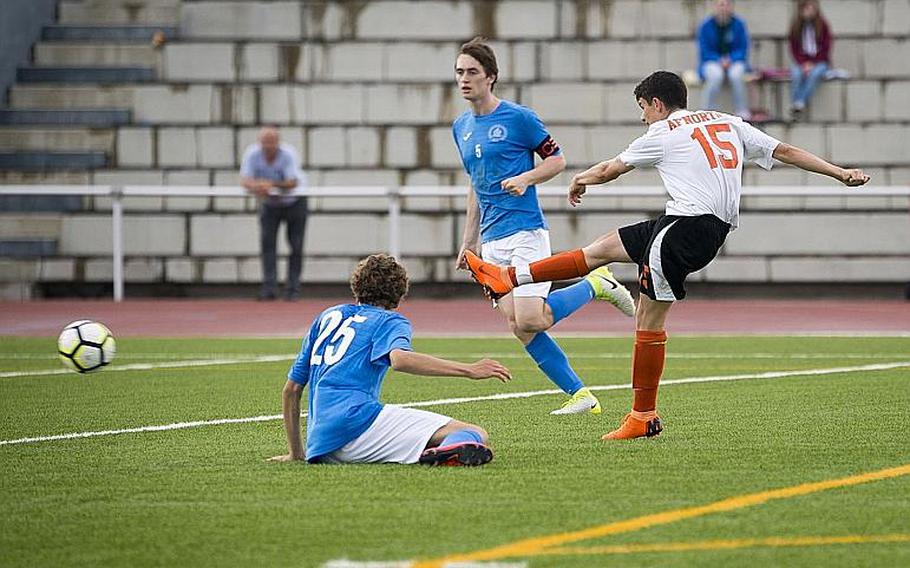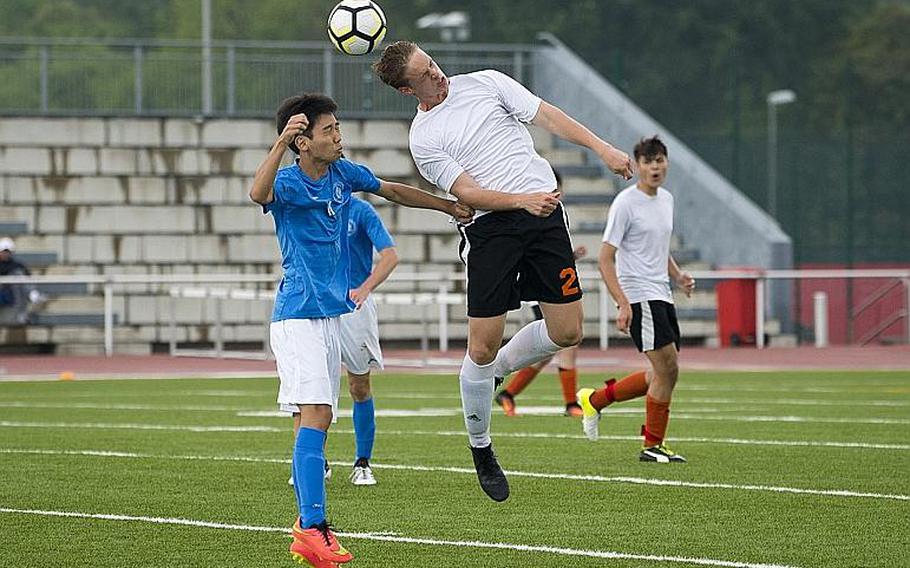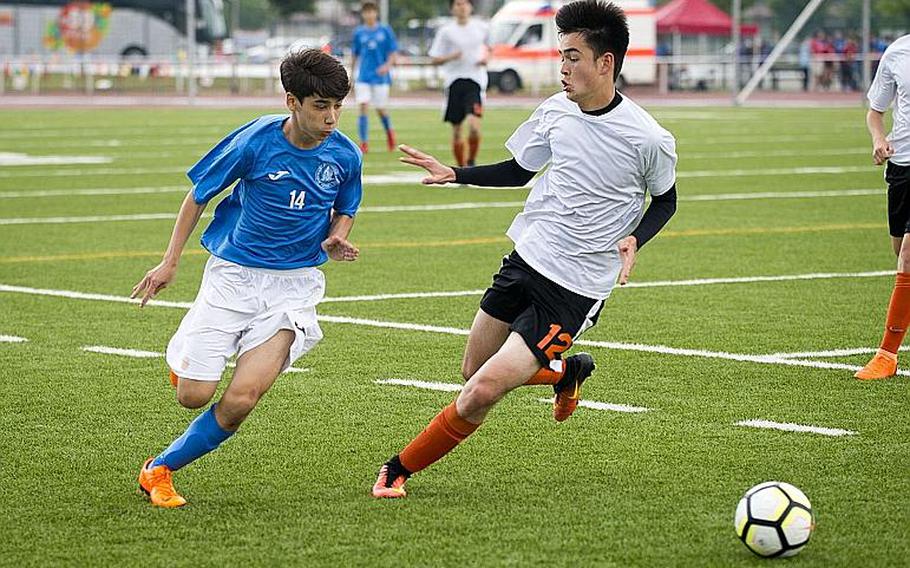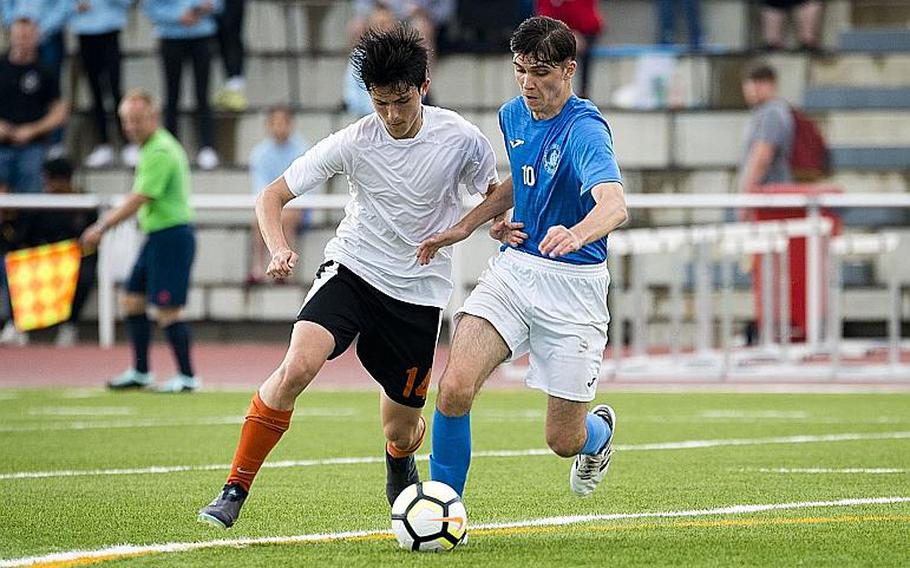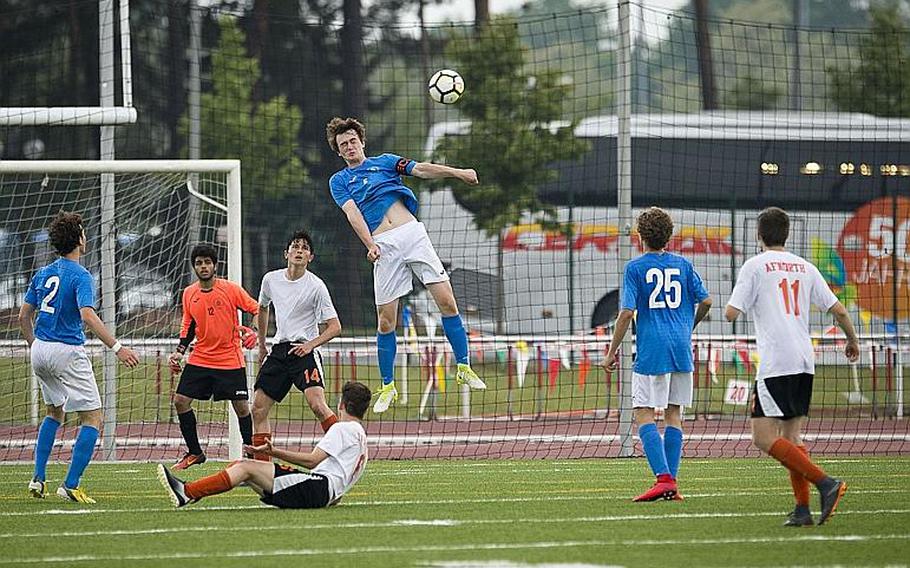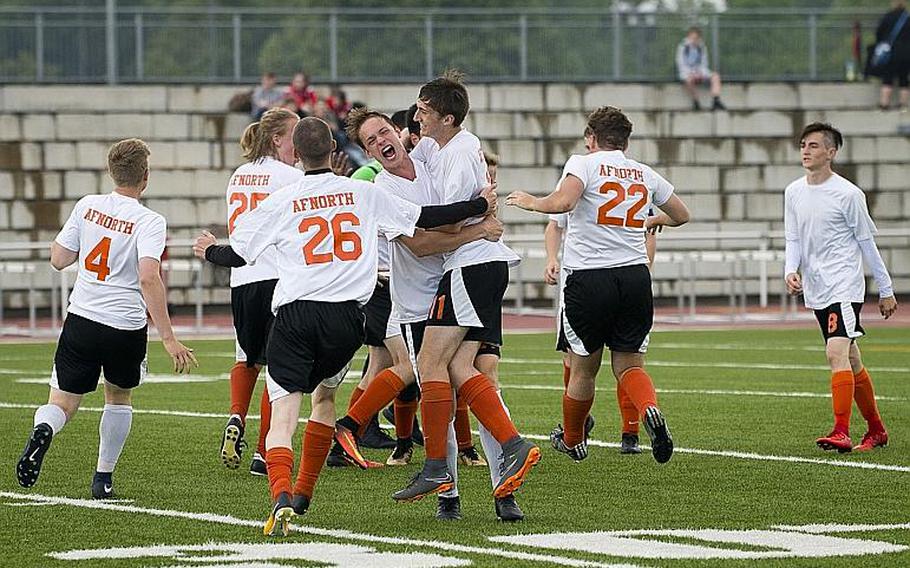 KAISERSLAUTERN, Germany -- The AFNORTH Lions wouldn't be denied again.
Two years after suffering a mercy-rule title-game rout against the Marymount Royals, AFNORTH ended Marymount's title reign Thursday at Kaiserslautern High School with a 2-1 comeback victory to win the 2018 DODEA-Europe Division II boys soccer championship.
The game was delayed by lightning for about two hours midway through the first half, and the duration of the first half was largely uneventful. Marymount scored the game's first goal seven minutes in the second half, but the Lions scored twice in quick succession to reverse their situation.
"We got mad after that goal, and fought back," said AFNORTH's James Barata, the tournament's MVP. "They're really a skilled team technically.
"We worked harder than them."
That hard work manifested both as sturdy defensive stops against Marymount's dangerous offense and a pair of decisive goals to swing the game.
After the Marymount goalkeeper deflected but was unable to corral Barata's short-range attempt, a perfectly placed Laurenz Kohl redirected the rebound into the net for the Lions' first goal. Just four minutes later, midfielder Victor Soriano evaded the Marymount defense with some crafty footwork and deposited what proved to be the winner.
"I got it on my left foot, and I knew I couldn't shoot with my left, so I dribbled and kicked with the right," Soriano said of his title-winning shot. "And it was in."
This Marymount team was not the juggernaut of years past. Among the Royals' valleys this season: a 5-3 loss to archrival American Overseas School of Rome in March, a 3-3 tie with Black Forest Academy in April and an unremarkable preliminary run this week that featured as many ties as wins. But the Royals seemed to be peaking at the right time after Wednesday's 4-2 semifinal defeat of AOSR, and the Lions were poised for a significant challenge.
"We knew that it would be extremely hard," Kohl said. "We had to fight a lot, but we made it."
The title is a worthy payoff for the Lions' wildly successful spring season. AFNORTH earned the tournament's second seed, cruised through its two early games Monday by a combined 8-0 score and won its pool after a 2-2 tie with Marymount on Tuesday. A rugged 3-2 semifinal defeat of Florence on Wednesday gave the Lions their shot at the two-time defending champions.
On Thursday, the Lions capitalized on that opportunity, avenging their 7-0 loss to Marymount in the 2016 European championship match and adding their names to AFNORTH's prestigious sports history.
"I had the seniors who said, 'We would just like to have our name on the wall," AFNORTH coach Greg Blankenship said. "That's what they were really all focused on.
"They just wanted, before they left, to say, 'We were here.'"
Twitter: @broomestripes