DII boys final
Admirals sail past Falcons to claim victory
by
Gregory Broome
February 27, 2016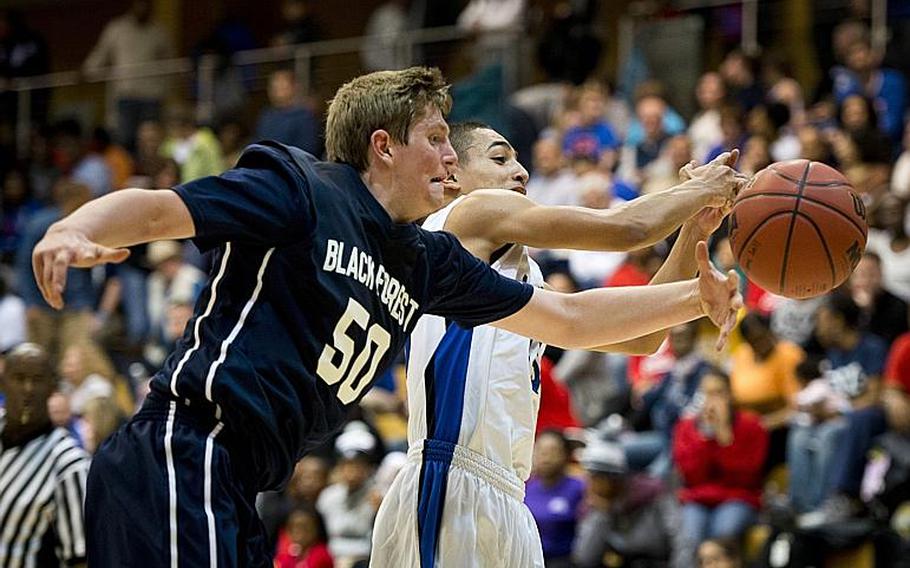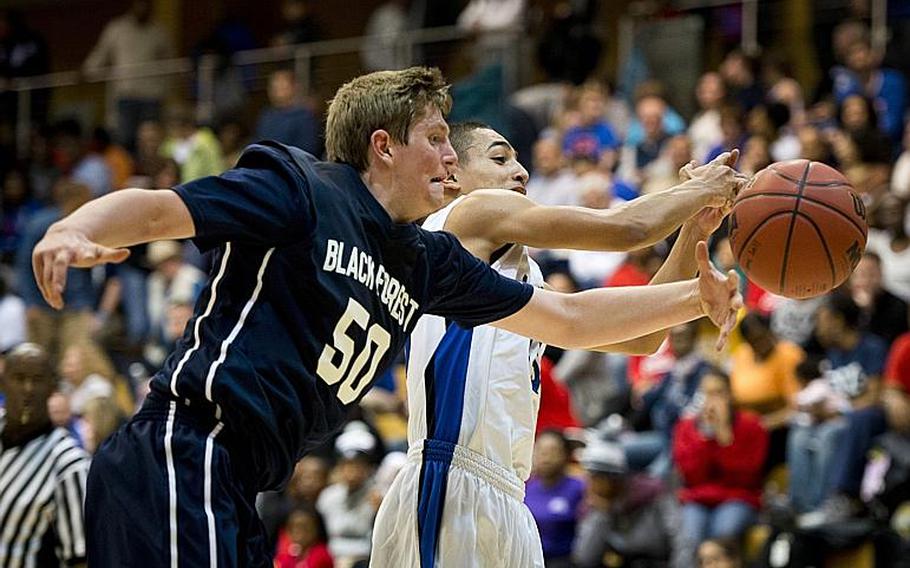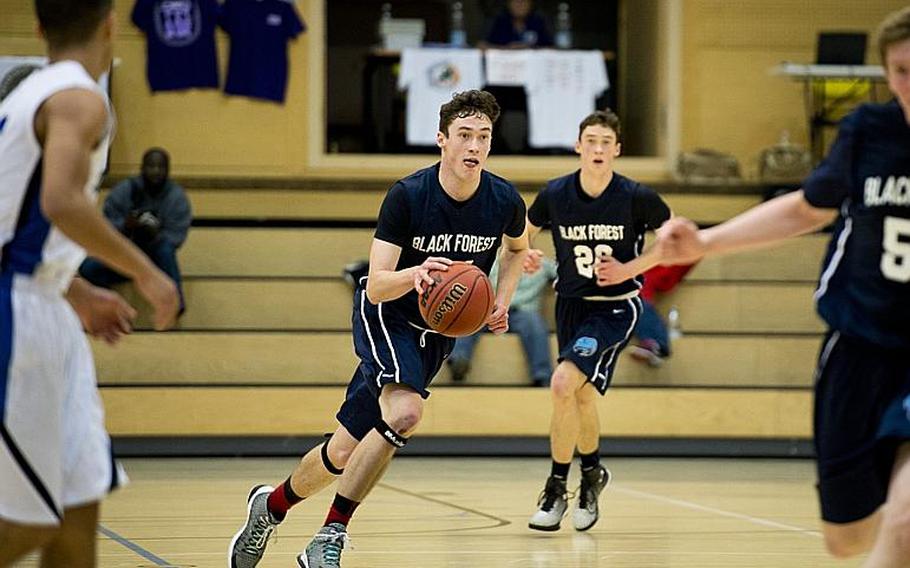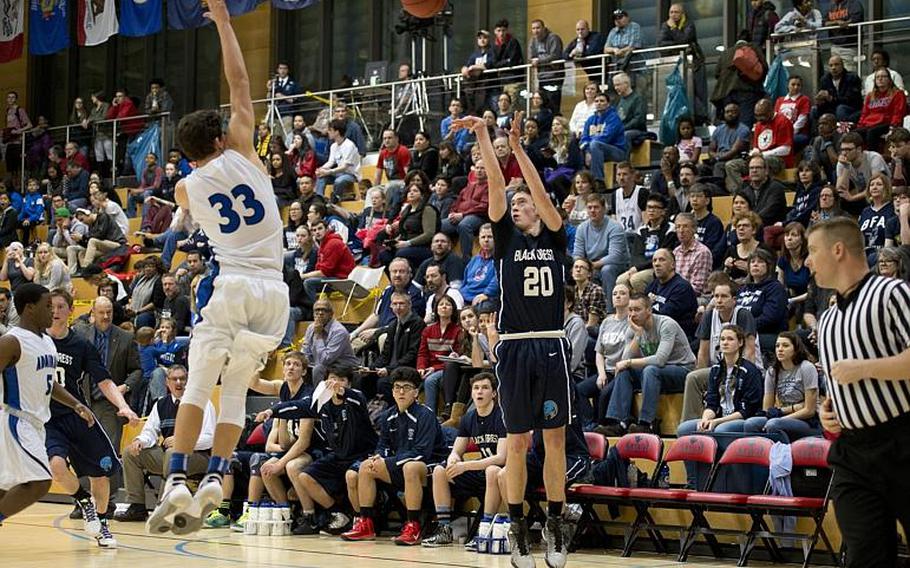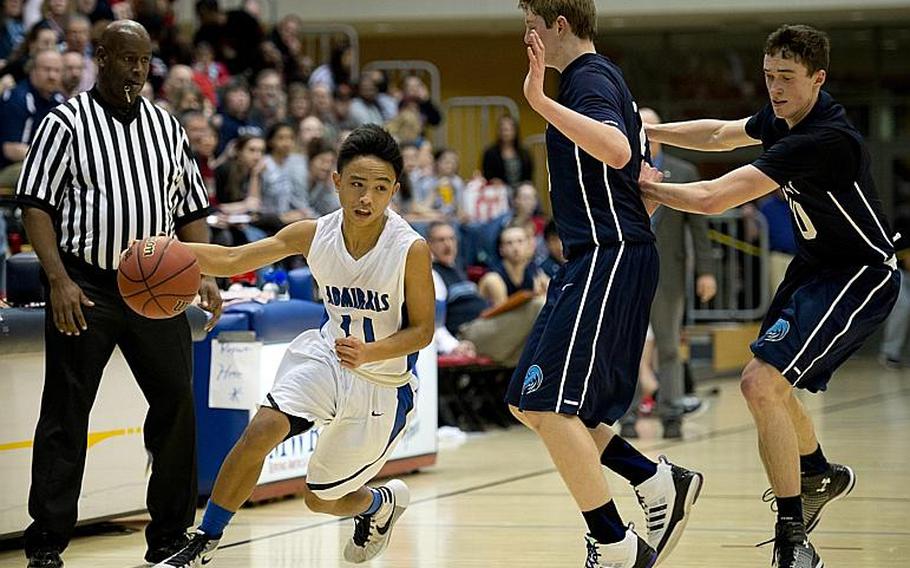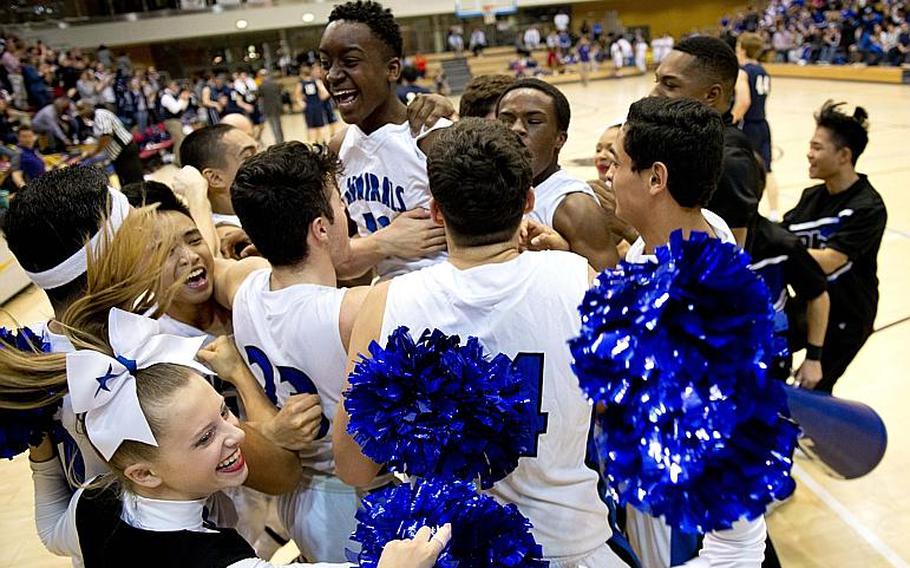 WIESBADEN, Germany – It all happened so fast.
One moment, the No. 1 seed Rota Admirals and No. 2 Black Forest Academy Falcons were entrenched in a well-played, evenly-matched DODDS-Europe Division II boys basketball championship game Saturday.
A moment later, it was all but over.
The Admirals grounded the Falcons with an impossibly fast-moving defense, bombarded BFA with an array of long balls and breakaway layups and captured the 2015-16 Division II European title with a runaway 71-43 victory that was essentially decided at halftime.
"They just played magnificently," BFA coach Chris Greathouse said of the Admirals.
While it quickly gave way to a blowout, the early going of the title game featured a fascinating display of strategy and execution on both ends.
The Falcons frazzled the Admirals in the opening minutes by sending long-armed defenders out to trap Rota's diminutive ballhandlers. It gave BFA a short-lived lead, as a handful of forced turnovers and ensuing fast breaks produced highlights like a spinning layup by Jonah Greathouse and a four-point play by Noah Greathouse. The long-range looks Rota did manufacture went awry.
"They had good length so a half-court trap is a good strategy," Rota coach Ben Anderson said.
But Rota solved the scheme soon enough as its slippery guards found space between BFA's lanky trap defenders and dished to shooters before the Falcons could recover. After the Admirals rendered that initial defense untenable, the Falcons couldn't find a workable alternative, and Rota began to scorch the net.
"Over time, we just figured those shots would start falling," Anderson said.
BFA coach Greathouse feared the same.
"They found the threes from deep," Greathouse said. "And we couldn't stop it."
Then the Admirals applied their own brand of pressure, swiping a series of steals from the flustered Falcons and building a prohibitive lead behind an offensive explosion from Jashaun Garrison. The junior scored all of his 14 points in a scintillating second quarter featuring four made three-pointers. The onslaught left Rota up 44-23 at intermission.
Garrison, who experienced atypical shooting struggles throughout the week, said his performance was motivated by his teammates and the loyal Admiral fans that made the long journey from Spain to show support.
"I just wanted to win for them," Garrison said. "We came all the way down here. I just wanted to do it all for them."
The Falcons continued to battle well into the second half even as the outcome became increasingly apparent, but never gained a foothold for a comeback.
"We fought hard," Chris Greathouse said. "We just couldn't come up with the buckets."
Sophomore D'Angelo Gallardo led the Admirals with 20 points, while senior Luis Fuertes dropped in a pair of first-half three-pointers and 11 fourth-quarter free throws in a strong 19-point showing.
Noah Greathouse scored 18 points and Kaden Proctor added 10 for the Falcons.
Though it didn't seem that way in the heat of the week's battles, the Division II bracket was ultimately filled out in remarkably orderly fashion as Rota, the 2015 European runner-up and top seed, and BFA, the 2015 third-place finisher and No. 2 seed, stepped into the power vacuum created by the departure of AOSR phenom Otis Reale and that program's resulting fall out of contention.
But the path to Saturday's foreseeable finish was often messy. Rota on Thursday took a 36-21 pool-play loss to fourth seed Bahrain, the rising contender that also gave BFA fits in its semifinal. BFA lost its margin for error early in the tournament with a Wednesday loss to seventh-seeded Hohenfels, but staved off elimination with a Thursday win over Marymount and Friday's last-second 52-50 semifinal defeat of Bahrain.
Rota's boys hoops title is its first since 2012, the last of three consecutive crowns it won in the era of superstar Tre'von Owens. BFA, whose girls team won the Division II title just before the boys took the court Saturday, is still in pursuit of its first DODDS-Europe boys hoops championship.
Twitter: @broomestripes
---
---
---