Abernathy helps put Kinnick back on track
by
Dave Ornauer
October 20, 2005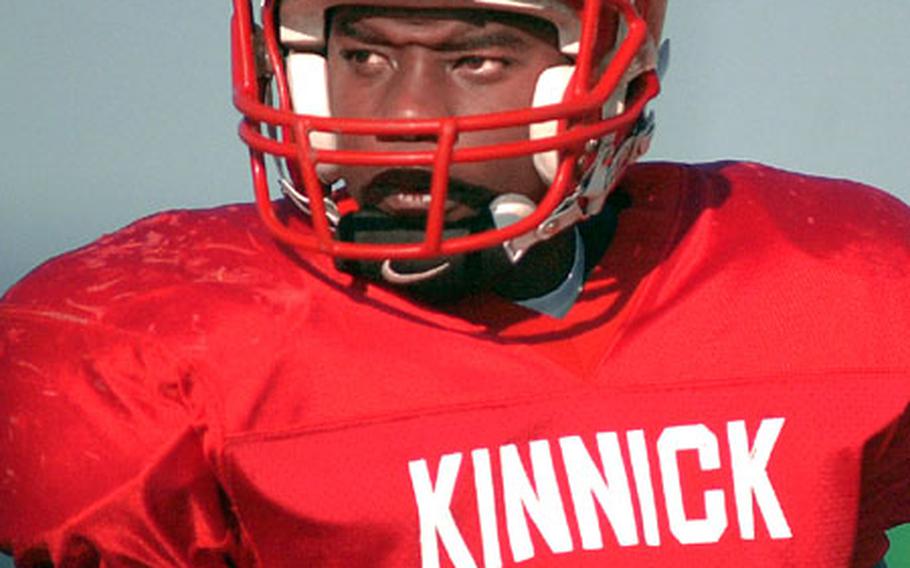 Nile C. Kinnick football coach Bill Schofield had an uneviable task this season.
He was inheriting a team that had lost its entire coaching staff and starting backfield, and was left with a roster of junior varsity promotees and a handful of unproven veterans.
But Schofield knew he had a diamond in the rough. He'd coached the Kinnick JV for four seasons, the past two with promising running back Larynzo Abernathy.
Abernathy, a junior, has racked up 703 yards and six rushing touchdowns on 103 carries. And his team, thought to be in rebuilding mode, has won its past three games to improve to 4-3 overall, 4-1 in the JFL. Kinnick is a half-game behind six-time champion Yokota in chasing a Far East playoff berth.
Schofield called Abernathy "the constant all along. We knew that at spring practice. … He's a well-built kid for his age."
Though relatively small at 5 foot 6 and 158 pounds, "he's hard to reach. He's got great speed, he doesn't go down just with an arm and he never stops his feet."
Abernathy's ability to turn a busted play into a big gainer also impresses Schofield, who said, "even when the line broke down, he could still make the cuts, find an opening and go down the field."
"He's very solid," Edgren coach Jim Burgeson said.
On Oct. 7 at Yokosuka Naval Base, Burgeson watched Abernathy run for 145 yards and three touchdowns on 17 carries. He added a TD reception in Kinnick's 41-8 victory.
Originally from Little Rock, Ark., Abernathy came to Yokosuka three years ago with his parents, Navy Chief Petty Officer John Hughes and Hughes' wife, Rochelle.
On the JV, Abernathy said, he learned and absorbed as much as he could from his varsity counterparts, triple-threat Leonard Lynce, flashy tailback Jarvis Williams and bull-of-a-fullback Adam Krievs.
He said they imparted the importance of training in the weight room, and "staying low, keep my feet moving, always do what I can to the best of my ability."
To compensate for lack of size, Abernathy said, his mentors taught him to "keep my head on a swivel and follow my blockers." He has plenty of those: linemen Correy Baus, Ian Vasquez and Robert Barton, and fullbacks Mike Reilly and Yamato Cibulka.
"They've plowed the road," Schofield said.
"They get the job done," said Abernathy, heaping credit on Cibulka. "He takes me to the promised land every play."
Abernathy's game took off, Schofield said, in the game against Edgren. On Friday, he ran for 137 yards on 25 carries and a TD in a 13-6 victory over a big, physical Zama American team.
"He's capable of doing that every game if he's got the blockers," Schofield said, comparing Abernathy's play to the "shifty, quick, elusive" style of Williams.
The Red Devils' focus has turned to Yokota, which pounded Kinnick 52-0 in September at Yokota Air Base. The Panthers visit Kinnick for homecoming on Oct. 28, with the league title and a possible Far East playoff berth on the line.
"They took us to the woodshed the last time," Abernathy said, adding that he feels Yokota can be beaten. "Nothing's impossible. … We have to execute and play as a team. We have something to prove."