D-II girls soccer
A win under any name is still a win
by
Dan Stoutamire
May 24, 2018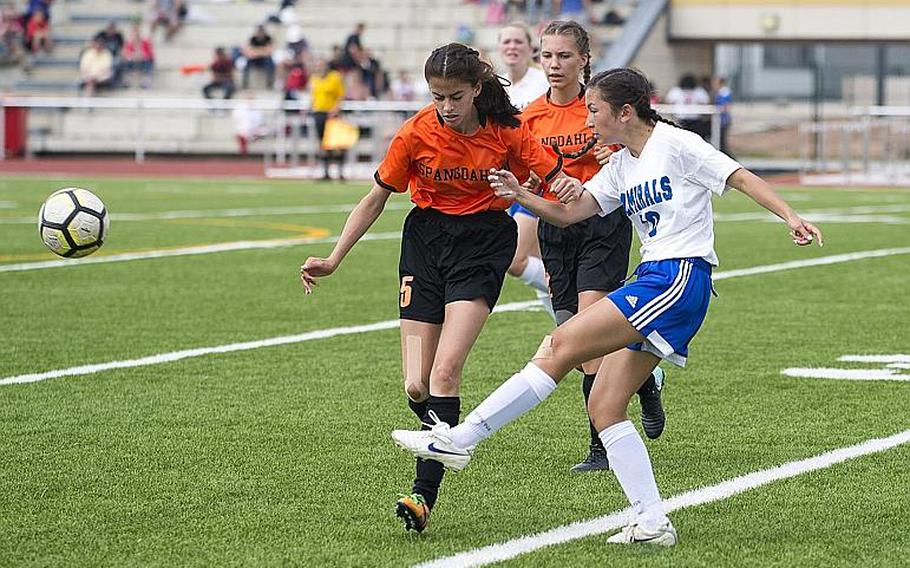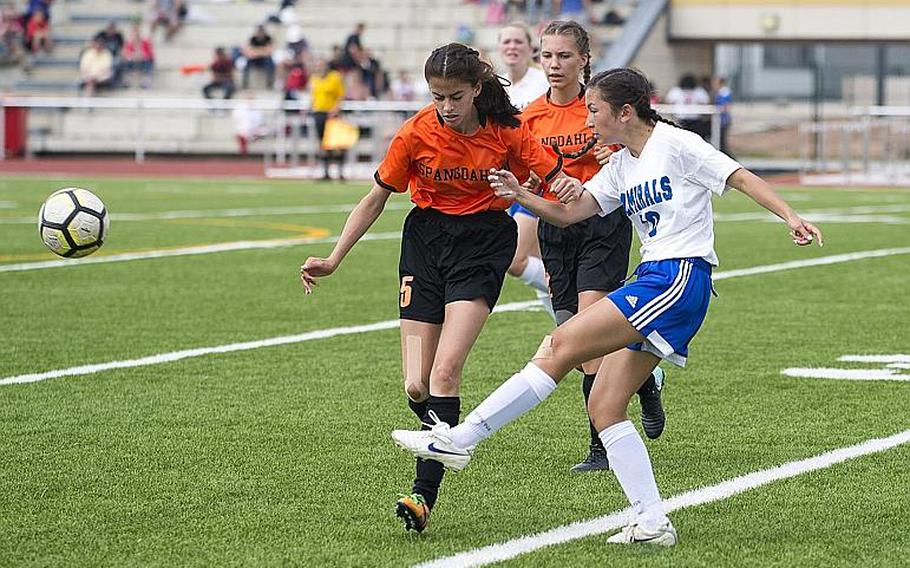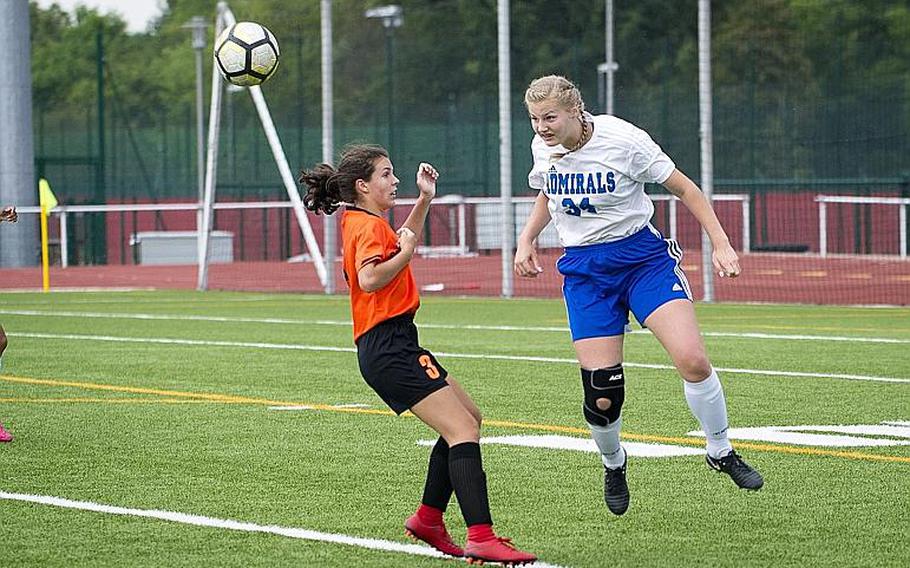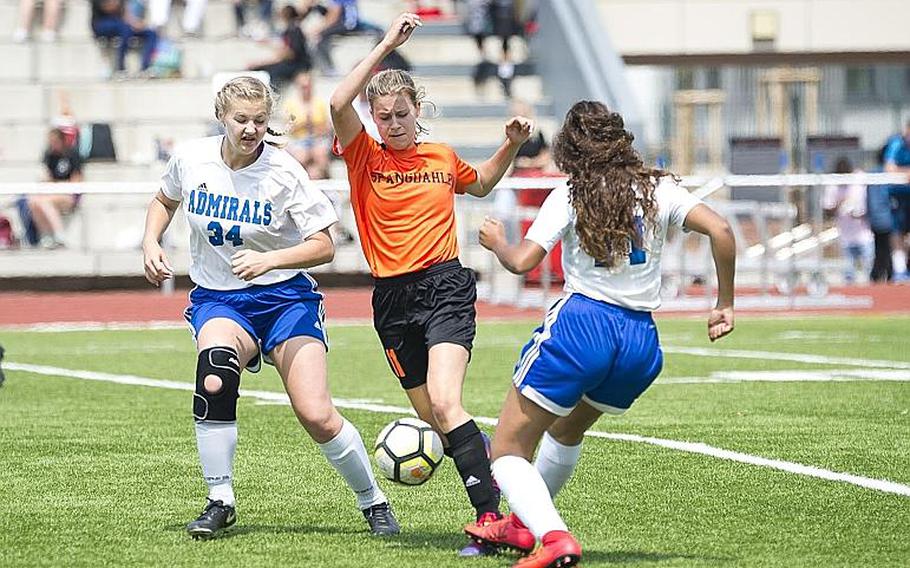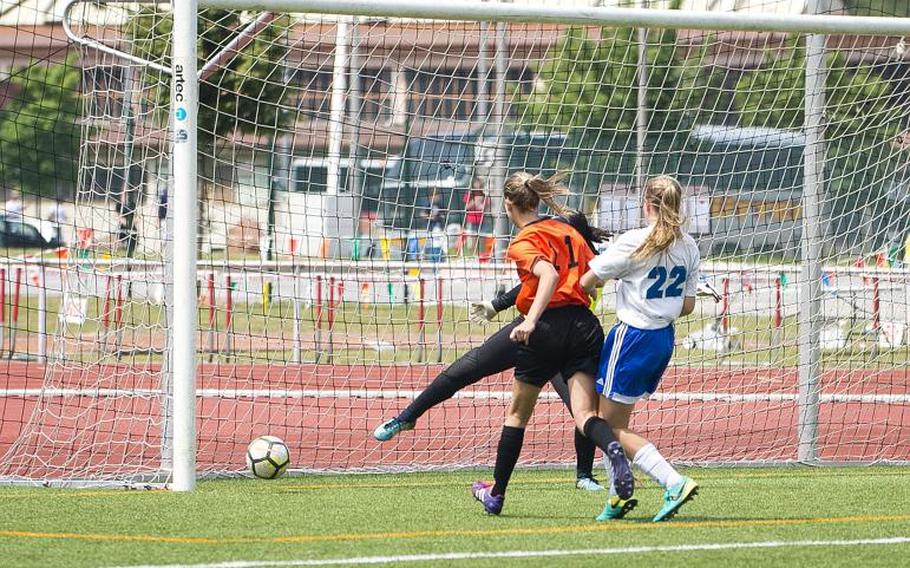 KAISERSLAUTERN, Germany — No matter which name they use – Bitburg, Barons, Spangdahlem or Sentinels – a group of soccer players can rely on one name recently: champions.
Spangdahlem captured the DODEA-Europe Division II girls' soccer title 2-0 Thursday against Rota. The Sentinels also won last year's title in their previous incarnation as the Bitburg Barons before that school was shut down and students moved to nearby Spangdahlem Air Base.
They did it as underdogs this time.
"We started the season with half of a new team, some hadn't played before, but we just started with the basics and stepping up week to week, teaching them new things, new drills, and this is where we ended up," coach Mark Spencer said.
Spencer and company faced top-seeded Rota, which came into the finals a perfect 4-0 during the tournament led by the speedy forward Kendall Salazar and midfielder Emma Hook.
However, despite their narrow 1-0 loss to the Admirals in pool play on Tuesday, the Sentinels came out as the aggressors and pressed the ball deep into Rota's half early on.
Hook went down with an ankle problem that kept her out much of the half. A few minutes after she left, Spangdahlem took advantage. Ava Bohn, who scored the Sentinels' vital semifinal goal against Black Forest Academy, scored from close range after good work by teammates Emma Passig and Keena Teahon.
"I think everyone needs that kind of support on the field, I know they'll always get it to my feet and back to me," Passig said. "It feels so much better than last year – last year we were good from the start, and this year we really grew together."
Rota looked to respond as Hook returned from injury, but struggled to assert itself against the Sentinels, who organized themselves into something like a 4-1-5 formation with senior midfielder Amanda Zubowicz tying things together and the forward line of Passig, Bohn, Teahon, Chloe Smith and Andrea Mercado keeping Rota defenders busy.
Rota did create a great chance late in the second half, as Salazar was fouled chasing a ball from Hook. But Hook missed high on a resulting free kick just outside the box.
Spangdahlem responded by Zubowicz scoring on a vicious free kick that seemed to leave Rota keeper Arielle Reese blind to the ball's movement until it was too late.
Her goal, so late, sealed the win for the Sentinels.
"We didn't know how we were going to do this year and all of a sudden we're champions again, we climbed to the top, and it's still really special," defender Izzy Smith, Chloe's twin sister, said.
It was Rota's first appearance in a title game since 2013, and coach Clarice Brown was full of praise for her charges even after they came just short this year.
"They're just awesome," Brown said. "I get emotional sometimes because I know they've been great – they listen, they came together as a team and one by one collectively helping each other."
Twitter: @DKS_Stripes