A strong transition game
by
Rusty Bryan
January 14, 2010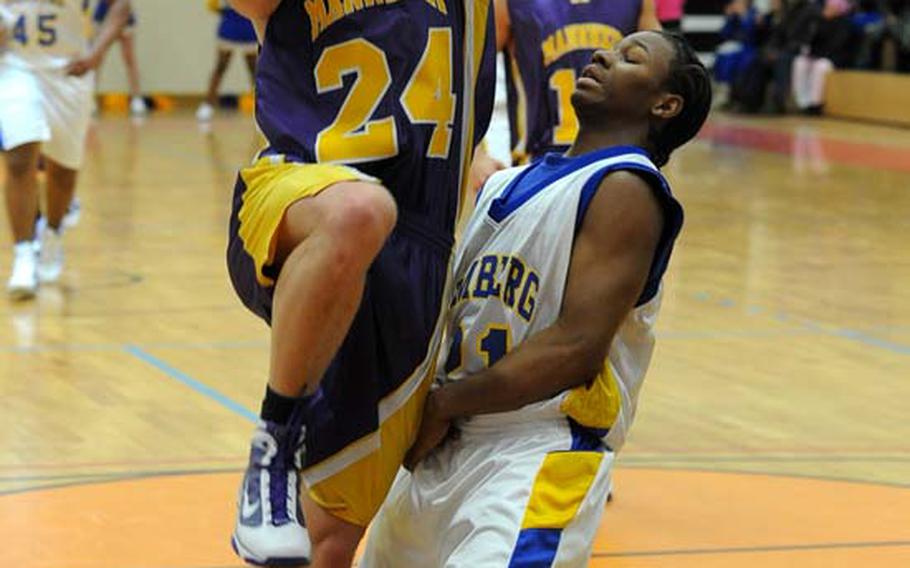 MANNHEIM, Germany - Memo to coaches hoping to rattle Mannheim senior shooting guard Kenny Conlan off his game: Forget about it.
This guy can cope with just about anything and has the track record to prove it.
"For most of my life I went to a Belgian basketball school," Conlan, 18, said after a recent practice. "We had 10 hours of basketball a week. It was very intense."
And successful.
"I was on a great team in Liège," he said. "I got used to winning."
Last year, though, Conlan moved from Liège to attend SHAPE high school, where the game changed along with the campus culture and language of instruction. Conlan responded by averaging 26 points per game for SHAPE and settling into a new lifestyle, apparently without difficulty.
"I liked SHAPE," Conlan said. "I was adjusting to a new language and it helped to do it at a school like SHAPE, where there are lots of other international students."
He added that the changes on the floor weren't all that great, but they did require a bit of focus.
"I was used to pushing four-by-10 minutes (quarters)," he said, "not four-by-eight minutes. Belgian ball also was a bit faster, and there were foul problems when I went to SHAPE. They don't let you push as much as they do in international play."
When Conlan's father, Dave, took a job in Mannheim last summer, Conlan merely accelerated his rate of adjustment to the all-American culture, even trying his hand at football. He also switched from his front-line position at SHAPE to the backcourt.
With ease, Mannheim coach David Brown said. "His athletic ability is off the charts," Brown said. "He can run all day. He has great hand-eye coordination and has great anticipation about what's going to happen on the court."
Conlan is averaging around 15 points and four steals per game this season.
"He dominates stealing the ball under the basket," Brown said.
Conlan plans to continue in American basketball when he graduates this spring.
"I've been accepted by the University of Dubuque," he said. "I'll be playing (NCAA) Division III next year."
For now, though, Conlan has been slowed recently by an ankle injury that limited him to just 10 minutes of play in the Bison's two games last weekend. For Conlan, the injury merely was something else to deal with.
"I was pretty disappointed," he said about getting hurt, "but you just have to keep going."
Conlan's also disappointed in the Bison's 0-6 start, although he finds solace in the quality of the teams Mannheim's played so far.
"All the teams we've played have 6-4, 6-5 guys," Conlan said. "We've had a hard schedule, but I like playing these types of games."
The quality of the opposition has forced the Bison to zone more than Conlan would like, however.
"I like to play aggressive, really competitive defense against my man," he said. "It leads to transition points. That's how you win games."
And Conlan expects to win, especially when hobbled teammate Jake Sheppard returns to the lineup.
"We'll get there," Conlan said. "It's just a matter of time."
Time runs out Feb. 27 in the European Division II championship game on Conlan's home floor, but Conlan's not fazed by the time schedule, either.
"Playing all these good teams (Kaiserslautern of D-I, D-II contender Bamberg) just makes us better," Conlan said before supplementing his practice session with some extra work at the post gym. "It's all about championships. That's all that counts for me."