2010-11 Europe girls basketball
A star-studded competition for this year's championships
by
Rusty Bryan
December 17, 2010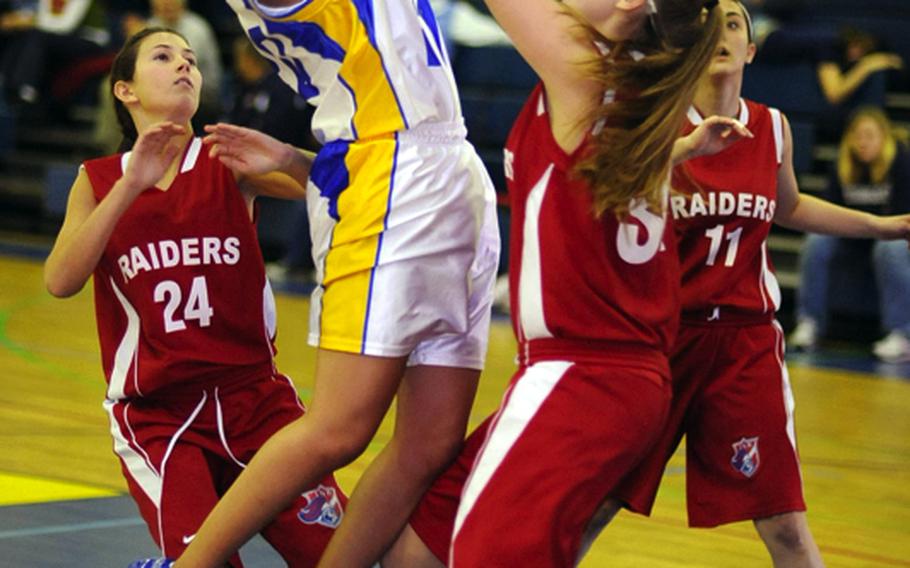 The outcome of the girls high school basketball season in Europe could very well be in the stars.
Going into the winter break, the teams suiting up returning standouts — Division I champion Wiesbaden, for example — are doing just fine.
Teams that lost key players, on the other hand, have found the new season as chilly as this month's Central European weather. For proof, look no farther than defending D-II champion Bamberg, which graduated top scorer, rebounder and shot-blocker Racquel Davis. In the one game weather permitted the Lady Barons to play, they were trounced 53-12 by visiting Mannheim.
Division III champ Brussels also graduated an All-Europe pivot, DODDS-Europe's female athlete of the year Kathleen Anderson. Without her, the Lady Brigands find themselves 3-2 at the break. While one of those defeats was to International School of Brussels of D-I, the other was a 10-point loss at home to Menwith Hill, the team Brussels beat in last season's title game.
Of course, it's early. The sample's small, and new stars have already begun emerging — freshman scoring aces Gina Rhett of SHAPE and Tenia Strobridge of Sigonella notable among them. Even so, a case can be made that it's the stars who'll determine who walks away as champions from the European finals on Feb. 26 in Mannheim.
Division I: The division's unbeatens — Wiesbaden, Kaiserslautern and International School of Brussels — buttress the star-power theory.
Wiesbaden (3-0), led by All-Europe sisters LeAmber and LeAndra Thomas, has yet to be challenged in victories over SHAPE and Baumholder by an average margin of more than 29 points.
Kaiserslautern, which returns All-Europe guard Cariema Wood, is 2-0. Both wins came against D-I schools, although the Lady Raiders' chance to test themselves against Lakenheath and All-Europe guard Shainica Speight was lost to the weather.
While the International School of Brussels (3-0) returns no All-Europeans, it has strong candidates for this year's all-star teams in All-Europe volleyball star Natalie Fostar, Ivonne Marin (20 points/game) and feisty point guard Melissa Pressler.
Kaiserslautern coach Corey Sullivan analyzed the D-I race in a recent e-mail that pointed up the threats posed by star power, both established and emerging:
"Wiesbaden is right on track where they left off, with Taylor Dore stepping up for the graduated Ashley Smith," he wrote. "I also thought Rebecca Luna and Heidelberg are much improved from last year. Janelle Loney and Bianca Lopez anchor a very scary Patch team. Loney can just flat-out score."
Division II: Departed stars gutted last season's champs and runners-up. Bamberg lost Davis, and No. 2 Ansbach said goodbye to Gabby Wells (16 ppg). The changes haven't been kind to either team so far — Bamberg is 0-1, and Ansbach split two games at Black Forest Academy.
The balance in D-II probably has shifted to Italy, where unbeaten Aviano, behind All-European Jasmine Mailoto, and the American Overseas School of Rome, led by Martina Mannozzi (27 ppg), figure to settle the Region IV title at Aviano on Jan. 14-15, then continue their battle at Europeans. Don't rule out 3-1 Milan, however.
AFNORTH (2-2), behind All-European Brenda Broadwater, is in the mix, as is BFA (2-1) and Vicenza (2-2).
Division III: Defending champ Brussels rebounded from its loss to Menwith Hill with a one-point victory over the Lady Mustangs the following day, and neither team can be ruled out for an eventual title. Both will have a chance to test themselves at Alconbury on Jan. 28-29, where they'll meet perennial D-III contender Rota.
Sigonella started strongly behind Strobridge, but stumbled last weekend at Milan. The Lady Jaguars, while benefiting from a season playing teams mainly from D-II, won't get a chance to try their hands against Brussels, Menwith Hill and Rota. They, along with the two Turkey-based teams — Ankara and Incirlik — and Lajes from the Azores, will arrive at the season-ending tournament untried against their rivals from northern Europe and Spain.
According to Kaiserslautern's Sullivan, however, every team will have to refocus before the season resumes on Jan. 7-8.
"The layoff always hurts my team," Sullivan wrote. "When our game with Lakenheath was canceled, our girls immediately let down in practice. A month is a long time not to play."