A few still have shots to join D-I football elite
By
Gregory Broome broome.gregory@stripes.com
October 15, 2015
---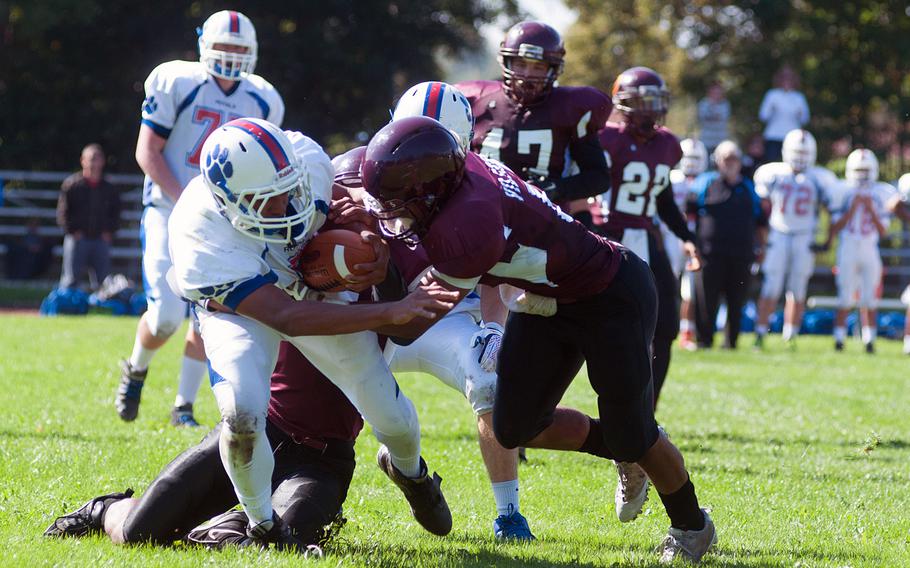 If one is willing to disregard all the drama, upstart teams and momentum swings marking this eventful DODDS-Europe Division I football season and look squarely at the raw standings, it would appear that not much has changed.
Counting only the Division I games that count towards playoff seeding, the defending champion Ramstein Royals are 3-0. The Wiesbaden Warriors, who won the 2013 title and faced Ramstein in last year's title game, are tied with Stuttgart for second place at 2-1. Another title-game clash between the two established powers is not out of the question.
But context, in this case, is everything. And while one of the two might win the 2015 championship, neither yet has grown fully into championship form.
Both have failed to beat rising Vilseck: Ramstein tied the Falcons in a non-divisional opener, while Wiesbaden took a damaging loss to them last weekend. Ramstein hasn't blown anyone out this fall, winning its three games by an average of 13 points. Wiesbaden's fabled offense has slipped, scoring just 19 points in its two losses.
If one of the two Division I juggernauts is to reestablish dominance, it can do so this weekend, at the other's expense.
Meanwhile, there's a roster of hungry competitors lurking deeper in the standings.
Nearly every Division I football team has enjoyed its moment of glory this fall, from Vilseck's upset of Wiesbaden to Lakenheath's two long-sought wins to Stuttgart's all-around renaissance. But there's one notable exception: Kaiserslautern. With just two weekends left in the regular season, could this Saturday hold that moment for Kaiserslautern?
Despite their status among DODDS-Europe's largest schools, the Raiders have struggled this season with low turnout for football, a problem compounded by a rash of injuries. Combined with some significant losses from last year's playoff team, it's been enough to return the Raiders to the Division I cellar.
Kaiserslautern has talent, even if it's spread too thin. But the Raiders' opportunities are running out quickly.
While Division I approaches the postseason, the 12-team Division II ranks will be arranged into eight playoff spots as of Saturday, the last day of their regular season. Half the field is set, as undefeated Bitburg, Ansbach, and Rota have already locked in home quarterfinal games and Hohenfels has clinched its spot.
International School of Brussels and SHAPE will play Friday night, though both have good odds of reaching the postseason regardless of the outcome. Aviano has a direct path to the postseason, needing only to record a home-field victory over winless and eliminated Naples on Saturday. AFNORTH/Brussels and Alconbury also play each other Saturday, with the winner potentially in line for a playoff berth, while Vicenza can disrupt the bracket with an upset at Hohenfels.
The reward for those teams that scratch their way into the postseason's lower rungs is a road trip and a date with a heavily favored Division II powerhouse. But as this unpredictable football season has proven, sometimes all a team needs is a chance.
Twitter: @broomestripes
---
---
---
---