3rd MLG repeats in Marine soccer tourney
by
Cindy Fisher
December 14, 2008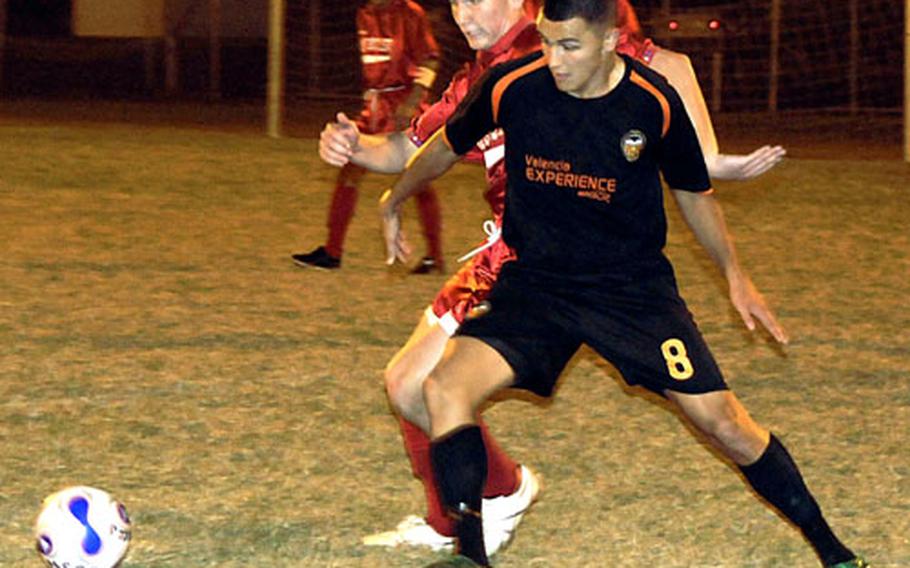 CAMP FOSTER, Okinawa — After years of suffering disappointments in title matches, 3rd Marine Logistics Group finds itself two-time champion of the Marine Corps Far East Regional Soccer Tournament.
Two-time MVP Victor Aguayo scored twice on Friday, including the winner with 21 minutes left, and 3rd MLG conquered Marine Corps Base Camp S.D. Butler 4-2 at Foster Field 1.
"[It] feels awesome," said coach Nicholas Peters of a 3rd MLG team that had been together only since last Saturday, but featured plenty of veteran blood in Aguayo, Milton Espinoza, Alexis Valencia and goalkeeper Austin Gagner.
"I feel blessed to have the players that we've had. This belongs to them. It's their energy, their determination and their never-quit attitude that got us here."
Third MLG beat Base 5-1 last Dec. 14, a match in which 3rd MLG ended what was seemingly a title-match jinx – it had lost on the big stage four previous times in this decade.
Early on, it seemed as if Base might turn the tables. Mike Muller scored twice early in the first half to produce a 2-0 lead. Valencia and Aguayo answered to tie the contest 2-2 at intermission.
Aguayo put 3rd MLG ahead to stay 24 minutes into the second half with his tournament-high 14th goal, and Adam Rivera sealed it with three minutes left.
Several Base players, most notably all-tournament midfielder Youssouf Ouattara, were taken off the field, severely weakening Base's depth.
A five-day tournament is hard on the body, Base coach Michael Hanson said. "We took too many injuries. … When you lose starters like that … it hurts."
Aguayo was selected along with 3rd MLG teammates Gagner, Rivera and Jose Pena, Base's Gabriel Jaramillo and 1st Marine Aircraft Wing's Erik Campos to attend next month's All-Marine tryout camp at Marine Corps Air Station New River, N.C.
They'll vie for spots on the All-Marine team slated to compete in the All-Armed Forces Soccer Tournament Feb. 1-8 at Dyess Air Force Base, Texas.
Stars and Stripes correspondent Dave Ornauer contributed to this report.