3rd Force, Base get off to strong starts
by
Dave Ornauer
July 9, 2003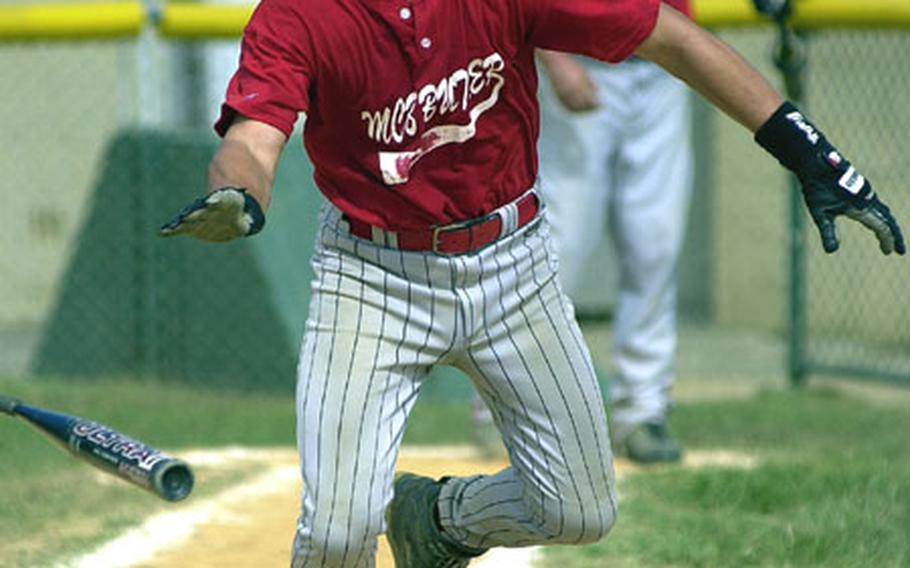 CAMP FOSTER, Okinawa — The memory of 3rd Force Service Support Group's last two Marine Forces Pacific Regional Softball Tournament performances still sears in coach Benji Hammond's mind.
It was bad enough losing a two-game final in 2001 after going unbeaten all week. But last year, 3rd Force stumbled to a 1-5 round-robin mark, then was eliminated four games into the regional playoffs.
"We're trying to get the monkey off our backs, undo history and redeem ourselves," Hammond said Monday after 3rd Force opened the 2003 regionals with two victories.
Led by slugger Tim Callahan, 3rd Force topped U.S. Naval Hospital Camp Lester 12-6, then rallied past 3rd Marine Division/Expeditionary Force 14-7. Callahan went 4-for-7 with two homers, a triple and six RBIs on the day, and Lee Burkett was 5-for-7 with four RBIs.
"Tim's on fire," Hammond said of Callahan, a shortstop who played for last year's champion, Marine Corps Base Camp Buter. "He's automatic. He's playing with ambition."
Going into the tournament, much of the talk revolved around 3rd Force, which in addition to Callahan boasts former All-Marine outfielder Gary Chaney. Some observers called 3rd Force the team to beat.
Hammond dismissed such speculation, noting that only one game Monday ended in a double-digit victory, Base's 13-1 victory over 1st Marine Aircraft Wing.
"It won't be easy," he said. "The talent is spread out very well. All the teams are good. I know we appear to be the team to beat. We have a good ballclub, but we aren't hitting on all cylinders yet. And everybody else is stepping up their game when they play us."
Likewise, Base entered the week with a bull's-eye on its back, having won this tournament twice in the past three years.
Returning All-Marine shortstop Joe Sutter went 5-for-5 on the day with a homer, a double, a sacrifice fly and three RBIs to boost Base to two victories, 13-1 over 1st Marine Aircraft Wing and 18-13 over Hospital.
Coach Jamie Newberry said his squad is taking nothing for granted, certainly not after trailing 5-0 before rallying past a Hospital team that hasn't won a game in this tournament in 10 years.
Led by former All-Navy and All-Marine first baseman Mel Harris, Hospital scored 19 runs in its two Monday losses after getting just 35 in eight games a year ago. Shortstop Will Myers finished the day 6-for-7 with a double, triple, sacrifice fly, two homers and eight RBIs.
"They have a good quality team," Newberry said of the corpsmen. "They don't roll over. It speaks well of them."
Newberry agreed with Hammond's assessment that the 2003 Marine regional title is anybody's for the taking.
"Everybody out here has brought an even team," Newberry said. "There's no real powerhouse out here."
"It will be an interesting week," Hammond said.
Round-robin play continues through Wednesday evening, followed by the double-elimination playoffs starting Thursday. The championship is at 8 p.m. Friday.
As well as battling for Pacific team bragging rights, players on the seven regional squads are vying for six invitations to the All-Marine tryout camp later this month at Cherry Point Air Station, N.C.
The All-Marine team will then play in the All-Armed Forces championship Aug. 18-23 at Eglin Air Force Base, Fla.