396 DODDS-Europe football players getting ready for season at camp
---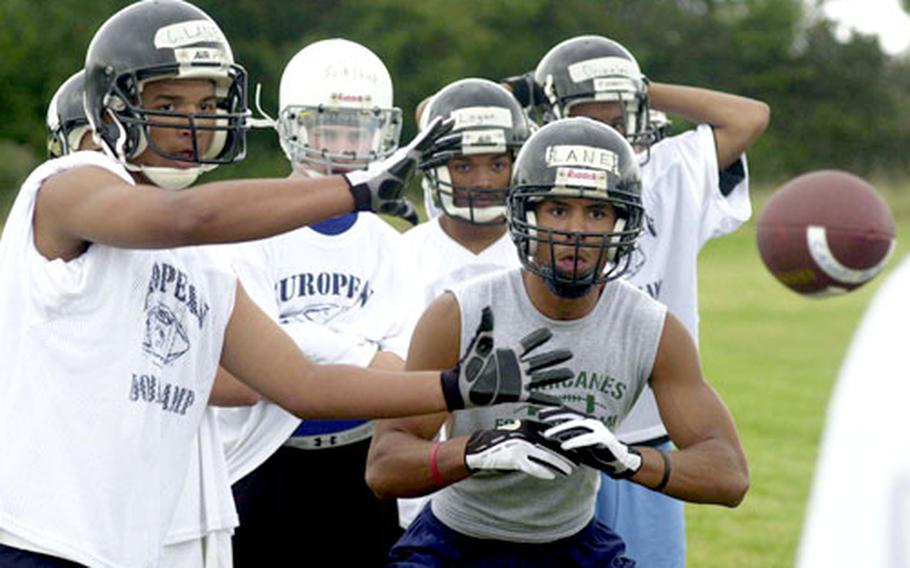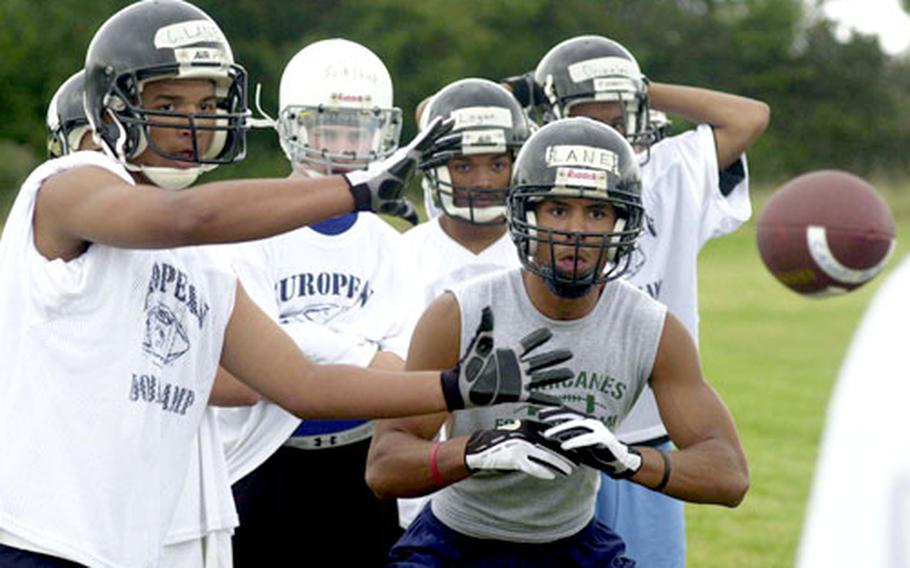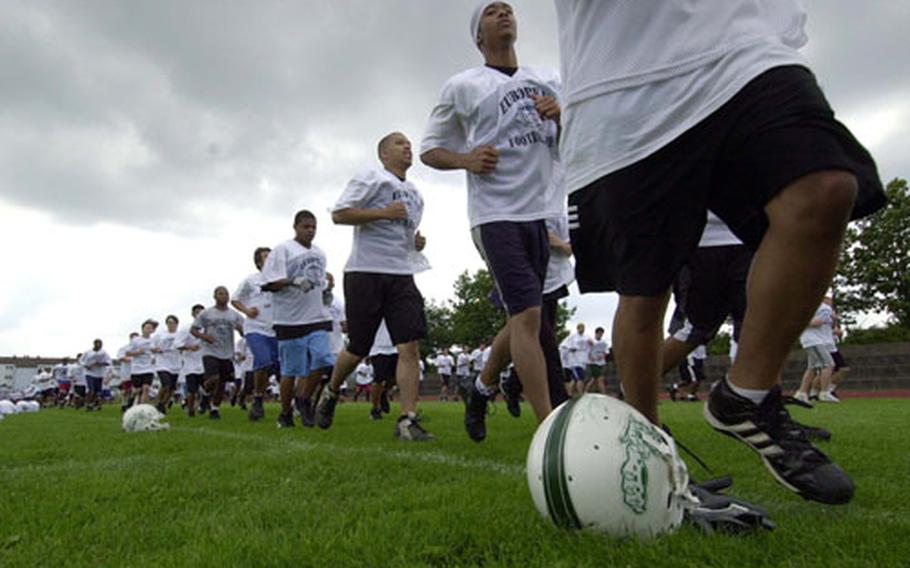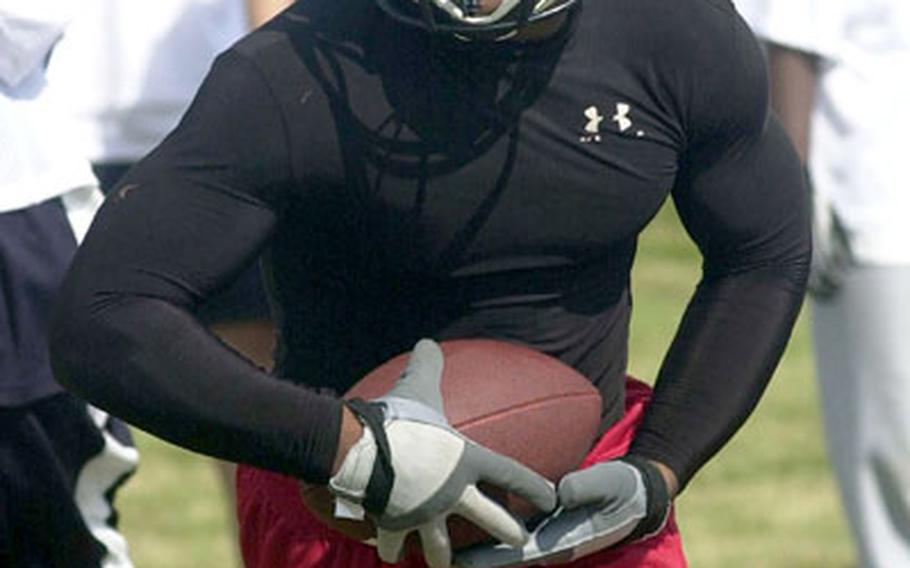 ANSBACH, Germany — There's something about suiting up for football season.
It's the popping of the pads, the primal growls to get psyched up and the pain of getting into football shape under the August sun.
"When you're running, there's this fire in your legs," said freshman Gregg Eaker, who will play for Kaiserslautern. "You don't want to think about it. You want to push through it. You want to finish the job."
There are a lot of moving parts on a football field. When players move well together, teams win, as was preached this week at the 2005 European Football Camp, where 396 players from Department of Defense Dependents Schools came to strap on the shoulder pads, snap on their chin straps and get dirty.
"Throwing on the run," said Ramstein quarterback Aaron Jones, when asked what he'd learned about his new position. "I thought it'd be easier but the footwork has to be perfect."
There were breakout groups for each position. Receivers were taught to look for the ball after making a cut so it hit them in the hands and not the nose. Running backs were prompted to lock up the ball after a handoff.
Experienced players such as Stuttgart junior running back Daniel Kennedy used the camp to eye the other guys.
"I'm seeing how the competition is, and seeing if I'm up to par with it," Kennedy said. "I want to work harder than the person next to me."
Attendance was the second-largest since the camp started in 1987, according to Ansbach head coach Marcus George, the camp director. Forty-one coaches also attended. Twenty of the 28 schools that play DODDS football were represented.
Pride and execution were on the agenda, George said, as was camaraderie.
"It builds sportsmanship between the schools because we build a lot of relationships out here," George said.
For the players, the camp was non-contact. But they did plenty of choppin' and poppin' — a drill called pop-ups where chopping steps were followed by chest-first bounces to the ground and back up again ... 25 times in a row.
The linemen and linebackers banged into tacking dummies and blocking sleds. Flung pigskins pounded into the hands and fingers of pass-catchers. Feet and ankles absorbed the shock of hopping drills, sprints and pass patterns.
Since there also are a lot of moving parts on football players, some experienced their first rolled ankles and pulled hamstrings of the season, as well as their first first-aid.
"It's fun and it's different," said Sgt. Robert Dorris, a medic with the 45th Air Ambulance Company, who usually plies his trade for wounded troops from the inside of an aircraft instead of under a shady tent.
"Each teenager is pretty motivated," Dorris said. "It was the first practice for some of them. I haven't done clinical care in a while, and sports injuries is a fascinating field."
Soldiers from 2nd Battalion, 1st Aviation Regiment also chipped in to help provide water and other needs.
Eaker, the K-town freshman, is small for a defensive end but not scared. He was among the linemen being trained to keep their butts low, backs straight and chins up.
"I wanna get out there and start hitting people," he said, echoing the battle cry of gridirons everywhere. "I'm confident once I get out there on the field I'll be able to keep [the bigger linemen] off me."
There was even a group for those kinder, gentler players — the kickers — who were taught to boot the ball and not scoop it.
"You can feel it," said Naples' Tyler White, when a ball is kicked correctly.
But White, who went 1-for-1 on field goals (a 37-yarder) last season and 27-for-29 on extra points, also feels an occasional jab of his more rough-and-tumble teammates.
"The whole team gives me a hard time," said White, a soccer player by training. "They say I don't do anything during practice.
"Then I remind them who scored the winning goal against Aviano."
The winning goal?
"I mean point," he said.
Kickers.
---
---
---
---