31st straight victory puts Ansbach in D-II title game
---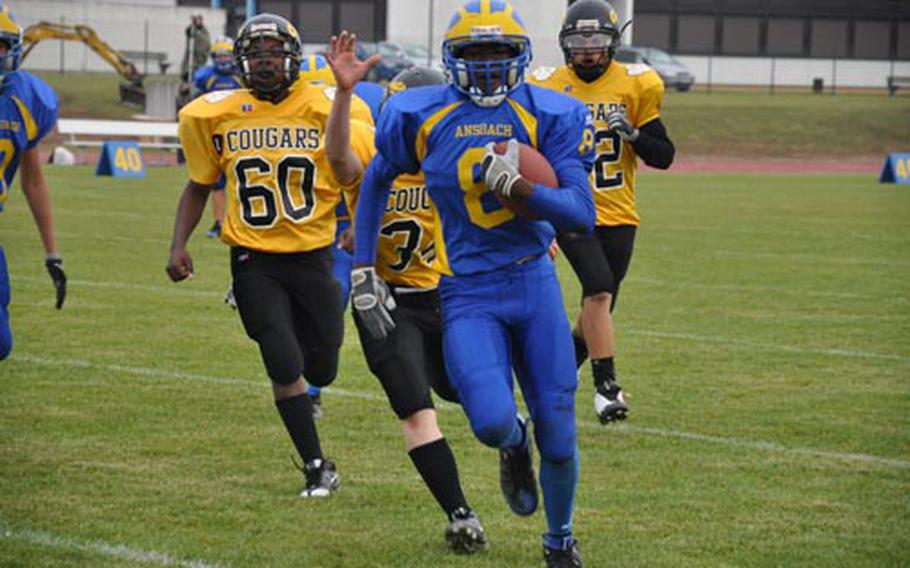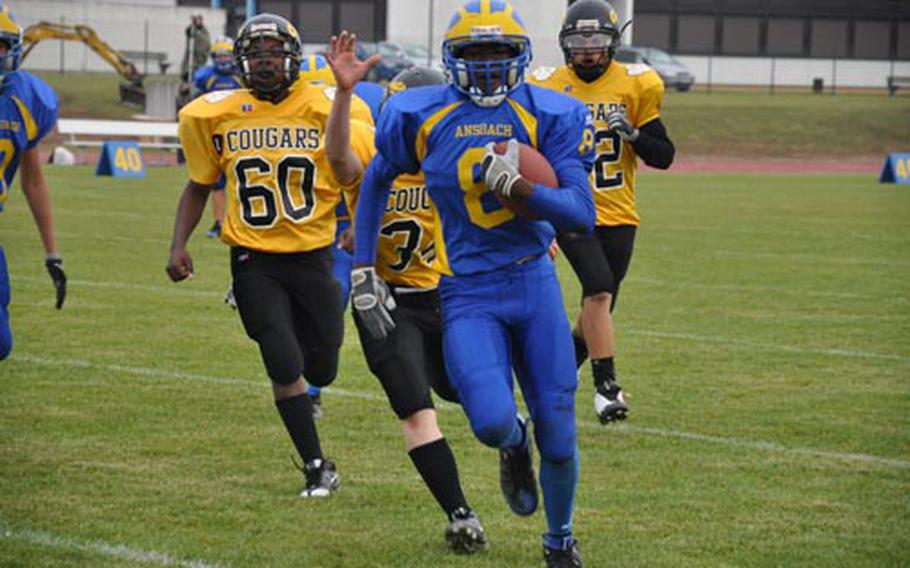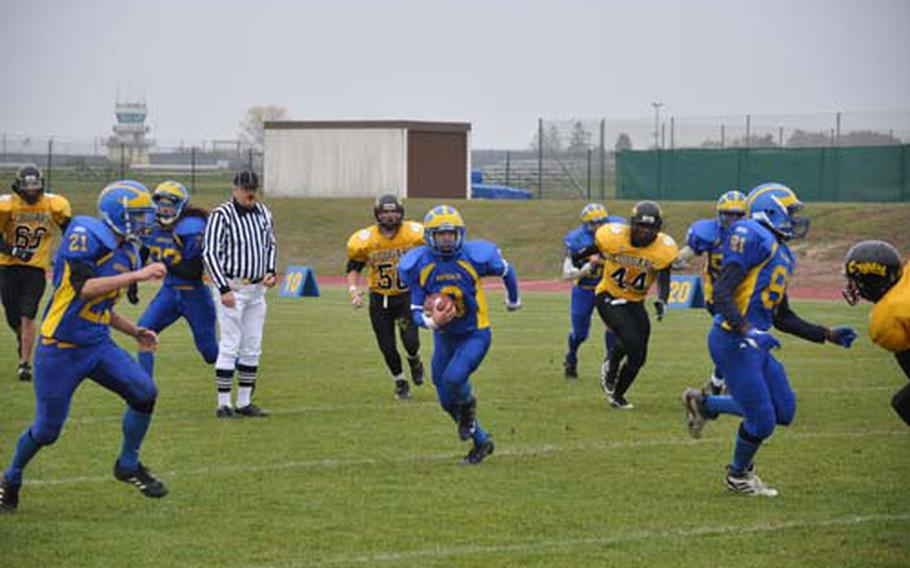 ANSBACH, Germany — The Ansbach Cougars, in pursuit of their fourth straight DODDS-Europe football title, did not miss a beat as they won their 31st straight game and claimed a spot in next weekend's Division II final by beating Vicenza 54-12 Saturday.
With several Ansbach players out sick, their teammates had to move into unfamiliar positions. But that did not seem to faze the Ansbach scoring machine, which was led again by junior Alex Moya.
Moya, filling in on special teams, returned two punts for touchdowns to go along with two rushing TDs and a two-point conversion.
"That was the first time I was on punt return," Moya said.
Ansbach took the field with the car horns of their fans blasting in the background and went right to work. After forcing a punt, Ansbach started rolling with a 41-yard run by senior quarterback Dominic Barrale. After a series of rushes by Moya and Carter Gunn, a 13-yard TD pass from Barrale to Pablo Berrios and a two-point conversion by Moya got Ansbach on the scoreboard.
Vicenza answered with a 70-yard dash by running back Kyle Kaus, but missed the extra point, making the score 8-6 at the end of the quarter.
The second quarter belonged to Ansbach. It started with a short run by Moya after a third-and-20 pass completion from Barrale to Xavier Jones.
When Vicenza was unable to move the ball and was forced to punt, Moya took the ball at the 32 and was on the way to his first TD return. Less than three minutes later he did it again. This time he bobbled the ball before it weaving in and out of defenders for an 82-yard return and a 26-6 lead.
Kaus, who finished with 210 yards rushing, and Vicenza kept plugging away, but couldn't get around the Ansbach defense. A 1-yard run by Barrale and another two-point conversion put Ansbach up 34-6 at the half and left little doubt who would be facing Bitburg in the Division II final next weekend in Baumholder.
Moya finished the day with 14 carries for 125 yards, while Gunn had six carries for 71 yards and Johnny Bunch ran four times for 51 yards and the game's final TD. Barrale was 10-for-18 passing for 140 yards and two TDs. Berrios caught three passes for 25 yards and two touchdowns.
In the other D-II semifinal:
Bitburg 28, International School of Brussels 12: At ISB, Tim O'Donnell rushed seven times for 83 yards, and Brandon Massie carried the ball eight times for 76 yards as the Barons (5-2) won their fifth straight game by putting an end to ISB's unbeaten season.
A Bitburg defense led by Kirk Miller, who made 13 tackles; Darrell Guppy, who made nine tackles and intercepted a pass; and Coleton Fair, who made nine tackles, held ISB running maching Gino Culotta to 110 yards on 21 carries. Culotta had been averaging more than 200 rushing yards per game.
Ben Hausdorff completed 10 of 22 passes for two TDs for ISB (6-1). Stephen Clark caught three passes for 69 yards and a TD.
---
---
---
---