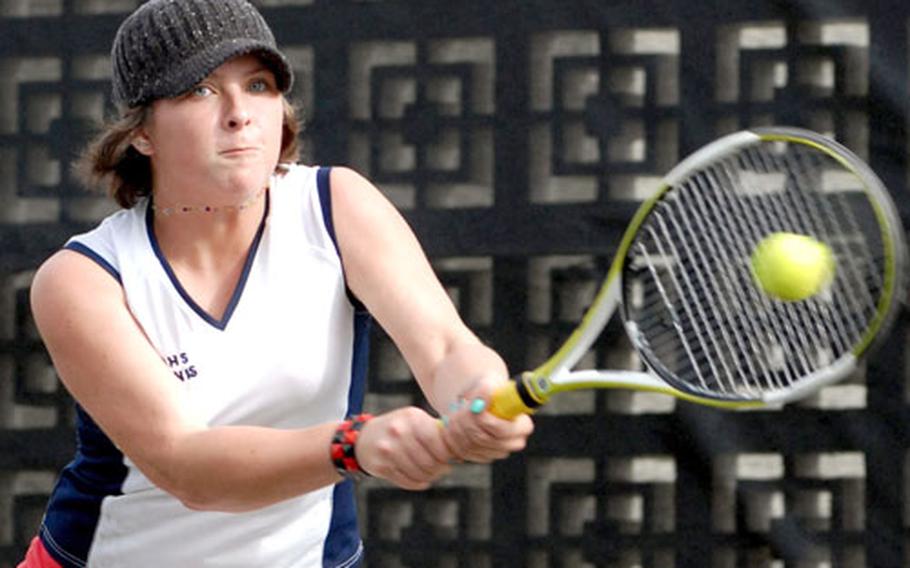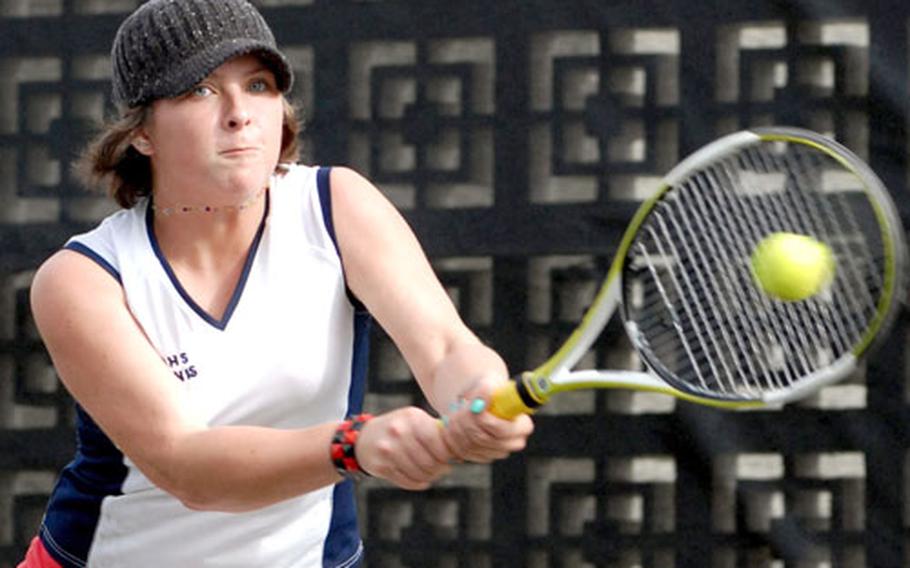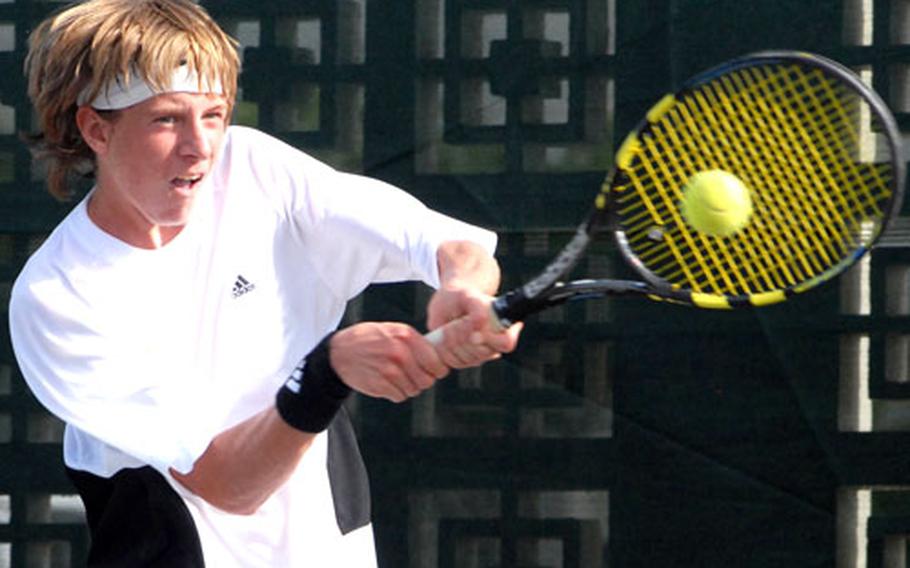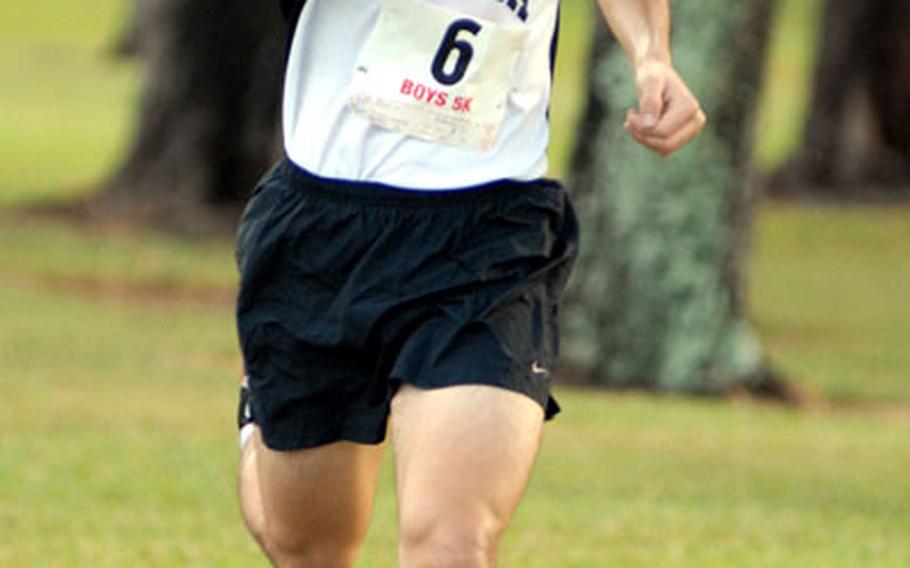 The girls soccer team at Taegu American, now spelled Daegu American, hadn't come within a whiff of a Far East Class A tournament title since losing the 2002 championship match.
Isn't the first time winning the title something?
"It's special," coach Ed Thompson said of the Warriors' 2-1 victory on May 23 in overtime over host Matthew C. Perry at Japan's Marine Corps Air Station Iwakuni. "It was really nice and it makes it more special that it was the first one."
The championship matched the Class A banners the Warriors girls volleyball team won in 2005 and the basketball team captured in 2006. And it highlighted a parade of Far East tournament firsts by a number of individuals and teams in 2007.
In the first couple of minutes of overtime, Warriors senior Kat Nufable gathered the ball, split two defenders and made a long run, capped by her shot past Perry goalkeeper Kate Cutshall for the victory.
It capped a 12-7-1 season, including a 6-0-1 run leading to the Korean-American Interscholastic Activities Conference tournament in April that Thompson said led him to believe he had something special.
"We were really together as a team," Thompson said, adding that building winners in Daegu's transient student environment is like "building a sand castle."
About a third of the way into the season, things began to click, behind Nufable's 15 goals, 16 by Sarah Eades and nine by Aimee Hildenbrand, plus a staunch defense. The Warriors outscored opponents 20-0 in Far East prior to the final.
Hours after the Warriors captured their first title, Jose Lopez Jr. and Japan's E.J. King Cobras outlasted Indianhead International of South Korea 2-1 in a penalty-kick shootout. It was E.J. King's first Class A soccer championship.
Kadena a bastion of historic Far East tournament firsts
Other Far East tournament sports saw equally historic firsts — all occurring in November at Kadena Air Base, Okinawa:
l Junior Andrew Quallio won Zama American's first Far East cross-country individual 3.1-mile boys race.
l Freshman Gee Mi Jorde took first in the girls race, giving Kinnick back-to-back individual champions for the first time, and making it only the second school to do so in meet history.
l Kennedy Allen, a sophomore and a state doubles semifinalist in Florida the year before, became Seoul American's first Far East tennis tournament girls singles champion.
l Another sophomore, Kyle Sprow of Kadena, did likewise in the Far East tennis boys singles.
l And on the Class AA gridiron, after just missing a season ago in a heartbreaking overtime loss at Seoul American, Kadena and its running back cadre captured the school's first Far East football banner 39-13 over perennial Japan powerhouse Yokota.
Eagles fly to repeat of Class A football crown
They've won eight of their last 11 games, including two straight Far East Class A football titles. Robert D. Edgren and its Fantastic Four of Josh McDonald, Andrew Blankenship, Jacque Moton and Zach Latimore made it back-to-back titles 27-6 on Nov. 3 at Daegu American.
Falcons soar to Far East wrestling title sweep
Sophomore 180-pounder Justin Stokes scored the clinching victories as Seoul American's wrestling team swept the Far East individual and dual-meet team titles in February. They're the second and third mat titles in school history.
Okinawa schools add to Class AA hoops title haul
The big story of last basketball season was Zama American's boys, a senior-laden lot that won its first 34 games, a school first. The Trojans won their first DODDS-Japan title and first Kanto Plain Association of Secondary Schools crown since 1994.
But their hopes of ending a 44-year Far East tournament title drought came to an end at the hands of Jacorian Callier and eventual Class AA champion Kubasaki of Okinawa — the Dragons' record 10th title.
On the girls' side, Zori Drew and Kadena routed American School In Japan 85-32 for the school's fifth Class AA crown — the most lopsided Far East final in history.
Faith Academy's boys made it a Class A title three-peat, and senior Kirk Long earned a third straight MVP award. His sister, Janel, and the girls won their seventh Far East hoops title in 11 seasons.
On-field sitdown marks Class AA soccer tourney week
A fourth straight Far East Class AA soccer tournament title was not to be for Jen Abel and Kadena, which suffered a stunning 2-1 semifinal loss to Kinnick.
Late in the match, Kadena coach Hoa Nguyen ordered his team to cease playing, citing the fact that the father of one of Kinnick's players was the match's center referee. A protest was filed but denied.
That opened the door for Kara Koeneke and Kubasaki to win the school's third Class AA title, rallying past Kinnick for a 3-1 triumph.
The boys championship came down to a penalty-kick shootout, won by Leo Kobayashi and Christian Academy In Japan, which beat Kadena for the second time in three years.
Noteworthy football streaks continue, others end
Yokota still hasn't won a Class AA football title, but the Panthers remain the proud owners of the longest regular-season winning streak in Pacific history, with 48.
Coach Tim Pujol's charges also ran their DODDS-Japan and Kanto Plain football league title streaks to nine. Right behind them is Seoul American, owner of five straight Korea championships.
The guard did change this season on Guam, where George Washington's run of four straight Interscholastic Football League crowns came to an end at the hands of the last team to win the title, Father Duenas.
And as the sun set on 2007...
Guam High continued its domination of the island's wrestling mats, capturing its third All-Island championship meet title, outdistancing the last team to win the meet, John F. Kennedy.
Completing his third straight unbeaten season was the Panthers' Ray Tenorio. Joining him on the gold-medal stand were fellow unbeatens Tim Hernandez and Zach Nabors, plus fellow senior R.J. Lopez.
Compiled by Stars and Stripes sports reporter Dave Ornauer.
---
---
---
---