2006 All-Europe girls team: The backcourt steps to the front
by
Rusty Bryan
April 9, 2006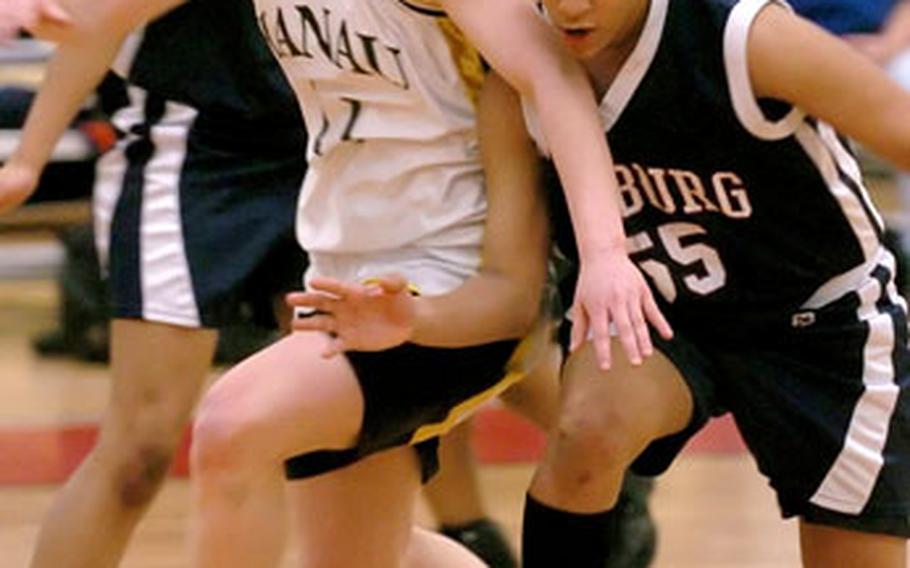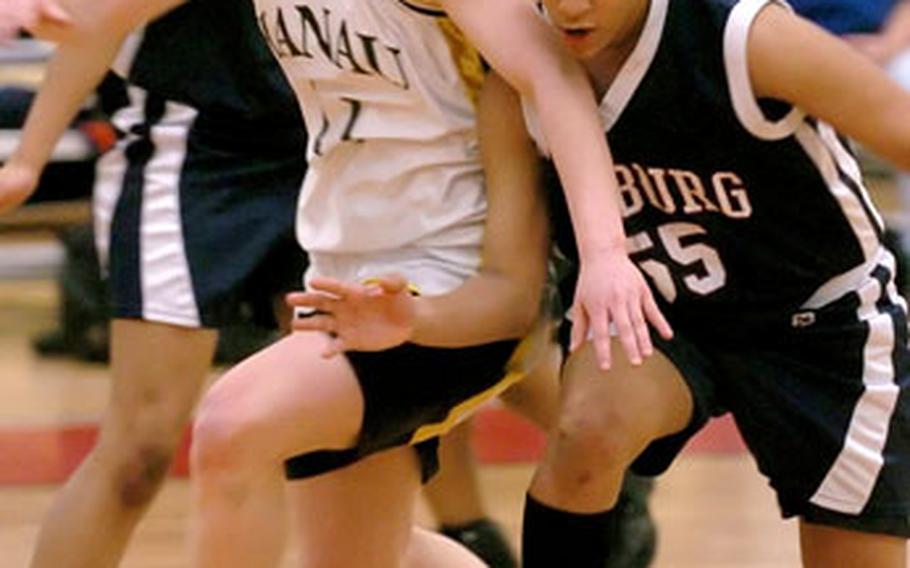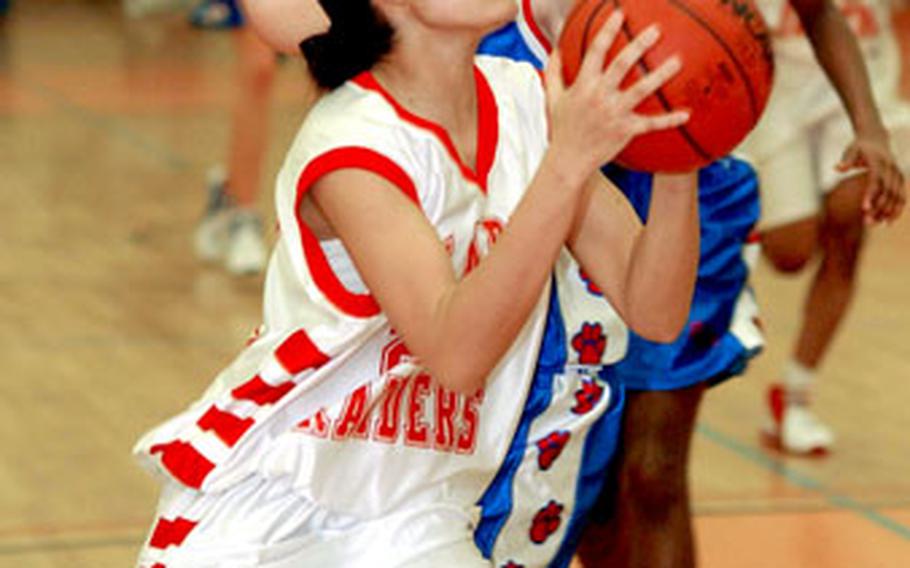 Ability, not symmetry, motivated the five coaches who selected the 2006 DODDS-Europe girls All-Europe basketball team.
"When we sat down we decided we shouldn't be concerned about position," Kaiserslautern coach Corey Sullivan said of this year's all-star squad. "We decided we should get the 10 best players on the team regardless of position."
To do that, the panel decided it had to find a place for six guards on the team: repeat first-teamers Kyri Bye-Nagel of Hanau, Tish Schelhas of Baumholder and Caelan Crotty of International School of Brussels; plus senior Melissa James of Bitburg, and Kaiserslautern teammates senior Anisha Ingram and freshman Kamiko Williams. (See complete roster below.)
The decision meant that the team would list the 5-foot-5 Ingram and the 5-3 James as forwards, even though both, according to their coaches, were among Europe's top point guards last season.
Ingram was "the best point guard I saw play," according to Sullivan, who has three players from his Division I championship squad on the 2006 first team. "She could integrate everyone into the offense and distribute the ball perfectly."
James, whom Bitburg coach David Turner says "plays defense like there's no tomorrow," parlayed her leadership and defensive tenacity into an MVP plaque in the European Division II tournament.
When James "was on her game defensively," Turner wrote in nominating her, "we knew we had a very good chance of winning."
According to Turner, James also led the selection panel to consider choosing players who excelled on defense.
"Once I brought her name up," Turner said by telephone last week, "the committee started talking about other defensive players."
As usual, big-school stars dominated the All-Europe first team. Division I players landed six of the 10 slots, and Hanau and Bitburg grabbed two for Division II schools. Turner had no qualms about that, remarking that he pushed for four Kaiserslautern players to make the first team.
"I don't think you punish a player for being on a team with players as good as she is," he said. "Kaiserslautern had a very good team."
The Lady Raiders went unbeaten behind freshman Williams (14.7 points, 10.8 rebounds/game), who Sullivan said was "hands-down, the best female basketball player in Europe," point guard par excellence Ingram and forward Lynndsey Hyter, called "athletically amazing" by her coach.
It didn't hurt them that 2005 first-team center Bianca Gerena-Perez returned to play well enough to make the second team in 2006.
Other Division I players on the team are junior Kendra Lenoir, a center from Ramstein whom coach Kathy Kleha called her team's "most reliable player," and senior Megan Gibson, a 5-11 forward from ISB who averaged 16.8 points and 8 rebounds per game.
The two players from small schools cracking the top 10 were repeat choice Schelhas, who averaged 20.8 points per game to lead Division III runner-up Baumholder, and 5-10 center Dezira Manning of Sigonella, a sophomore who scored 25 points and grabbed 15 rebounds in the Division III title game.
Despite the unbalance among divisions and positions, Turner endorsed the final selections.
"I think we got a pretty good sample," he said.
2006 All-Europe Girls Basketball
Bye-Nagel Crotty Gibson Hyter Ingram
James Lenoir Manning Schelhas Williams
First Team
Player, School
Pos. Class Ht.
Statistics, coach's comment
Kyri Bye-Nagel, Hanau G Sr. 5-6 12 ppg, team 56-5 in regular season in 4 yrs.
Caelan Crotty, ISB G Sr. 5-9 10.4 ppg, 23 3-point baskets.
Tish Schelhas, Baumholder G Sr. 5-3 20.8 ppg, 31.6 pct. of team scoring; 5.2 stls pg.
Kamiko Williams, Kaiserslautern G Fr. 5-10 14.7 ppg, 10.8 rpg. "Europe's best player."
Megan Gibson, ISB F Sr. 5-11 16.8 pts., 8 rebs, 2.2 assists per game.
Lynndsey Hyter, Kaiserslautern F Sr. 5-7 44 FG pct.; 9.7 ppg, 9.7 rpg in limited time.
Anisha Ingram, Kaiserslautern F Sr. 5-5 7.8 ppg, 4.1 apg. "One of Europe's best."
Melissa James, Bitburg F Sr. 5-3 "Plays defense like there's no tomorrow."
Kendra Lenoir, Ramstein C Jr. 5-10 9.3 ppg, 8 rpg. "Our most reliable player."
Dezira Manning, Sigonella C So. 5-10 18 ppg, 12 rpg. "Most dominant each end."
Second Team
Guards: Chakeira Gilbert, Vicenza; Kassie Mangosing, Aviano; Alexis Padgett, Hanau; Whitney Pieterse, AFNORTH.
Forwards: Renna Damon, Naples; Brittany Harris, Wiesbaden; Ashley Jordan, SHAPE; Whitney Lynch, Sigonella.
Centers: Michelle Brown, Hanau; Bianca Gerena-Perez, Kaiserslautern.
Selection panel: Dexter Bohn, Brussels; Carter Hollenbeck, Baumholder; Michael Hunt, Hanau; Kathy Kleha, Ramstein; Corey Sullivan, Kaiserslautern; David Turner, Bitburg.
---
---
---