2006 All-Europe football team: Setting the bar high
by
Rusty Bryan
December 10, 2006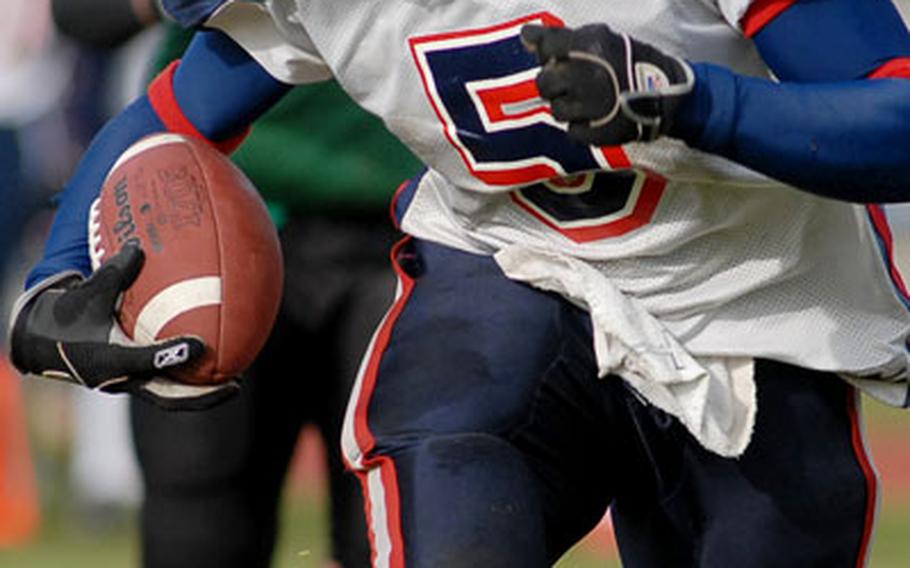 ¶ Get the pages from Stripes' print edition with the all-star story and photos here, in PDF format.
Making the All-Europe football team is an accomplishment any year. The rosters are typically filled with 1,000-yard rushers and passers, yardage-gobbling receivers, offensive linemen who make all that possible and defenders who approach 100 tackles a season.
This season, however, running backs and linebackers aspiring to All-Europe status needed to have seasons for the ages, according to Ansbach coach Marcus George, a member of the panel of coaches that chose the team.
"What impressed me this season was the wealth of running backs and the wealth of linebackers we had to choose from," George, who has coached eight European championship squads, said Tuesday by telephone.
"We had eight, nine, 10 excellent candidates for each position. My MVP linebacker (Baraka Waweru, defensive MVP of the European Division III title game) didn't make it."
No disgrace there for Waweru, who led a defense that gave up just 24 points in eight games. The linebackers who did make All-Europe included two-way picks Anton Harris of Division II champ Bitburg and Rashad Taylor of Baumholder, and the starting triumvirate from unbeaten European D-I winner Ramstein.
"When we placed middle linebacker Marcus Cherry and outside linebackers Joel and Daryl Smith (no relation), I told our staff we had the best linebacking corps in Europe," Ramstein coach Carlos Amponin wrote in an e-mail.
"They finished 1-2-3 on our team, respectively, in tackles."
Joel Smith was one of just two players returning to the squad from 2005. The other was Bitburg's Randall Pelletier, a 6-1, 275-pound junior who stepped up to two-way status for 2006.
Offensively, according to Bitburg coach Mike Laue, the "strong, quick and agile" Pelletier teamed with Bitburg's All-Europe center, Frank Moya, to open the way for a Barons offense that averaged 6.52 yards per carry and 40.75 points per game. Defensively, Laue said, Pelletier "took on two and three blockers consistently to make sure our backers could make the play."
Those linebackers included two-way choice Harris and Chris Ramos, two of the six Bitburg Barons named 2006 All-Europeans. In addition to Pelletier, Moya, Harris and Ramos, defensive back Josh Collett and defensive lineman Jamie Watts were voted to the 48-man squad — 24 on offense, 24 on defense.
Joining Harris and Pelletier as two-way picks were Naples punter-placekicker Tyler White and Baumholder linebacker-running back Taylor, one of the four 1,000-yard rushers who made finding slots on the 2006 team as a running back so difficult. The other 1,000-yard men on the team were Harris (1,325), Donald Bryant of Würzburg (1,118), and B.J. Taylor of Naples, who gained 1,039 yards in his first season of organized football.
Even those who fell short of 1,000 yards — easy to do in a maximum eight-game season that often includes a game or two in which the object becomes holding the score down — posted gaudy numbers.
For example, AFNORTH's Sascha Miller, who missed three games with an ankle injury, averaged 10.9 yards per carry in rushing for 913 yards, and Ansbach's Xavier Sheppard gained 823 yards on 80 carries. Daniel Kennedy of Patch and newcomer Rex Ray of Vilseck averaged better than nine yards a carry.
Quarterbacking the 2006 team are Tyler Terronez of Naples (73 of 132 for 1,019 yards, 13 touchdowns and six interceptions) and John Willis of Ansbach (35 of 57, 714 yards, eight TDs, one interception).
Experience paid off at receiver and in the kicking game, where seniors grabbed every available spot.
Receivers Marvin Gholston of Bamberg and Carl Snapp of Lakenheath were their teams' lone All-Europe selections, while Aaron Jones of Ramstein was one of seven Royals named to the squad — defensive back Scott Sublousky, offensive lineman Michael Kelly and defensive lineman Ste'phan James in addition to the trio of linebackers.
Senior receiver Zach Main was one of seven Naples players named to the team. Defensive back Will Carrico, defensive lineman Phillip Perez, offensive lineman Mitchell Marzaili, and Terronez, Taylor and White were the others.
D-III champ Ansbach landed four players on the team — defensive linemen Jacob Burnside and Storm Freeman, plus Willis and Sheppard. That tied the Cougars with D-I runner-up Heidelberg, which placed defensive linemen Shali Thompson and Jordan Fackler, plus DB Shon Fisher and placekicker Brad Lane on the squad.
"The depth of quality on this team was really good," said George.
"This would be a good year to put together an all-star team to play a significant game."