2006 All-Europe boys team: Seniors dominate selections
by
Rusty Bryan
April 9, 2006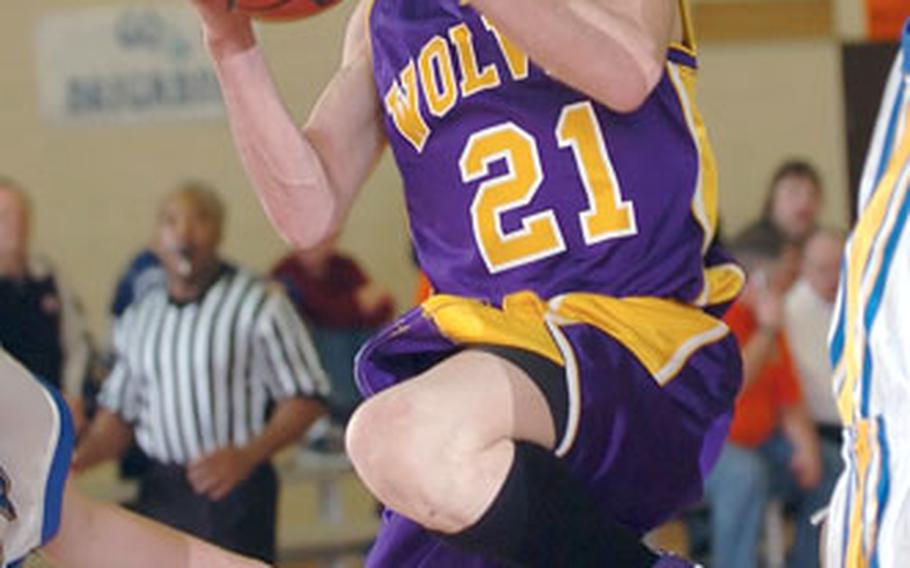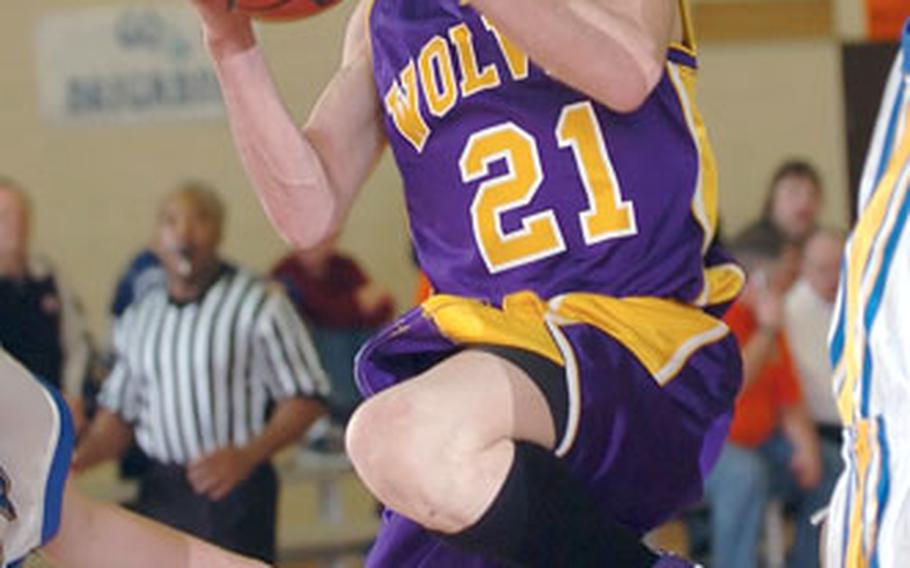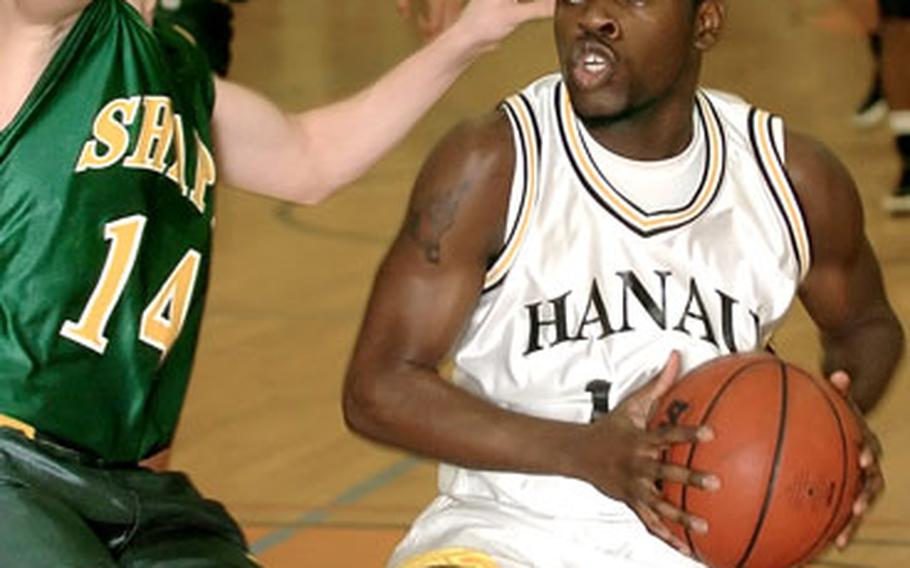 With 400 or so boys playing varsity basketball on courts from Iceland to Incirlik last winter, the task of identifying the best 20 for DODDS' 2006 All-Europe teams might seem daunting.
"Not at all," said selection panelist Allen Archie, head coach of the two-time Division I champion Würzburg Wolves. "We had bios on all the nominees. Each coach in every division had input to our discussions."
The resulting selections produced a senior-laden, 10-man first team led by repeat first-teamers Allen Weaver of Ramstein and Malcolm Lane of three-time European Division II champion Hanau. Eight of the top 10 and 12 of the top 20 — counting the second team — are seniors; the other eight are juniors. (See complete roster below.)
Previous All-Europe selections were not nearly as plentiful, however. Only the two players who were repeat selections to the first-team and three players from last year's second team — Wiesbaden senior forward David Bradford, Kaiserslautern junior Jeremy Marshall and London Central junior David Marbury — made the top 20 in '06. Bradford moved up to the first team; Marshall and Marbury again made the second 10.
While Archie said the panel's objective was to select the 20 best players regardless of position, the 2006 squad shows balance. For example, Würzburg junior SooSoo Taulelei and Heidelberg senior Damon Fleming made the first team at center, the position they played last season.
Taulelei, who averaged 10 points a game, is "the best big man in Europe, bar none," Archie wrote in his nomination of the junior who'll leave Europe this summer with two Division I gold medals in his luggage. Fleming, Heidelberg's team MVP, averaged 15 points and nearly 10 rebounds a game.
Hanau's two first-teamers, Lane and newcomer Perry Cannie, formed the best backcourt in Europe, according to their coach, Tim Smith.
Lane, Smith said, is the best athlete in Europe, while Cannie, a 5-10 senior, was the leading score for Hanau — and the All-Europe team — with 20 points per game.
"He plays good defense, leads the fast break and can score," Smith wrote in Cannie's nomination form. "He and Malcolm Lane are the best guard combination I have seen in a long time."
The other guards in the top 10, Allen Weaver of Ramstein and Johnathan Ortiz of Würzburg, like Taulelei a two-time champ, were team leaders first and foremost, their coaches said.
According to Ramstein coach Len Tarnowski, however, Weaver, who averaged 16.9 points per game, made the '06 roster while doing the unfamiliar.
"In the past," Tarnowski wrote, "he was more of a pass-first, shoot-second player. This year, he had to concentrate on scoring for the team to be successful."
The four forwards on the first team include Tim Battle of Division IV champion Giessen, Charles Whatley of Bitburg and Bradford of Division I runner-up Wiesbaden — all seniors. The junior in the quartet is Aviano's Spencer Templeton, whom coach Ken McNeely called "a great defender."
They round out an all-star team that Archie said is truly representative of the continent's best players.
"The ones who made it," he said, "honestly deserved it."
2006 All-Europe Boys Basketball Team
Battle Bradford Cannie Fleming Lane
Ortiz Taulelei Templeton Whatley Weaver
First Team
Player, School
Pos. Class Ht.
Statistics, coach's comment
Perry Cannie, Hanau G Sr. 6-0 20 ppg. "Best guard in all of Europe."
Malcolm Lane, Hanau G Sr. 6-2 11 ppg, 8 rpg. "Europe's best athlete."
Johnathan Ortiz, Würzburg G Sr. 6-0 10.4 ppg. "Catalyst for 2-yr. champs."
Allen Weaver, Ramstein G Sr. 5-10 16.9 ppg, 72 FG pct. Team MVP.
Tim Battle, Giessen F Sr. 6-3 15.6 ppg, 12.5 rpg. "Model student-athlete."
David Bradford, Wiesbaden F Sr. 6-1 11.3 ppg. Team's "Most complete player."
Spencer Templeton, Aviano F Jr. 6-0 13.8 ppg, 4.9 rpg. "Great at pressure time."
Charles Whatley, Bitburg F Sr. 6-0 14.8 ppg, 5.6 apg. 3 game-winning shots.
Damon Fleming, Heidelberg C Sr. 6-4 15.3 ppg, 9.5 rpg. 31 points vs. Wiesbaden.
SooSoo Taulelei, Würzburg C Jr. 6-3 11.2 ppg, 8.2 rpg, 4 blks pg. "Unstoppable."
Second team
Guards: Robert Clark Jr., Baumholder; Bryce Lee, Wiesbaden; Jeremy Marshall, Kaiserslautern; T'Andre Stuckey, Bamberg.
Forwards: Donald Bryant, Würzburg; Quentin Fowler, SHAPE; Rickey Gardner, Mannheim; David Marbury, London Central.
Centers: C.J. Battle, Giessen; Perry Hardy, Bitburg.
Selection panel: Allen Archie, Würzburg; Lin Hairston, Bitburg; Carl Johnson, Wiesbaden; Ken McNeely, Aviano; Ron Merriwether, Giessen; Pete Resnick, Menwith Hill; Tim Smith, Hanau.
---
---
---