1969 'Miracle Mets' star Swoboda meets with troops on Okinawa
by
Dave Ornauer
March 18, 2006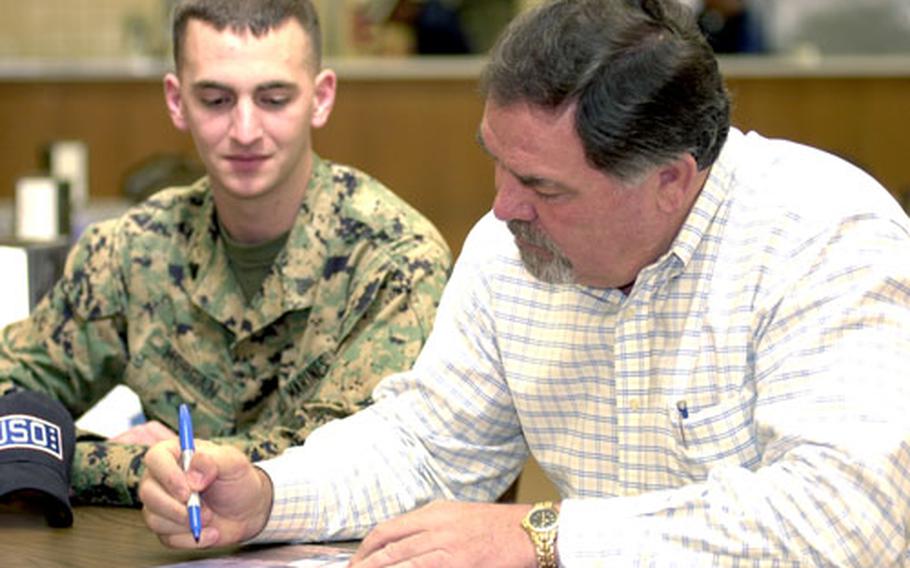 A slice of baseball history made its way through the halls of four USO outlets on Okinawa on Thursday: 1969 World Series hero Ron Swoboda.
He's the outfielder whose circus catch in Game 4 of the 1969 Fall Classic helped the New York Mets bring down the Baltimore Orioles in five games. And on Thursday he spent time giving autographs, shaking hands and sharing memories with troops at United Service Organizations facilities at camps Schwab and Hansen, Marine Corps Air Station Futenma and Kadena Air Base.
"It's very interesting," said Camp Schwab Cpl. Jason Morgan, 21, of Corning, N.Y., who was born 16 years after Swoboda's heroics but said he'd read enough about the diving catch to know who Swoboda is. "It's a real morale boost for us."
Morgan was one of a handful of Marines and airmen who took time from their duty day to have Swoboda sign baseballs and photos of himself from his playing days, with the Mets from 1965-70, half a season with the Montreal Expos and his last three years with the New York Yankees.
Swoboda last set foot on Okinawa while en route to and from South Vietnam in 1969, just after the Mets emerged from the depths of the National League their first seven seasons to a surprise World Series championship.
Now 61, Swoboda's message to troops on Okinawa is the same as it was in 1969: "We care about you being here to sacrifice the time to make a visit," he said.
Swoboda's current weeklong Okinawa tour, which began Tuesday, is being sponsored by the USO in support of Special Olympics on Okinawa. Among his activities, Swoboda will throw out the first ball for Saturday's Kadena and Kubasaki High School baseball and girls softball opening games at Chibana Recreation Area.