YEAR IN REVIEW 2014
New Okinawa governor wants to block US military relocation
by
Chiyomi Sumida Matthew M. Burke
December 23, 2014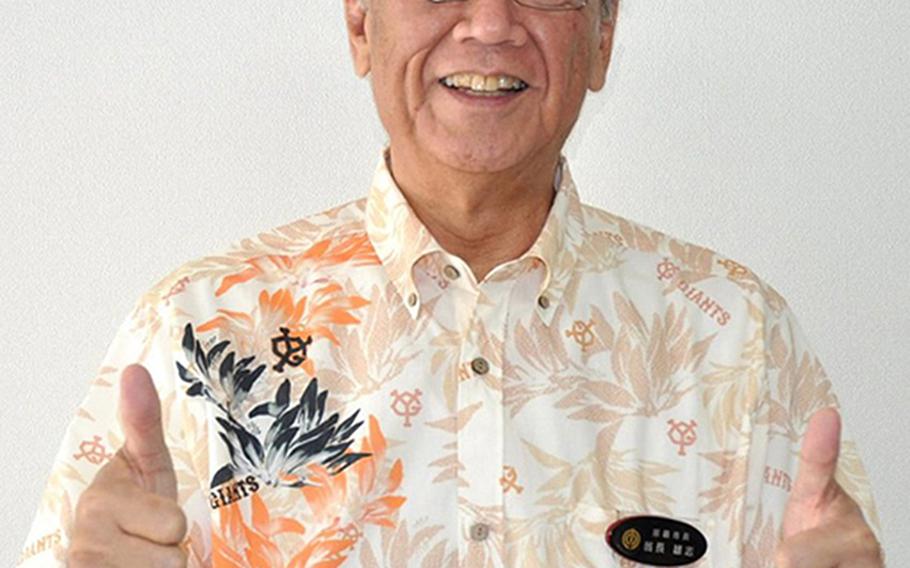 On Nov. 16, Takeshi Onaga was elected governor of Okinawa.
The former Naha mayor ran on a platform of blocking the move of flight operations from Marine Corps Air Station Futenma in central Okinawa to an expanded Camp Schwab in the remote north, a move seen as pivotal to the U.S. realignment of forces in the region and mutual defense agreements.
During the campaign, Onaga claimed the numerous U.S. military bases were the island's biggest obstacle to economic development, and called for a smaller U.S. footprint as well as the removal of the controversial MV-22 Osprey aircraft.
His election was largely seen as a referendum on the relocation plan, which had been years in the making and the result of protests by residents outside Futenma who voiced safety concerns regarding the air station's close proximity to the densely populated urban area. He defeated incumbent Gov. Hirokazu Nakaima by a huge margin — 100,000 more votes of 620,000 cast.
Nakaima had approved the plan in exchange for billions in subsidies for Japan's poorest prefecture.
With construction under way, Onaga's assumption of the office put officials in Tokyo and Washington in a tough position. The tiny island prefecture is home to more than half the 50,000 U.S. troops in Japan.
In recent weeks, Onaga was photographed with protesters outside the Camp Schwab base. During his first press conference as governor on Dec. 10, he vowed to keep his promise to block the project.
"Adding another military facility to Okinawa by destroying the beautiful water of Henoko is something we should never let happen," he said. "Halting the new military facility is the priority and core policy of my administration."
Shortly before leaving office, Nakaima signed off on several requests by the Ministry of Defense to make changes to some of the construction methods. Onaga said he would continue to review Nakaima's approvals of the project to see if there was a way he could halt it.
Despite the rhetoric, the Marine Corps and the Japanese government have said they remain committed to the relocation. Legal scholars said while there is a chance Onaga could block the move, it is slim. However, it calls into question the will of the people versus defense and the collective good.
"If there were any legal flaws, revoking the approval will be possible," said constitutional law professor Hideki Shibutani of Rikkyo University in Tokyo.
"If, on the other hand, no flaws are found, it is illegal to revoke the ... decision. It would be difficult (for the governor) to revoke the approval just because it is the consensus of people of Okinawa. Fundamentally, the central government has the absolute right to make decisions on foreign and defense affairs."
However, the will of the people cannot be ignored, Shibutani said, and the two sides are surely headed for confrontation in 2015.
"It is against the spirit of democracy to ignore the consensus of the local public," Shibutani said. "It is outrageous for the government to ignore it."
burke.matt@stripes.com sumida.chiyomi@stripes.com