FROM THE ARCHIVES
Yanks Storm Last Barrier In Oki Battle
---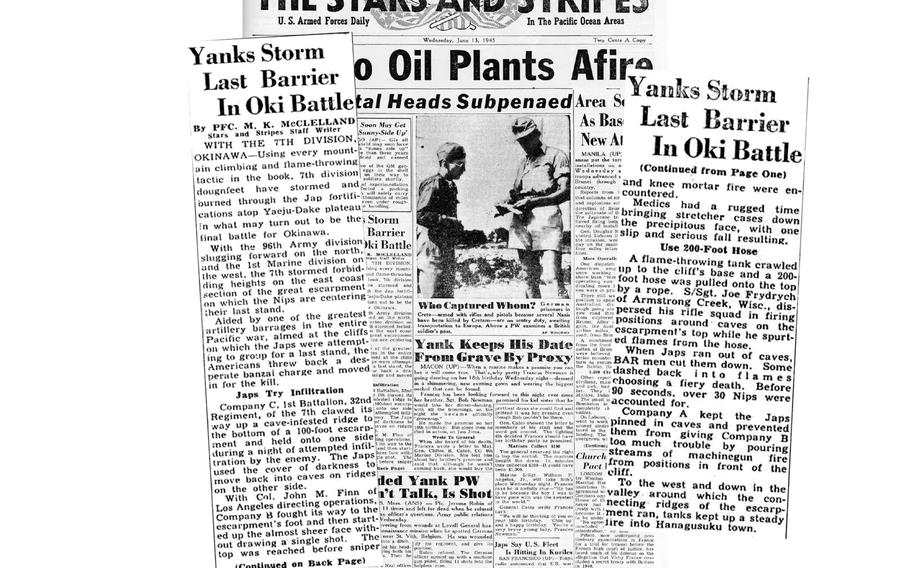 WITH THE 7TH DIVISION, OKINAWA – Using every mountain climbing and flame-throwing tactic in the book, 7th division doughfeet have stormed and burned through the Jap fortifications atop Yaeju-Dake plateau in what may turn out to be the final battle for Okinawa.
With the 96th Army division slugging forward on the north, and the 1st Marine division on the west, the 7th stormed forbidding heights on the east coast section of the great escarpment on which the Nips are centering their last stand.
Aided by one of the greatest artillery barrage in the entire Pacific war, aimed at the cliffs on which the Japs were attempting to group for a last stand, the Americans threw back a desperate banzai charge and moved in for the kill.
Japs Try InfiltrationCompany C, 1st Battalion, 32nd Regiment, of the 7th clawed its way up a cave-infested ridge to the bottom of a 100-foot escarpment and held onto one side during a night of attempted infiltration by the enemy. The Japs used the cover of darkness to move back into the caves on ridges on the other side.
With Col. John M. Finn of Los Angeles directing operations, Company B fought its way to the escarpment's foot and then started up the almost sheer face without drawing a single shot. The top was reached before sniper and knee mortar fire were encountered.
Medic had a rugged time bringing stretcher cases down the precipitous face, with one slip and serious fall resulting.
Use 200-Foot HoseA flame-throwing tank crawled up to the cliff's base and a 200-foot hose was pulled onto the top by a rope. S/Sgt. Joe Frydrych of Armstrong Creed, Wisc., dispersed his rifle squad in firing position around caves on the escarpment's top while he spurted flames from the hose.
When Japs ran out of caves, BAR men cut them down. Some dashed back into flames choosing a fiery death. Before 90 seconds, over 30 Nips were accounted for.
Company A kept the Japs pinned in caves and prevented them from giving Company B too much trouble by pouring stream of machinegun fire from position in front of the cliff.
To the west and own in the valley around which the connecting ridges of the escarpment ran, tanks kept up a steady fire into Hanagusuku town.
---
---
---
---