FROM THE ARCHIVES
Sure, The Campaign's Over, But Don't Forget The Mop-Up
---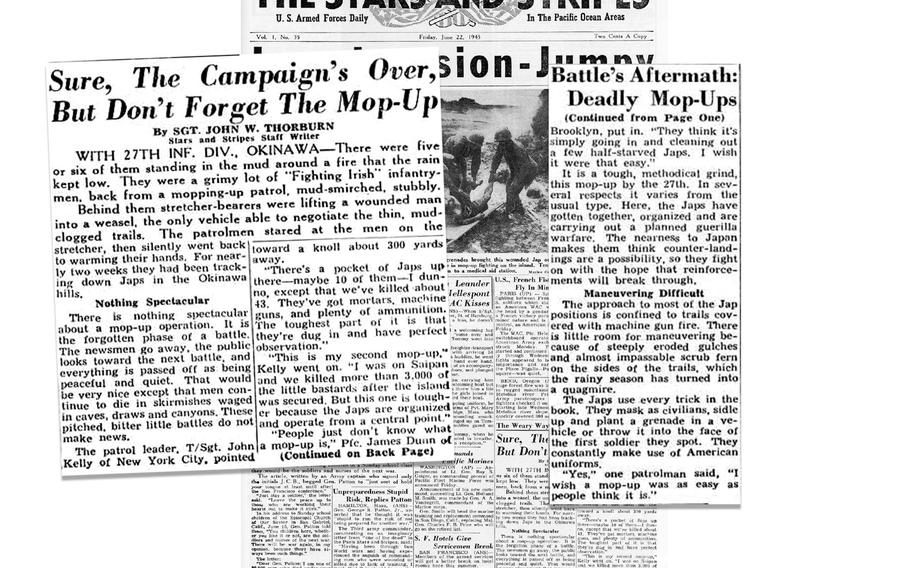 WITH 27TH INF. DIV., OKINAWA – There were five or six of them standing in the mud around a fire that the rain kept low. They were a grimy lot of "Fighting Irish" infantrymen, back from a mopping-up patrol, mud-smirched, stubbly.
Behind them stretcher-bearers were lifting a wounded man into a weasel, the only vehicle able to negotiate the thin, mudclogged trails. The patrolmen stared at the men on the stretcher, then silently went back to warming their hands. For nearly two weeks they had been tracking down the Japs in the Okinawa hills.
Nothing SpectacularThere is nothing spectacular about the mop-up operation. It is the forgotten phase of a battle. The newsmen go away, the public looks toward the next battle, and everything is passed off as being peaceful and quiet. That would be very nice except that men continue to die in skirmishes waged in caves, draws and canyons. These pitched, butter little battle do not make news.
The patrol leader, T/Sgt. John Kelly of New York City, pointed toward a knoll about 300 yards away.
"There's a pocket of Japs up there – maybe 10 of them – I dunno, except that we've killed about 13. They've got mortars, machine guns, and plenty of ammunition. The toughest part of it is that they've dug in and have perfect observation."
"This is my second mop-up," Kelly went on. "I was on Saipan and we killed more than 3,000 of the little bastards after the island was secured. But this one is tougher because the Japs are organized and operate from a central point."
"People just don't know what a mop-up is," Pfc. James Dunn of Brooklyn, put in. "They think it's simply going in and cleaning out a few half-starved Japs. I wish it were that easy."
It is a tough, methodical grind, this mop-up by the 27th. In several respects it varies from the usual type. Here, the Japs have gotten together, organized and are carrying out a planned guerilla warfare. The nearness to Japan makes them think counter-landings are a possibility, so they fight on with the hope that reinforcements will break through.
Maneuvering DifficultThe approach to most of the Jap positions is confined to trails covered with machine gun fire. There is little room for maneuvering because of steeply eroded gulches and almost impassable scrub fern on the sides of the trails, which the rainy season has turned into the quagmire.
The Japs use every trick in the book. They mask as civilians, sidle up and plant a grenade in a vehicle or throw it into the face of the first soldier they spot. They constantly make use of American uniforms.
"Yes," one patrolman said, "I wish a mop-up was as easy as people think it is."
---
---
---
---