FROM THE ARCHIVES
Oki Doughfeet Slogging On, Searching For Own Lost PWs
---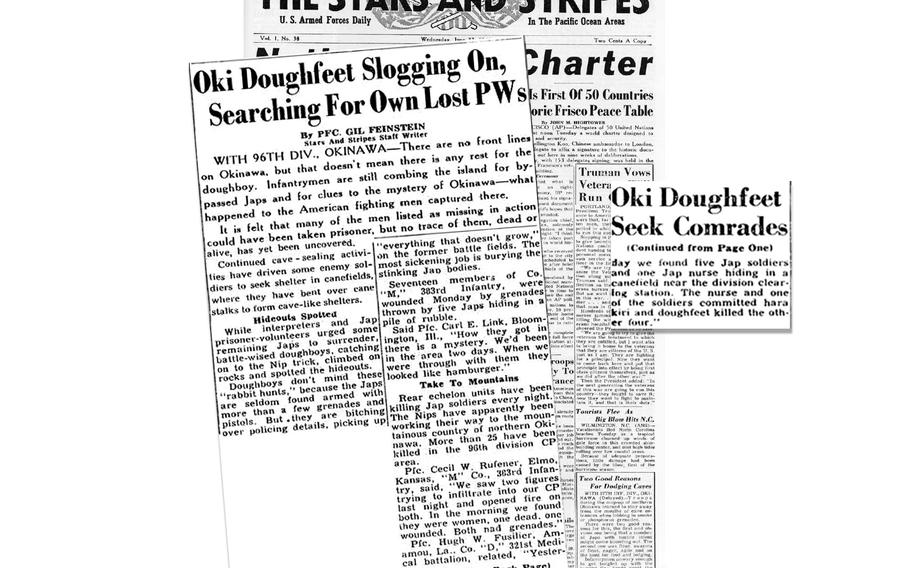 WITH 96TH DIV., OKINAWA – There are no front lines on Okinawa, but that doesn't mean there is any rest for the doughboy. Infantrymen are still combing the island for bypassed Japs and for clues to the mystery of Okinawa – what happened to the American fighting men captured there.
It is felt that many of the men listed as missing in action could have been taken prisoner, but no trace of them, dead or alive, has yet been uncovered.
Continued cave-sealing activities have driven some enemy solider to seek shelter in the canefields, where they have bent over cane stalks to form cave-like shelters.
Hideouts SpottedWhile interpreters and Jap prisoner-volunteers urged some remaining Japs to surrender, battle-wised doughboys, catching on to the Nip trick, climbed on rocks and spotted the hideouts.
Doughboys don't mind these "rabbit hunts," because the Japs are seldom found armed with more than a few grenades and pistols. Bu they are bitching over policing details, picking up "everything that doesn't grow," on the former battle fields. The most sickening job is burying the stinking Jap bodies.
Seventeen members of the Co. "M," 383rd Infantry, were wounded Monday by grenades thrown by five Japs hiding in a pile of rubble. Said Pfc. Carl E. Link, Bloomington, Ill., "How they got in there is a mystery. We'd been in the area two days. When we were through with them they looked like a hamburger."
Take To MountainsRear echelon units have bene killing Jap soldiers every night. The Nips have apparently been working their way to the mountainous country of northern Okinawa. More than 25 have been killed in the 96th division CP area.
Pfc. Cecil W. Rufener, Elmo, Kansas, "M" Co., 383rd Infantry, said "we saw two figures trying to infiltrate into our CP last night and opened fire on both. In the morning we found they were women, one dead, one wounded. Both had grenades."
Pfc. Hugh W. Fusilier, Amamou, La., Co. "D," 321st Medical battalion, related, "Yesterday we found five Jap soldiers and one Jap nurse hiding in a canefield near the division clearing station. The nurse and one of the solider committed hara kiri and doughfeet killed the other four."
---
---
---
---