FROM THE ARCHIVES
Hand-to-hand fighting at new high on Okinawa
By
Pfc. Marshall K. McClelland
May 19, 1945
---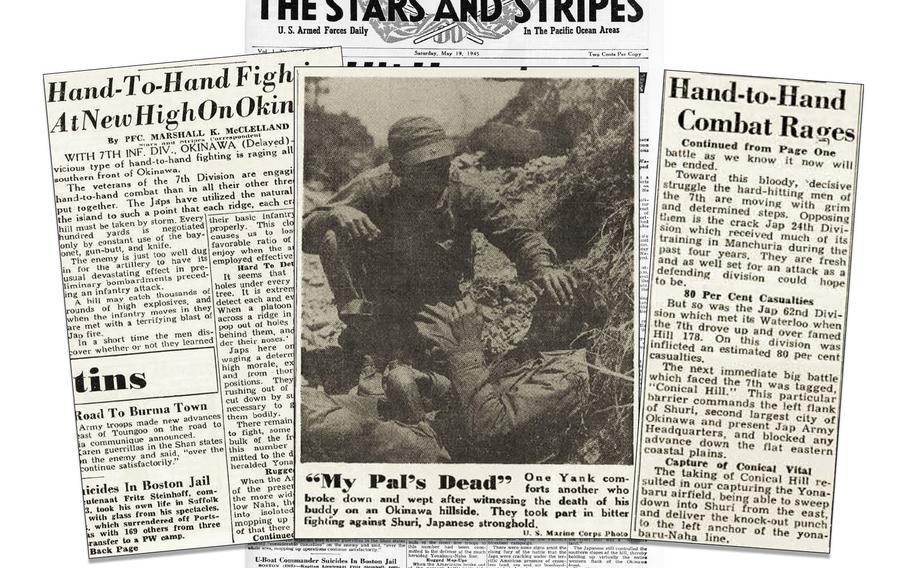 WITH 7th INF. DIV., OKINAWA (Delayed) – The most vicious type of hand-to-hand fighting is raging all along the southern front of Okinawa.
The veterans of the 7th Division are engaging in more hand-to-hand combat than in all their other three campaigns put together. The Japs have utilized the natural defenses of the island to such a point that each ridge, each rag, and each hill must be taken by storm. Every hundred yards is negotiated only by constant use of the bayonet, gun-butt, and knife.
The enemy is just too well dug in for the artillery to have its usual devastating effect in preliminary bombardments preceding an infantry attack.
A hill may catch thousands of rounds of high explosives, and when the infantry moves in they are met with a terrifying blast of Jap fire.
In a short time the men discover whether or not they learned their basic infantryman's tactics properly. This close-in fighting cause us to lose the highly favorable ratio of casualties we enjoy when the artillery can be employed effectively.
Hard to Detect HolesIt seems that the Japs have holes under every rock, bush, and tree. It is extremely difficult to detect each and everyone of them. When a platoon is spread out across a ridge in an attack, Japs pop out of holes in between men, behind them, and practically under their noses.
Japs here on Okinawa are waging a determined battle with high morale, excellent weapons, and from thoroughly prepared positions. They will not come rushing out of their holes to be cut down by superior fire. It is necessary to go in and crush them bodily.
There remain ready and willing to fight, some 40,000 Japs. The bulk of the front line troops on this number had been committed to the defense of the much heralded Yonabaru-Naha line.
Rugged Mop-UpsWhen the Americans broke out of the present bottle-neck into the more wide open country below Naha, they cut the Japs up into isolated pockets. These mopping up scraps are rugged, of that there is no doubt, but the battle as we know it now will be ended.
Toward this bloody, 'decisive struggle the hard-hitting men of the 7th are moving with grim and determined steps. Opposing them is the crack Jap 24th Division which received much of its training in Manchuria during the past four years. They are fresh and as well set for an attack as a defending division could hope to be.
80 Per Cent CasualtiesBut so was the Jap 62nd Division which met its Waterloo when the 7th drove up and over famed Hill 178. On this division was inflicted an estimated 80 per cent casualties.
The next immediate big battle which faced the 7th was the tagged, "Conical Hill." This particular barrier command the left flank of Shuri, second largest city of Okinawa and present Jap Army Headquarters, and block any advance down the flat eastern coastal plains.
Capture of Conical VitalThe taking of Conical Hill resulted in our capturing the Yonabaru airfield, being able to sweep down into Shuri from the east, and deliver the knock-out punch to the left anchor of the Yonabaru-Naha line.
---
---
---
---