FROM THE ARCHIVES
Find Adm. Ota And 5 Aides In Hara Kiri Cave
---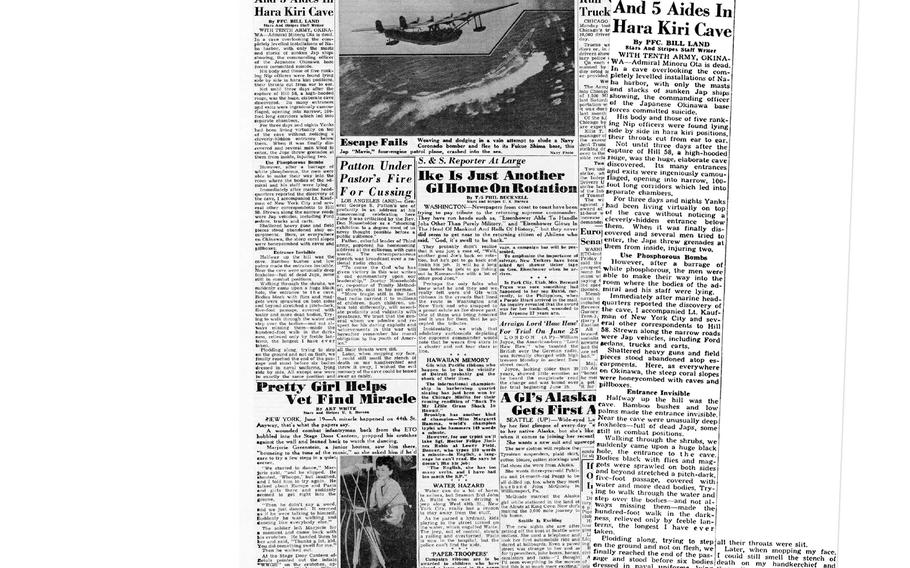 WITH TENTH ARMY, OKINAWA – Admiral Minoru Ota is dead. In a cave overlooking the completely levelled installations of the Naha harbor, with only the masts and stacks of sunken Jap ships showing, the commanding officers of the Japanese Okinawa base forces committed suicide.
His body and those of five ranking Nip officers were found lying side by side in the hara kiri positions, their throats cut from ear to ear.
Not until three days after the capture of Hill 58, a high-hooded ridge, was the huge, elaborate cave discovered. Its many entrances and exits were ingeniously camouflaged, opening into narrow, 100-foot long corridors which led into separate chambers.
For three days and nights Yanks had been living virtually on top of the cave without notice a cleverly-hidden entrance below them. When it was finally discovered and several men tried to enter, the Japs threw grenades at them from inside, injuring two.
Use Phosphorous BombsHowever, after a barrage of white phosphorous, the men were able to make their way into the room where the bodies of the admiral and his staff were lying.
Immediately after marine headquarters reported the discovery of the cave, I accompanied Lt. Kaufman of New York City and several other correspondents to Hill 58. Strewn along the narrow roads were Jap vehicles, including Ford sedans, trucks and carts.
Shattered heavy guns and field pieces stood abandoned atop escarpments. Here, as everywhere on Okinawa, the steep coral slopes were honeycombed with caves and pillboxes.
Entrance InvisibleHalfway up the hill was the cave. Bamboo bushes and low palms made the entrance invisible. Near the cave were unusually deep foxholes – full of dead Japs, some still in combat positions.
Walking through the shrubs, we suddenly came upon a huge black hole, the entrance to the cave. Bodies black with flies and maggots were sprawled on both sides and beyond stretched a pitch-dark, five-foot passage, covered with water and more dead bodies. Trying to walk through the water and step over the bodies – and not always missing them – made the hundred-foot walk in the darkness, relieved only feeble lanterns, the longest I have ever taken.
Plodding along, trying to step on the ground and not on flesh, we finally reached the end of the passage and stood before six bodies dressed in naval uniforms, lying side by side. All except one were in exactly the same position and all their throats were slit.
Later, when mopping my face, I could still smell the stench of death on my handkerchief and threw it away. I wished the evil memory of the cave would be tossed away as easily.
---
---
---
---