VIETNAM AT 50
Army nurse remembers one town's loss, keeps fallen soldiers' memory alive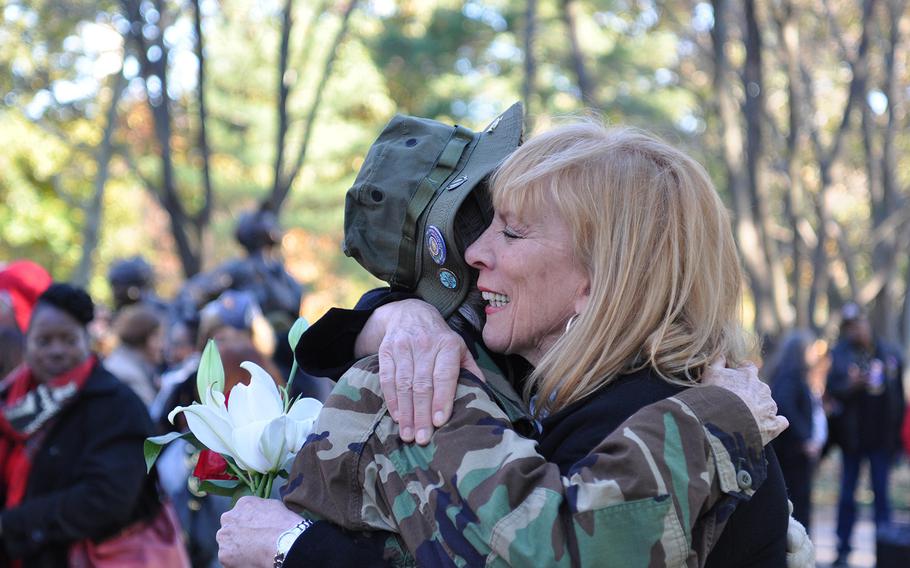 For Cohasset, Mass., 1969 held the worst eight months of the Vietnam War, when 5 of the town's soldiers were killed in action, including three from the Cohasset High School Class of 1966.
No year in any conflict has taken such a heavy toll on the coastal New England town of less than 9,000 people.
Jane McCarthy grew up in Cohasset, and was in the Class of 1966. After graduation, she went on to serve as an Army nurse at the 95th Evacuation Hospital in Vietnam, one of more than 5,000 who served in the Army Nurse Corps. She talked about her experiences in a 2016 documentary, "Maryland Vietnam War Stories."
For years, she has marched in her hometown's Memorial Day parade in honor of those who died. In May, she spoke at the 50th anniversary of the 1969 deaths of those five soldiers.
McCarthy, now 71, lives in Olney, Md. Here are excerpts from her remarks.
This is why we have Memorial Day.
This is why I march each year in the Cohasset Memorial Day parade, to remember those friends – those young boys and citizens of Cohasset -- that we lost in Vietnam, the high cost of war. To remember those days when we gathered each time here in Cohasset for the funerals of each of those boys – five boys in 1969 alone.
John Lyon lived on Joy Place. Graduated Cohasset High School in 1962. Entered the Army in 1966. Captain, 1st Cavalry Division. On the morning of April 18, 1969, during a renaissance mission in northwestern Kan Throng province, while moving to organize and give guidance to his troops, John entered an enemy mine and was killed. Two weeks after his 25th birthday.
Craig Simeone lived up by the old football field. Private first class, 101st Airborne Division. Craig gave his life on Memorial Day, May 30, 1969, in A Shau Valley while conducting an ambush patrol to reach other wounded men under enemy fire. He was 21.
Eddie Maree was a member of the CHS Class of 1966. He joined the Navy in 1965 and served two tours in Vietnam, his last one was in the Gulf of Tonkin. Eddie died on duty July 11, 1969. He was 20.
Allen Keating lived close to the Veterans Project. Graduated in the CHS Class of 1966. Army specialist E-4, 4th Infantry Division. After nine months in Vietnam he went on break to Hawaii, where he married his fiancée, Anne Noonan. He was killed in action Oct. 19, 1969, while leading his squad and its armored personnel carrier. He was 21.
Dennis Reardon lived on Elm Street (three houses down from where his memorial square is now located). 1963 graduate of CHS; served in the Marine Corps as a first lieutenant. On Nov. 29, 1969, his mission was to evacuate combat causalities from the Khe Sanh mountains, 20 miles south of Danang. While co-piloting his helicopter, it exploded in flight, killing Dennis and his crew. He was 24.
We are here now, 50 years later, to remember our loss.
We grew up going to and being part of this Memorial Day parade. I was a flower girl – like these flower girls here today – and then a Girl Scout and majorette in high school. And then off to nursing school and the Army Nurse Corps. I served as an Army nurse in Vietnam in 1970-71 – just after most of our Cohasset boys had made that ultimate sacrifice.
I was not in favor of the war and did not understand what we were doing there – but I knew many of my friends were being drafted and killed. I decided what would be of more purpose at that time in my life – as a new 21-year-old nurse – than to care for those wounded after being sent off to war.
I was there in 1970-1971, a second lieutenant assigned to 95th Evacuation Hospital in Danang, 35 miles from Laos and 25 miles from the DMZ.
I worked in triage. The wounded came on helicopters to a helipad right outside. I took care of 18- and 19-year-old young men — boys — shot up, frightened, alone and afraid to die in a war they did not understand.
I cared for soldiers fresh from combat – amputees, head wounds, chest wounds, treating hypovolemic shock due to blood loss.
We – nurses and docs and corpsmen -- never talked about the wounded that we saw day in and day out while we were there. I knew then that there would be a cost to that someday – that I would pay a price, emotionally and psychologically.
How does a 22-year-old girl from a small town in Massachusetts tell a 19-year-old soldier that he doesn't have a foot or a leg anymore? And the head wounds – the patients expected to die, not candidates for surgery -- I just held them or sat with them until they died.
I wondered why we were fighting this war. I thought I would find answers in Vietnam but I didn't. I did learn that war causes death and mutilation.
I came home in August 1971 and started college 10 days later using the GI Bill. I was home in Cohasset with my parents for a few days – crying all the time, not sleeping, not eating – my parents didn't know what to do and neither did I.
Looking back now, I had a classic case of post-traumatic stress disorder – or what has been called PTSD – I believe now that all of us that witnessed the atrocities of war experience PTSD – to one degree or another, at one time in our lives or another.
I had nightmares. I kept dreaming they had sent me back and I was taking care of a severely injured patient in X-ray and I had to keep telling myself I will get out of here, I will get to go home.
In December 1971, I drove home for Christmas and New Year's, still depressed, not eating. I remember getting together with my friend Dick Churchill, who had come back from his second tour in Vietnam. We did not talk about what we did – we knew what we did. Now it was a question of what to do with the rest of our lives. Nobody knew how to deal with it except to get over it. Get on with your life.
I came home to Cohasset again for Memorial Day 1972 and my father – Pat McCarthy – commander of this Legion Post at the time – asked me to march as a veteran. I didn't want to, as so many vets didn't in those days – but I did it for my father. So I got out my Army summer cords uniform – high heels and all – and marched. There were three of us Vietnam vets that year who put on a uniform that I can remember – John Morgan, Wayne Harrington and myself. Wearing a uniform down Main Street in Cohasset was not a popular thing to do in those days. But we did it anyway.
Every year I return here to Cohasset to march in this Memorial Day parade -- to remember the loss of so many and especially those five that died 50 years ago in 1969, lost to their families forever.
I would like to end today by sharing a poem – "Angel in War" – written anonymously – by a soldier who must have been wounded in Vietnam.
Listen now I've a story to tell, About some women who lived through hell. They fought in the war in a special way, Sometimes 16 hours a day Theirs is a story of pain and strife, And of men's agony and fight for life She will tell you stories of pain That in her mind will always remain Listen now to this story I tell About these women who lived through hell. For they were young like you and me How much more special can they be? How many hands in the night did she hold, While a young voice cried out, I'm so cold.
How many faces does she still see Like the memories we have, both you and me. Listen now to the stories they tell, These are women who lived through hell They fought in the war by our side And like our sisters they often cried. Let us not forget these stories they tell For they were our sisters who lived through hell.