US, Communists locked in a bloody stalemate, each looking for an edge
by
John Vandiver
November 2, 2017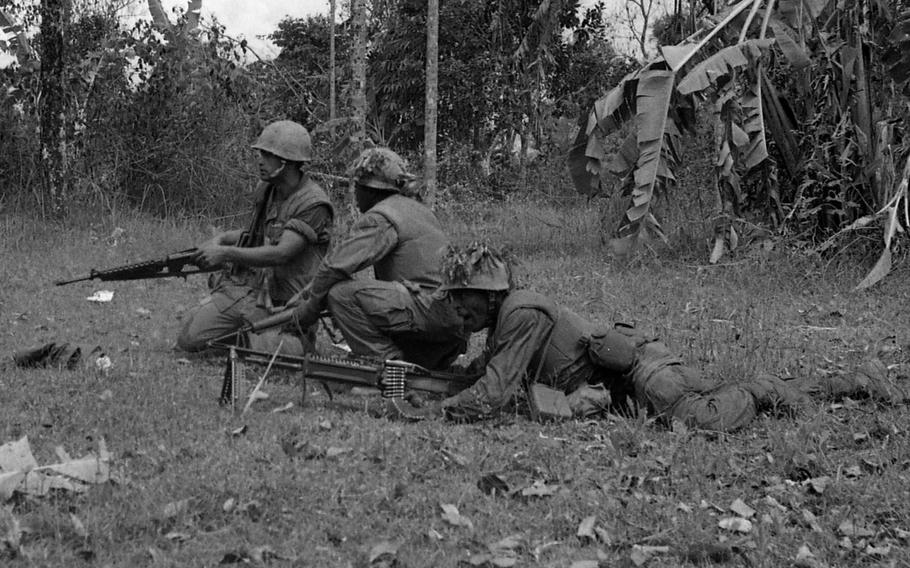 The year 1967 was a turning point in the war, a period of violent escalation when the U.S. military deployed larger troop formations, waged bigger battles and killed hundreds of enemy fighters. The Communists, meanwhile, learned from their losses, modifying their tactics to cope with vastly greater U.S. firepower and wear down American will.
Both sides found themselves locked in a war of attrition. Each side spent the year trying to find a formula for breaking what had become a grinding and bloody stalemate.
The American war plan was about using its overwhelming advantage in firepower to kill more North Vietnamese and Viet Cong than they could replace. The measure of success was increasing body counts rather than seizing and holding terrain.
The U.S. strategy called for luring large numbers of Communist troops into conventional battles where the American advantage in air power and heavy weapons could prevail. That meant U.S. troops had to force their way into highly contested terrain where the North Vietnamese and the Viet Cong were holed up, launching high-risk search-and-destroy missions.
In January, the fighting began with Operation Cedar Falls, the largest ground operation of the war, as 25,000 troops pushed into a Viet Cong stronghold just north of Saigon. About 700 enemy forces were killed compared with 75 U.S. troops.
Next up was Junction City, which involved 30,000 U.S. and South Vietnamese troops in a three-month battle that sought to push opposing forces out of strongholds and hunt down a Viet Cong command-and-control headquarters. However, the headquarters was mobile and elusive, rather than hunkered down.
By the end of Junction City, more than 2,700 enemy fighters were reported killed compared with 282 Americans, but the Viet Cong's leadership remained intact and on the move. Such battles unfolded throughout the year, but the U.S. was still unable draw the kind of large enemy formations it was after.
The North Vietnamese Army and Viet Cong forces were fighting at the company and platoon level rather than battalions and regiments, which meant fewer targets to pick off.
"It was frustrating, every time we attempted to have a big engagement, they wouldn't participate, they wouldn't show up," said Ron Milam, a Vietnam War history professor at Texas Tech University in Lubbock and a combat veteran of the conflict.
In certain respects, the U.S. in 1967 was looking for a replay of the first major battle of the war in 1965: Ia Drang.
In Ia Drang, a vastly outmanned U.S. air cavalry battalion forced the retreat of a much larger north Vietnamese regiment, using airlift and highly skilled infantrymen to outkill the enemy by a wide margin. In 1967, it was that kind of large-scale fight the U.S. wanted, but the North wasn't taking the bait.
"The North Vietnamese learned more from the defeat than we learned from our victory. They learned to never do this again. Never commit large number of troops, but instead, get down to the company, platoon sizes and fight the war on their own terms," Milam said.
Throughout 1967 the enemy would attack, disengage and withdraw into sanctuaries in Cambodia and Laos or in jungle areas where they were hard to detect.
As a result, U.S. troops were destroying platoons and companies, but were less successful in engaging regiments and divisions. When the Viet Cong seized a firebase or a town, the Americans would retaliate with air attacks and the Communists couldn't hold the ground.
Still, the U.S. escalation exacted a heavy toll.
In 1967, the U.S. military inflicted about 140,000 Vietnamese casualties, and American military brass was feeling more optimistic toward the end of year. A large number of Americans remained skeptical, however, with polls showing support for the war plummeting 25 percent since earlier in the year.
Enter "Success Offensive," an orchestrated public relations campaign that pulled Gen. William Westmoreland from his command post in Vietnam into town halls, TV studios and before Congress to convince the country that all was going according to plan.
"I am absolutely certain that whereas in 1965 the enemy was winning, today he is certainly losing," said Westmoreland during a November public appearance, adding that the North Vietnamese were now "unable to mount a major offensive." "We have reached an important point when the end begins to come into view," he said.
The PR blitz might have brought a bump in President Lyndon Johnson's approval rating, which climbed 8 percent at year's end. By then, military leaders thought they had seized the initiative, with the North Vietnamese damaged and on the defensive.
In Southeast Asia, however, the picture was more complex.
Despite heavy losses, the North Vietnamese continued to provide a steady stream of troops down the Ho Chi Minh Trail, replacing casualties even though the jungle route was a prime target for U.S. airstrikes.
"We still believed with our technology we could have a sufficient body count that would cause them to not be able to replace in numbers they would need to keep the war going," Milam said. "But they had a lot of soldiers and they were willing to commit a lot of soldiers to the independence of their country."
While the U.S. dominated the larger fights, the North Vietnamese were initiating 70 percent of combat, carried out by small units carrying out a guerrilla campaign, according to Milam.
Some U.S. forces were working differently, including elements from the Marine Corps and Green Berets, who were experimenting with counterinsurgency tactics that sought to win over civilian villagers who protected fighters from the North. But those efforts paled in scope to the overall war effort, which was being led by Army generals whose careers were defined by the big battles of World War II.
The Army at the time was configured more for a conventional foe, such as the Soviet Union, and fighting a war in Europe. It came at a price: 11,363 Americans were killed in action in 1967.
The Communists, meanwhile, were preparing their own campaign to turn the tide. Their plan was to mount major attacks throughout South Vietnam to destroy the South Vietnamese Army and trigger a nationwide uprising that the Americans would be powerless to contain.
To prepare, the Communists began to quietly move weapons into strategic locations such as Saigon and launch attacks near the Demilitarized Zone between North and South Vietnam, in the Mekong Delta of the south and the central highlands to lure U.S. troops away from urban areas and leave their defense to the less capable South Vietnamese. Communist cadres began organizing cells in Saigon, Da Nang, Hue and other cities that would rise in the coordinated offensive that was to come.
Nevertheless, the language from the brass was brimming with bravado and confidence.
"I hope they try something, because we are looking for a fight," Westmoreland said in an interview as the year ended. Within weeks, Westmoreland would get his wish in what would become known as the Tet Offensive.
"The American people are watching all this," Milam said. "They just had this general traveling around saying what a great job we are doing, and then the shit hits the fan."