Love, protest, music and 'madness'
by
Dianna Cahn
October 31, 2017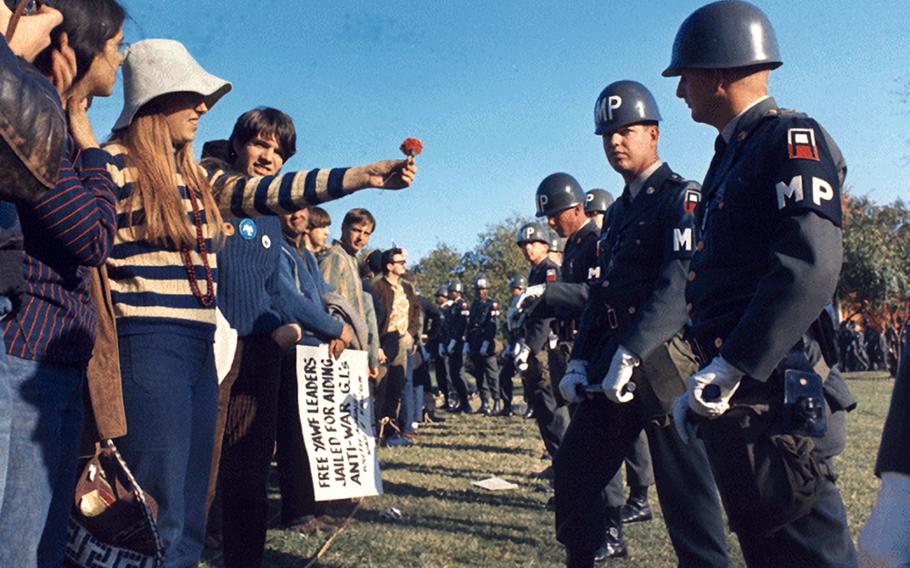 WASHINGTON — The year began with tens of thousands of young people pouring into San Francisco to heed Timothy Leary's call to "turn on, tune in and drop out." By 1967's end, nearly half a million Americans would be serving in Vietnam, and 11,363 would die.
It was the year that those who answered the call to serve and those who burned their draft cards battled for the identity of their generation, and when civil rights activist Martin Luther King Jr. famously said he could no longer be silent in the face of the immoral "madness" in Vietnam.
"Surely this madness must cease," he said in a speech April 4, 1967, at Riverside Church in New York.
The same month, boxing champion Muhammad Ali gave up his heavyweight title rather than serve in the Army. By summer, Detroit, Minneapolis and Newark, N.J., burned in race riots.
In contrast, the Summer of Love – called "the soundtrack of the antiwar movement" by The New York Times -- hit its peak when about 200,000 attended the Monterey International Pop Festival in California. More than 30 bands and artists played, including Country Joe McDonald and Janis Joplin singing anti-war mantras. A world away, young Americans fresh out of high school laid down machine gun fire in the jungles and on the hillsides in Vietnam to pull friends' bodies from the bloodied undergrowth.
It was a time of change and hard questions, a coming of age of a generation with absolute bipolar views of itself and its place in an incomprehensible world. The differences were vast, but for many men and women, the Summer of Love was set to the one thing they shared: the music.
"The kids in Vietnam were very much a part of their generation," said James Wright, professor and president emeritus at Dartmouth College. "The music they listened to in Vietnam was the same as their counterparts listening back home.
"When I try to put my arms around it, it is almost a polarized bipolar view," said Wright, author of the newly released "Enduring Vietnam: An American Generation and Its War."
This year marks a half-century since that pivotal time. The broad brushstrokes of history were painted in 1967 and have come into focus in the decades that followed -- pieces of a kaleidoscope seen through the individual lens of the very different men and women who lived it.
1967 was a year of music, exploration, sexual discovery, racial and moral reckoning, protests and mortality.
It is the story of a teenager who saw the drug- and music-infused era as a spiritual awakening. It's the story of a soldier who grew to feel betrayed, and a white company commander who suddenly saw race through his black Marine. It is the journey of 100,000 demonstrators marching on the Pentagon in Washington, facing down U.S. marshals and the 82nd Airborne.
It is also the story of the young men and women who went to war, fought with valor and came home to a country they didn't recognize.
"It's all perspective," said Wayne Smith, who was in high school in 1967 and would serve as a medic in Vietnam then face the repercussions of post-traumatic stress.
Looking back is "a great opportunity to magnify 1967 as the Summer of Love," he said. "But it was also the summer of war. The war was escalating and the division was starting to come into focus."
"This was a war that involved us all," Smith said.
'I don't really remember much about the hippies'As 1967 rolled around, California — and more specifically, San Francisco — had become a hub to hippies experimenting with sex, LSD and the utopian dream. Yet the Bay Area was ringed by military bases that were the launching point for tens of thousands of military forces being shipped to Vietnam.
Occasionally, those two worlds converged. But mostly, the soldiers would come and go almost oblivious to the buzz in Haight-Ashbury, while the hippies had little interest in the straitlaced folks in uniform.
At Fort Ord in Monterey in late 1966, 1st Lt. Mary Reis was focused on her impending deployment to Vietnam.
"I had friends in San Francisco but I don't really remember much about hippies," she said. The Army nurse — who would become the first woman to head a veterans service organization, Vietnam Veterans of America — had met the love of her life at the officer's club. That love led her to Vietnam.
First Lt. Carl Stout was headed to war as a field artillery officer for 2nd Battalion, 9th Artillery Regiment, 3rd Brigade Task Force, 4th Infantry Division. Reis volunteered and got there ahead of him, deploying in early November 1966 to a surgical hospital at An Khe District.
They had a whirlwind love affair in the heart of war, seeing each other whenever they could. One or the other would hitch a ride on a helicopter; they'd get 15 minutes together here, 30 minutes there.
In April 1967, he showed up with a small package he'd been carrying since he arrived in Vietnam. Stout placed the engagement ring on Reis' hand and asked her to marry him.
She didn't wear the ring in Vietnam, keeping it in a medicine chest where, every time she reached for something, she was reminded that somebody loved her.
It kept her going during the second half of her deployment, when Reis' 2nd Surgical Hospital moved to Chu Lai and the wounded poured in each day. It was not far from where Stout was fighting. His war had gotten more intense, too.
She saw him less frequently and would hold her breath whenever casualties were brought in on helicopters, fearing the worst.
Once, as Reis was checking the identities of casualties, she discovered two men in Stout's unit who had been killed. One of the wounded with them recognized Reis and called her over to him.
"I know who you are. You are Stout's fiancée," he said. "We are taking really good care of him."
'The autopsy must read: Vietnam'Back at home, tensions simmered.
That spring, Martin Luther King Jr. went public with his stance against the war. He marched down State Street in Chicago, calling the war "blasphemy against all that America stands for."
In April, three days before Carl Stout proposed, King spoke at Riverside Church in New York, giving his seminal Vietnam War speech. The war was not only immoral, he said, it devoured resources for programs aiding the black poor. It was destroying Vietnamese and Americans with equal brutality, he said.
"'If America's soul becomes totally poisoned, part of the autopsy must read: Vietnam," he said.
In fact, the soul of America's youth was being pulled in different directions.
In northern California, the music scene was gearing up for Monterey Pop and the song "San Francisco" climbed into the Top 10 on the radio, exhorting young people to come flocking and "be sure to wear some flowers in your hair."
"The spiritual part was the draw," said Boots R. Hughston, a musician who grew up in San Francisco. He attended the Human Be-In in January and practiced sticking needles in his knee until he could do it without flinching — presenting a knee so damaged that there was no feeling in it — to get out of the draft.
"It was more of a spiritual thing, how we can make a difference in this world rather than going to an office 9 to 5 or joining the Army and shooting people," he said.
Hughston and his friends tangled with military police at the Presidio -- the Army base in Golden Gate Park, a stone's throw from the Haight. He got busted three times for smoking pot while driving through the base.
He still believes the counterculture movement made a difference.
"The whole world woke up to it," said Hughston, who organized the 40th anniversary commemoration of the Summer of Love in San Francisco. He'd planned for a 50th anniversary, but he said the city denied his permit. "This was a moment in time that will never be forgotten. This period will ripple through society for hundreds of years."
Across the country in Bowie, Md., high school student Jan Scruggs watched what was going on in 1967 with disdain. Getting stoned all the time "was not anything I aspired to," said Scruggs, who led the crusade for the Vietnam Veterans Memorial in Washington. Scruggs served two tours in Vietnam. He was wounded and highly decorated, and became an expert in post-traumatic stress disorder and a lawyer.
"People in San Francisco were saying that the conventional norms of society aren't working," he said. But counterculture believers were led down a path "laced with drugs and LSD."
"By 1968, the Summer of Love fell apart when people started using meth and cocaine and other drugs," he said. "If it were truly a place in which a counterculture would have been established, with staying power that really became part of the left — if it had evolved into something noteworthy — that would be good. But it didn't evolve into anything other than rehab."
'That's what America is about'Few would straddle the divide as well as Army 1st Lt. Allen Hoe, posted just up the road from Haight-Ashbury that spring and summer, at Travis Air Force Base near Sacramento. Hoe would don his Clint Eastwood-style Mexican poncho and knee-high moccasins after work on Fridays and catch a ride down to San Francisco.
There he spent time with friends and reveled in the scene – the girls, the music, the psychedelic glasses and posters – even the long hair, juxtaposed with his crew cut. The scene jibed with the adventurous nature of the 20-year-old, who grew up in Hawaii surfing the highest waves and racing his motorcycle.
He listened to Creedence Clearwater Revival, the Doors and Jimi Hendrix.
"It was all about the music," he said. "It was awesome."
But Hoe was the son of a World War II vet with strong respect for his Hawaiian warrior heritage. The young man drank but would not smoke pot, and he never lost sight of his determination to serve in Vietnam.
Hoe's day job was running the battalion medical section for about 300 soldiers from the Army's 61st Air Defense Artillery Regiment at Travis air base. He trained under a doctor at the military hospital emergency room, becoming a skilled medic, and listened with fascination to the stories of Vietnam.
When people on base asked him how he could hang around "with those hippies," he just shrugged. "That's what this is all about," he told them. "You can protest. If you want to smoke pot, smoke pot. To me, that's what America is all about."
'How come I am fighting?'July came with racial tensions hitting a tipping point at home.
As a white Marine infantry officer in Vietnam, Capt. Marsh Carter didn't think much about race.
Folks were too busy worrying about life and death in the jungle to think about whether the guy to your left or your right was a different color.
"Our day-to-day world was having fresh food and water and ammunition, knowing where the enemy was," he said. "We were so micro-focused on the mission of staying alive."
He left a wife and a 6-month-old at Camp Lejeune, N.C. But they also lived in a bubble of military life, said Carter, who was awarded a Purple Heart, a Bronze Star and the Navy Cross.
In July 1967, news reached Company C, 1st Battalion, 1st Marine Division, that riots had broken out in Detroit.
It began as "the usual arson and pillage," U.S. News and World Report said. But the publication said it soon turned into "guerrilla warfare," with sniper fire from windows and rooftops, firebombs and looting.
About 2,000 local police were overwhelmed. Then a few hundred state police came in, followed by more than 7,000 National Guard members. By Tuesday, the report said, the Army showed up. It took an additional two days to get the situation under control.
A black Marine under Carter's command came over to him and said, "How come I am fighting this white man's war when the 82nd Airborne is occupying my neighborhood in Detroit?"
It was only then that Carter grasped just how intense things were at home. "I had no answer to that," he said. "I found that to be very difficult and somewhat disconcerting."
Carter would later become the CEO of a Fortune 500 company and chairman of the New York Stock Exchange.
'Vietnam Summer'In Minnesota, John McAuliff spent the summer of 1967 in borrowed cars, driving across the state to meet with community leaders about organizing against the war.
"Vietnam Summer" was the brainchild of civil rights activists, clergymen, professors and students in Boston, aimed at taking the antiwar movement off campuses into communities and religious institutions.
A conscientious objector, McAuliff had spent two years in the Peace Corps after graduating college and was deeply committed to mobilizing against the war. He joined the ranks of about 50 paid workers and 26,000 volunteers across the country, holding meetings and knocking on doors to sow the seeds of a national, organized peace movement.
That fall, McAuliff was in a graduate level program at the progressive Institute for Policy Studies in Washington when the National Mobilization Committee to End the War in Vietnam organized a march on the Pentagon that drew more than 100,000 people.
He was among those that made it past the police line and climbed the Pentagon steps. Some held flags, some sang "America the Beautiful," locking arms. A small group tried to rush the Pentagon doors.
Facing them were troops with bayonets in scabbards, and federal marshals. McAuliff learned later that the 82nd Airborne had been brought in. News reports would describe a day of massive confrontation with hundreds arrested. But McAuliff remembers sitting on the steps and singing.
His protest, at least, was peaceful.
"There were conversations taking place," he said. "Some people came away with the realization the war should not be blamed on the soldiers."
Still, he was taken into custody and spent several nights that October in prison in Lorton, Va., held in the same dormitory with Jesuit priest activist Daniel Berrigan and Jerry Rubin, the antiwar leader. (By the next year, Rubin was among the "Chicago Seven" who turned their trial for inciting a riot in Chicago into a public spectacle.)
McAuliff went on to create the Fund for Reconciliation and Development, which worked for reconciliation with Vietnam and most recently has pushed for normalization with Cuba.
His work led to regular meetings with State Department and national security officials. But because of his early choices, he never qualified for a security clearance to work for the government.
"But for Vietnam I would have been on other side of table," he said. "I could have gone from the Peace Corps into government, but because I felt so strongly about the war, I chose the path outside government."
He said he has no regrets.
'Not for motherhood and apple pie'
That autumn, Allen Hoe couldn't wait any longer to go to war. The Army medic enjoyed his time in San Francisco, but he was committed to becoming a warrior.
He submitted his papers volunteering for Vietnam, waited several weeks and – nothing. Finally, he asked his superiors what happened. His commander had thrown out his request.
"You don't want to do that," the commander said.
But Hoe did want that. "It was not for motherhood and apple pie," he said. "I wanted to know how I could handle it." By Dec. 1, he was standing in Vietnam with the 196th Light Infantry Brigade. In the next year, 50 men he served with would be dead, including 18 from his platoon killed on a single day May 12, 1968. The remains of his platoon leader and another member of the platoon would remain missing for nearly four decades.
His lieutenant's remains would be recovered in 2005, the same year that Hoe's son, Army 1st Lt. Nainoa K. Hoe, was killed while leading a foot patrol in Mosul, Iraq.
"Like my lieutenant — out front leading his men," Hoe said. "Shot by a sniper."
Nainoa Hoe was carrying the same small American flag his father had carried in Vietnam — a flag that had come to symbolize the men who'd been lost in the jungle.
'I served my country'Mary Reis got home from Vietnam in early November, six weeks before her fiancé, and spent those first weeks home dodging questions.
Friends and family kept asking her if we should really be in Vietnam. "Well, yeah," she answered. "I just got back from there. I was taking care of wounded soldiers."
Her fiancé Carl Stout chose to remain in the Army. Reis decided to leave so she could go wherever he would be posted.
"I was really anxious for Carl to get back so I could get back in the military and be with military people where I had a place," she said.
They married at the end of their year at war, on Dec. 30, 1967. She wore a dress she bought in Hong Kong, when they were on leave.
Carl Stout remained in the Army for 22 years, retiring as a lieutenant colonel after going to officer's school. For those in uniform, things grew increasingly uncomfortable after the war, and Mary Reis Stout would urge her young husband to take off his uniform when he wasn't at work. Later, when he was sent to Wichita State University in Kansas for an advanced course, she told him to grow his hair and not tell anyone he was in the military. It wasn't safe, she said.
It wasn't until 1980, when she walked into a Vietnam Veterans of America office in Columbus, Ohio, that she started talking about her service.
"Vietnam veterans are right to be proud, and I knew right then that was what was missing from my life," she said. "I served my country. I saved lives and I had never been proud of it, and I knew that's what was needed."
cahn.dianna@stripes.com Twitter: @DiannaCahn
---
---
---