High school with highest death rate in Vietnam embraces its legacy
---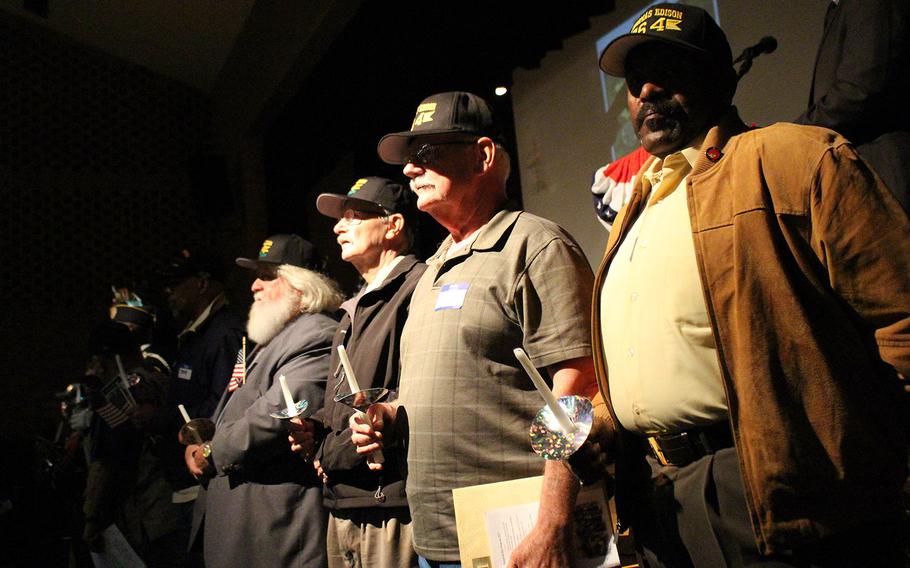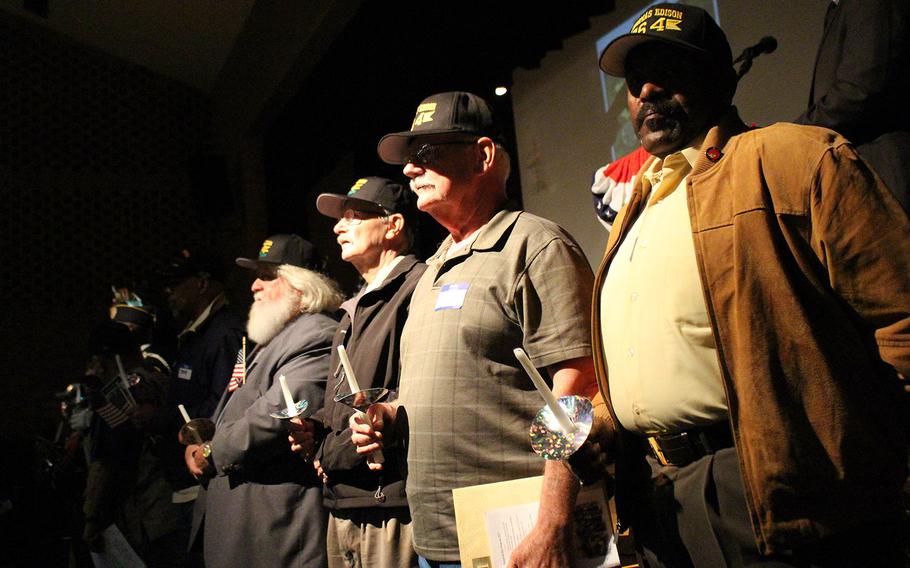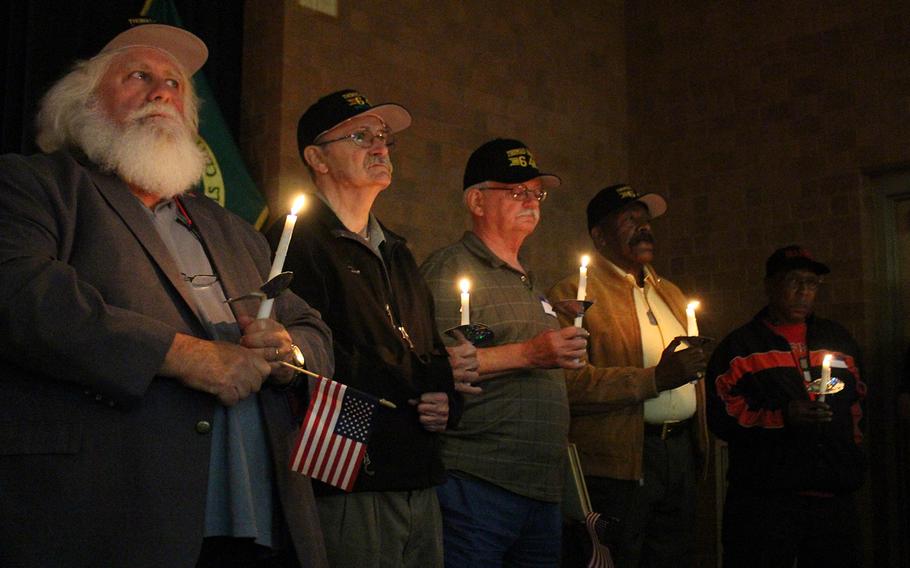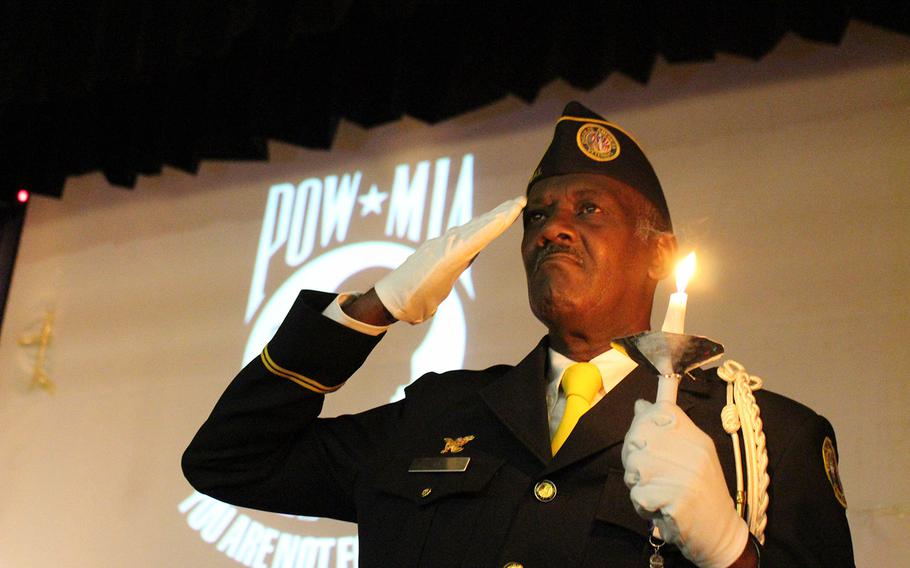 PHILADELPHIA — It took 50 years for Louis Viscusi to overcome the mental obstacles that kept him from the blighted neighborhood in North Philadelphia that he always meant to visit.
It was home to William Moore, the Marine who took a bullet for him six weeks into their tour in Vietnam in 1967 -- the first man Viscusi saw killed -- and he wanted to let Moore's family know that he didn't suffer in the end.
On May 26, 70-year-old Viscusi, who lives in St. James, N.Y., showed up at Moore's old high school in a gray suit. He navigated his walker with one hand, and with the other he clung onto a laminated page of information about Moore printed from the Philadelphia Vietnam Veterans Memorial website. On it, he had scrawled the address of Moore's old home, of his old parish. He'd been to both places, but found no one who knew Moore.
"He left a mark on my life that I tried to put out of my mind," he said. "Now I'm sorry I didn't come sooner. I should've come 50 years ago."
Viscusi didn't find Moore's family that day. But he did find many of his classmates and a school and community that takes the time to honor, every year around Memorial Day, Moore and the many other former students who died in Vietnam.
The school, Thomas Alva Edison High School, had the highest casualty rate during the Vietnam War of any high school in the United States – a fact that's confirmed by the Vietnam Veterans Memorial Fund (the nonprofit that built the Vietnam Wall), and has been recognized by local, state and federal government officials.
It's a designation the school has embraced.
Now -- 50 years since the war -- efforts to memorialize the "Edison 64" are stronger than ever. A local author is writing a book about the school, a few veterans are trying to obtain a posthumous award for one of the 64 former students who died. And more veterans – graduates of Edison who survived Vietnam or others who served alongside the 64, like Viscusi – are making the trip to Philadelphia.
Holding onto its history
The Edison High School of today bears little resemblance to what it was in the late 1960s and early '70s.
Back then, when the men who went on to serve in Vietnam attended, Edison was an all-boys school with a predominantly African-American student population, said Darryrl Johnson, an Air Force veteran who graduated from Edison in 1972. The three-story, Romanesque-style structure was built in 1903, with gargoyles, a central tower and turrets.
In 1979, the school became co-ed, and the demographics shifted – the student population was 71 percent Latino this past school year, according to data from the Philadelphia school district. In 1988, Edison High School was moved to a more modern building two miles to the north, across from a large Catholic cemetery in the Juniata Park neighborhood. It became a combined high school and vocational center and was renamed the Thomas Alva Edison High School/John C. Fareira Skill Center.
The old, original structure, which made the National Register of Historic Places, was damaged by fire in 2011 and demolished in 2013. A Burger King and Save-a-Lot took its place.
Through the changes, Edison held onto at least part of its history.
A memorial to the former students who died in Vietnam takes up a large portion of a wall in the school's main lobby. Hung the highest is a wooden plaque with spaces for 100 names, 64 of them filled out. School administrators ordered it made in the late 1960s, when they realized the death toll of former students was climbing.
Across the lobby from the memorial wall is a glass case holding more tributes to the 64 students: a certificate of congressional recognition, a notice from the state Senate about a historical marker awarded to the school and a city resolution to rename a three-block section of road "Edison 64 Memorial Street."
Just outside the school's front doors is a memorial garden for those who died in Vietnam. In the junior ROTC room, a large banner hangs on the wall, listing the names of the 64. Also hung around the room are name rubbings, in blue crayon, that students took from the Vietnam Wall during a field trip to Washington.
No one is completely sure what factors aligned to make Edison the high school with the highest death rate in Vietnam, Johnson said, but some have guessed. Johnson joined the Air Force voluntarily to get out of the neighborhood and away from gangs. He assumes some of the 64 did, too. Gerald Jones, a Marine Corps veteran who graduated in 1965, said some of the 64 had gotten into trouble, and the court gave them a choice -- jail or military service. Others brought up theories about the draft targeting poverty-stricken areas.
Whatever led to the high loss of life, Edison's current principal, Awilda Ortiz, described it as a legacy -- and not one she or the rest of the school is shying away from.
"It's a shame, I know that. But it's also an honor, too," said David Morson, an Air Force veteran and one of the Junior ROTC instructors. "I think it shows the spirit of the Philadelphians. I think it speaks highly about the Philadelphian fighting nature, you know?"
The high point each year for recognizing the 64 comes the Friday before Memorial Day, when the school invites former students who served in Vietnam and fills its auditorium for a three- to four-hour ceremony. It's grown from its first iteration in 1968 as a simple candle lighting.
Johnson, who returned to Edison High School decades later as a teacher, is the one mostly responsible for keeping the tradition going. It's meant not only to honor the dead, he explained, but to inspire the current students, who face some of the same challenges as the school's previous generations.
Ortiz said Edison had a history of "turning tribulations into fortitude."
"So many principals have come and gone; the school has changed," Johnson said. "But this is a tradition we do, not only for our guests, but for students. We want them to understand the legacy of this school and embrace it. We want to make sure this story is told every year."
The path back to Edison
When Johnson started as a student at Edison High School in 1968, there was a lot going on close to home: the civil rights movement, hippie counterculture, gang activity within his north Philadelphia neighborhood. It was hard to pay attention to what was happening in Vietnam and to his schoolmates who were serving there.
"At 15 years old, trying to stay focused on the war was a challenge, although we should've been more focused on these guys," Johnson said.
Like other students, Johnson paid attention only when the principal, Albert Glassman, came over the PA system to announce another death. The students and teachers would hold a moment of silence, and then go back to their work.
Then, the school held its first candle lighting in the auditorium. At some point that year, the memorial plaque, with its 100 nameplates, appeared on a wall near the school entrance.
"We kept looking at that like, 'Wow, 100. Are we going to lose 100 graduates?'" Johnson said. "Some of us were looking into the military ourselves and wondering if we were ever going to show up on that wall."
When he graduated in 1972, Johnson enlisted in the Air Force and qualified to become an aircraft mechanic on FB-111 Aardvark jet bombers. Later, he was a flight engineer on C-141 airlift aircraft at McGuire Air Force Base outside Trenton, N.J.
He joined, he said, to "get away from gangs, from the neighborhood, from the little world in north Philadelphia that was all I knew."
More than 20 years later, his path led him back there. Johnson returned in 1999 to teach mathematics.
"When I walked into the building, I realized the tradition not only continued, it grew," he said.
For the next 17 years, he would organize and grow the annual remembrance of those who died in Vietnam. Johnson retired in 2014 and moved to Delaware, and he's still organizing the ceremony.
During a rehearsal May 25, Johnson gave instructions to the students lighting the candles and the color guard presenting the flags. He fretted over the details – the route veterans would take when walking in, where the bugler should stand when playing taps and how to pronounce each name on the list of special guests.
Johnson was nervous, he said – he always is before the ceremony. And this year's was especially important. He was excited to update the crowd about his recent attempts to secure the Medal of Honor for one of the 64, Spec. Lural "Earl" Lee Blevins III.
'A very good soldier'
Last year, Johnson read a memoir published in 2015 by noted venture capitalist and Vietnam veteran Charles W. Newhall III. In one chapter, Newhall writes about a reconnaissance mission in August 1968 on what would later become known as Hamburger Hill, the site of a battle in 1969 that killed about 400 U.S. soldiers and prompted public outrage.
In the book, Newhall credits Blevins with saving his life on the hill.
After reading the memoir in April 2016, Johnson went to Blevins' page on the virtual wall, a website run by the Vietnam Veterans Memorial Fund. He described the passage about Blevins and asked anyone who may know more about the situation to come forward. He wrote that Newhall was attempting to have Blevins awarded the Distinguished Service Cross, the second-highest service award in the Army.
Two men, Ron Christian and Greg DeLaurentiis, answered. Like Newhall, DeLaurentiis said Blevins saved his life.
In the following months, the men – Johnson in Delaware, Christian in Philadelphia and DeLaurentiis in Brooklyn, N.Y. -- regularly communicated through email and conference calls. They collected witness statements and a petition with about 100 signatures, and acquired the Army's investigation report that determined Blevins was killed in action. DeLaurentiis shared a letter he wrote his parents, describing the day Blevins died. They combined everything into a packet and sent it to President Donald Trump, Sen. Lindsey Graham, R-S.C., Sen. Pat Toomey, R-Penn., Sen. Bob Casey Jr., D-Penn., and others, requesting an investigation to award Blevins the Medal of Honor.
Johnson is aware it could take years, he said, and their efforts may result in a lesser award – but they all wanted to try.
"We thought it was the right thing to do," DeLaurentiis said. "He saved my life and the lives of other people, and he did it completely selflessly. That's what, I think, distinguishes him from other people."
Newhall wrote in his book that Blevins ended up in Vietnam after he'd been accused by Philadelphia police of stealing hubcaps.
When they spoke of the future, Christian said, Blevins told him he wanted to be a mechanic. He met Blevins when he volunteered to leave his artillery gun crew and carry Christian's radio. They were both from Philadelphia and planned to reunite when they got back home. Blevins used to show off a photo of his wife, Christian recalled. He also had a young daughter.
Christian was away on R&R when Blevins volunteered for another assignment, this time to be a forward observer for Newhall's company, on what Newhall described in his witness statement as a "highly dangerous" assault on a hill in the Ashau Valley that was defended by North Vietnamese troops.
At the time, Blevins' tour was scheduled to end in a matter of days.
DeLaurentiis was also on the assignment. He, Blevins and a few others became quick friends, DeLaurentiis said.
Like Christian, he described Blevins as funny and courageous, with a "great spirit."
It was a three-day assault, and Blevins was the only soldier in the company to participate every day, Newhall wrote. On the first day, Aug. 14, 1968, Blevins repeatedly went into harm's way to direct airstrikes and cover fellow soldiers with small-arms fire. Newhall was wounded and didn't return for the rest of the assault, but DeLaurentiis was there with Blevins the following two days, he said.
DeLaurentiis wrote in his witness statement that the company was ordered to withdraw on Aug. 16, but he and four others were stuck under fire. Blevins, though wounded in the leg, stayed on the hill and continued to call in airstrikes for the men.
"His decision to stay cost him his life," DeLaurentiis wrote.
Blevins' body wasn't immediately recovered, but an Army investigation board determined -- after speaking to DeLaurentiis, as well as others who fought on the hill -- that Blevins had been shot in the head and killed. He was 22.
Newhall submitted paperwork at the time to award Blevins the Medal of Honor.
After Blevins died, DeLaurentiis wrote a 16-page letter to his parents about the assault.
"I am fine physically, but mentally I am distressed and as depressed as one can be," he started the letter. "You see, two days ago I lost two of the best buddies a guy could have."
He went on to tell his parents about Blevins' death, about he and the remaining soldiers' fear they'd die if they tried to carry the bodies down, and about signing the documents for Blevins' Medal of Honor.
Every year for a long time, DeLaurentiis looked through the posts on Blevins' page of the virtual wall, he said. This May marked his and Christian's first visit to Edison High School.
"The 64 kids who died, that's a big number," Christian said. "I don't even understand it, how that could happen."
Bringing survivors together
There's some discrepancy between the school's tally of the dead and what's officially recognized. The Vietnam Veterans Memorial Fund acknowledges 54 former students of Edison High School were killed in Vietnam. Over time, though, the school added more names of former students who returned from the war but died of injuries sustained there.
Many past students who survived Vietnam didn't know, until decades later, that Edison suffered significant losses, Jones said.
Jones was drafted into the Marines in 1968. He spent 12 months, 20 days in Vietnam, and when he returned to Philadelphia, he had no idea the number of deaths of schoolmates at Edison had climbed into the dozens. It wasn't until the late 1980s when Jones, and a lot of the other guys, learned of the situation, he said.
"It took years for us to realize what had happened to Edison," Jones said. "When we came home, we were just dropped back into society. A lot of us had addictions or disabilities. Finding out about what had truly happened to a number of my classmates – that took years for it to come full circle."
He was one of about 35 former Edison students who were honored at the school May 26. They wore green-and-yellow caps, Edison's colors, with "Edison 64" stitched across the front.
This was Jones' sixth year returning to Edison. Now, most of his friends are survivors of Vietnam who attended the high school. Following the ceremony, they ate lunch on the school lawn and swapped stories.
Jones' biggest motivator in returning each year, he said, is the same as Johnson's -- to make sure the school's history isn't forgotten.
"I think it needs to be passed onto the kids. A lot of them don't even know," Jones said. "They need to know exactly what they're part of, that being a student at Thomas Edison High School comes with a heavy legacy."
Search for closure
Viscusi went into Edison High School on May 26 with a specific purpose – to learn more about the man who died next to him in Vietnam and to offer his family some words of comfort.
He approached people in the school's packed main lobby that morning, introduced himself and asked for any information about Moore. But Moore's story wasn't as well-known as some of the others.
Viscusi and Moore were in Vietnam only six weeks when their platoon was ambushed in a jungle in Quang Ngai province.
"He wanted to switch positions," Viscusi said. "He took my spot, and I took his. Ten minutes later, he got shot in the head, and I got shot in the leg."
Viscusi and others were medically evacuated. In the helicopter they took out of there, Moore's body was next to him.
"He was lying right by me, and all I did was cry for him," he said. "I was 21 years old, he was 19. What did we know?"
Six weeks wasn't long, and he knew little about Moore. He wanted to be a carpenter, Viscusi said, and he was a polite guy.
Twenty-five years after his death, Viscusi visited the Vietnam Wall and made a rubbing of Moore's name that he keeps with the rest of his things from the war. When the 50th anniversary came, he woke up one day and told his wife that he was ready to go to Philadelphia.
"She said, 'I've been waiting for you to say that for the last 50 years,'" he said. "It's not easy, but I'm here."
Later in the day, he met a classmate of Moore's who knew him. He was a deacon, and he listened to Viscusi's story. It wasn't a relative, Viscusi said, but "it made me feel good."
Johnson had spent a few hours with Viscusi and his wife before, and told them the story of the 64 -- that Moore was part of a bigger story.
Johnson doesn't think he'll organize the ceremony for many more years, but he'll help enough to ensure it continues. There's a community that expects it now. There are more stories to tell, he said, and more opportunities for some closure, like Viscusi found.
"Fifty years from now, this building may be torn down and another Edison built somewhere else," Johnson said. "But there will always be that bond, that connection that can never be severed.
"There has to be dedicated individuals who will see that our mission to recognize these guys continues, regardless of the years, the circumstances, the principals, students, staff. It doesn't matter. These guys died for us; they represent us."
wentling.nikki@stripes.com Twitter: @nikkiwentling
---
---
---
---