Robotic exoskeleton helps vet with brain injury walk again
---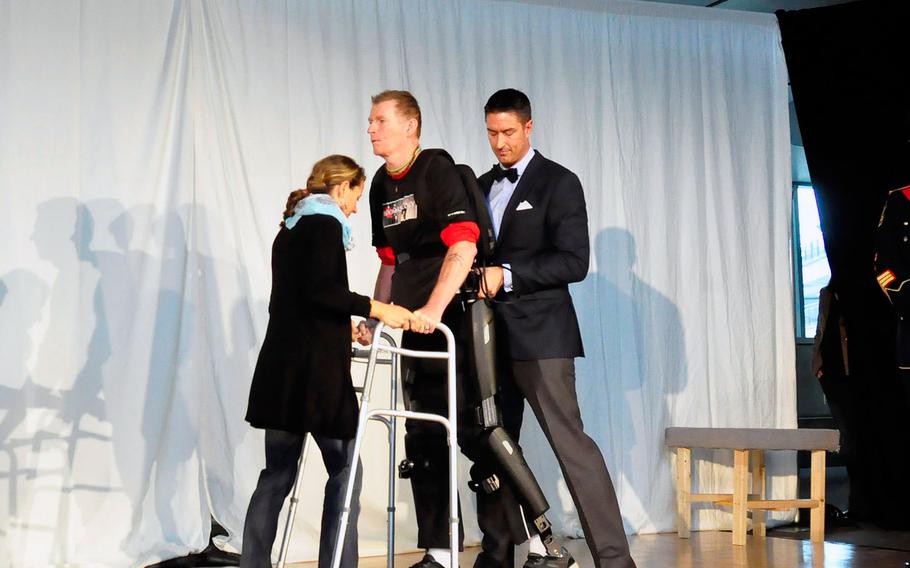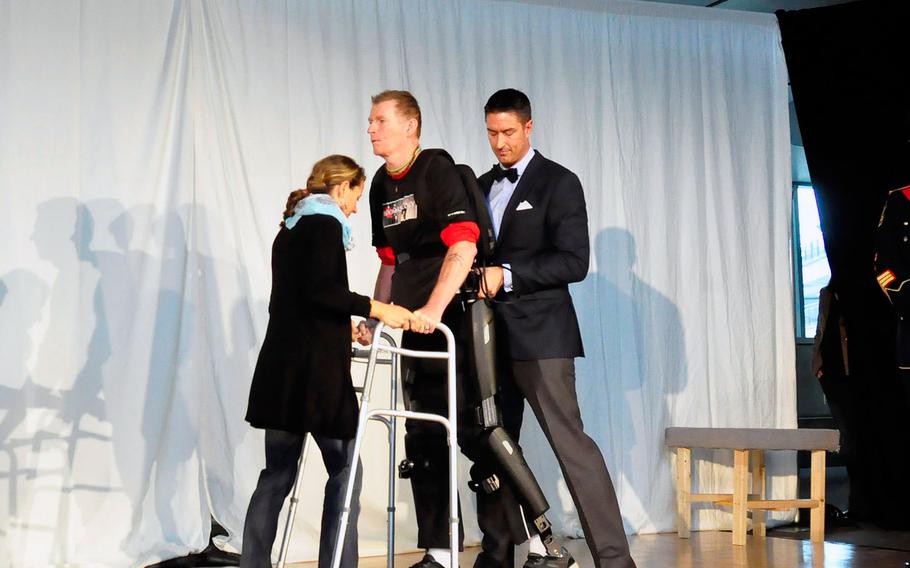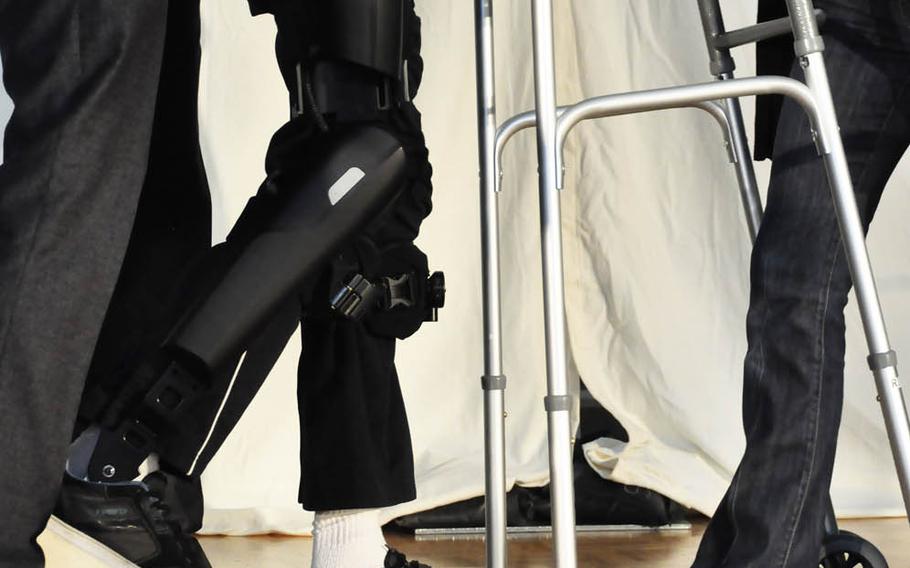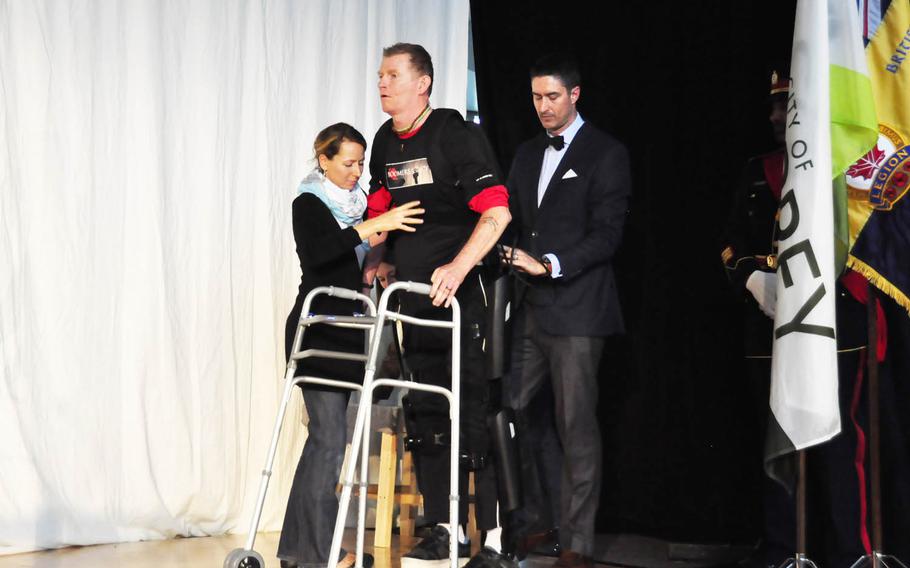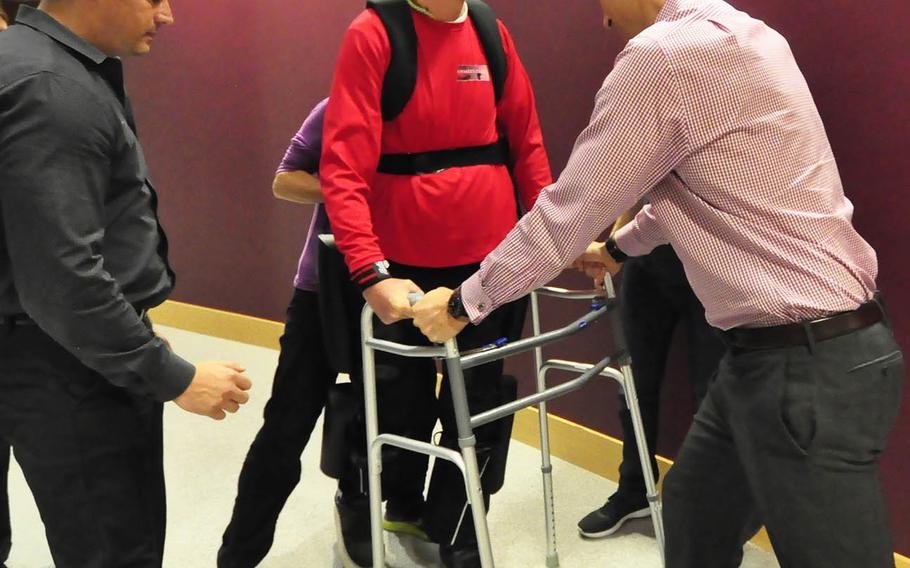 Trevor Greene calls himself the "bionic" man.
The former Canadian soldier, who was told he might never walk again after suffering a brain injury during a 2006 ax attack in Afghanistan, is now mobile with the help of a robotic exoskeleton on the lower half of his body, according to Simon Fraser University in British Columbia.
Greene — who is able to walk upright with assistance while wearing the custom-made ReWalk device — showed off his progress walking with the exoskeleton Sept. 17 at the school's Surrey campus, the school said in a statement.
The device has metal rods that run down the sides of his legs and insoles that are placed inside his shoes, Carolyn Sparrey, an assistant professor at SFU's School of Mechatronic Systems Engineering, told Canadian broadcaster CTV News. It also has small motors at the hip and knee that help propel Greene forward.
This is the first time exoskeleton technology, designed for those with spinal cord injuries, has been used for a person with a brain injury, Sparrey said in the statement.
Dr. Ryan D'Arcy, a neuroscientist and SFU professor, has been working with Greene since 2009 to explore how the brain's ability to reorganize neural pathways and synapses in response to behaviors, thoughts and emotions affects motor functions, the statement said.
D'Arcy tracks how the brain rewires itself by collecting functional magnetic resonance imaging scans of Greene's brain.
In an article published this month in The Journal of Head Trauma Rehabilitation, D'Arcy and his team say those who suffer a traumatic brain injury can recover physical functions through rehabilitation, even six years after their injury, challenging current assumptions that long-term recovery isn't possible, the statement said.
Greene, who hopes one day to walk unassisted, says his goal is to make it to Mount Everest base camp.
kidd.aaron@stripes.comTwitter: @kiddaaron
---
---
---
---