Medal of Honor recipients share stories, sign books at Yokosuka
---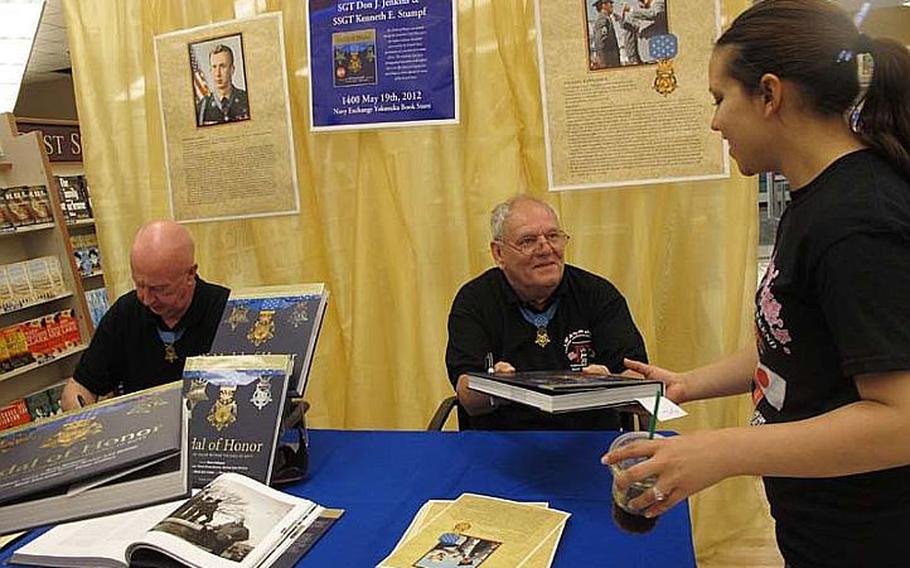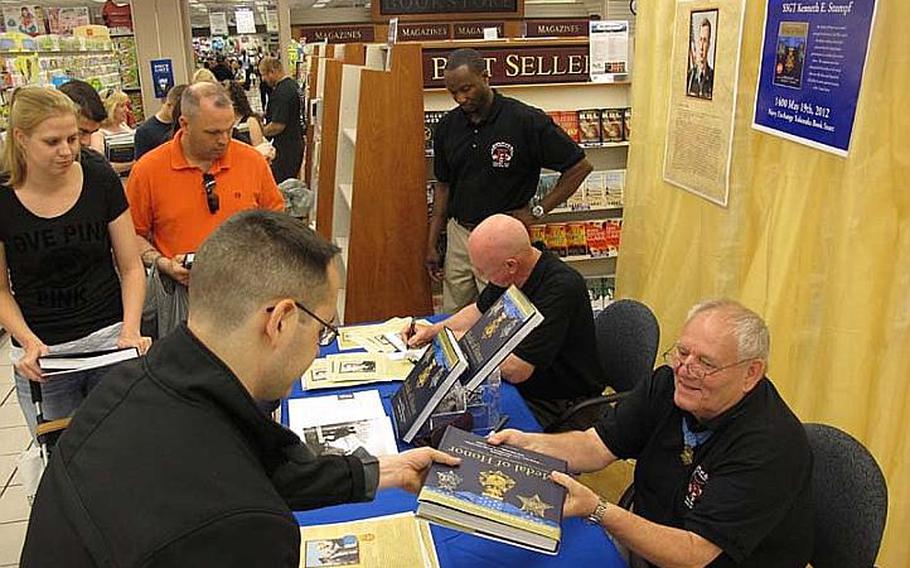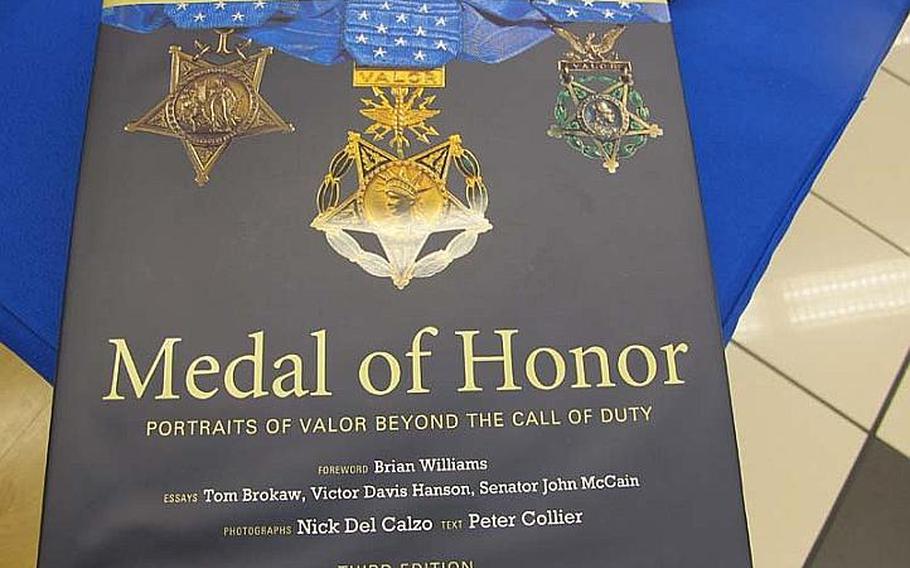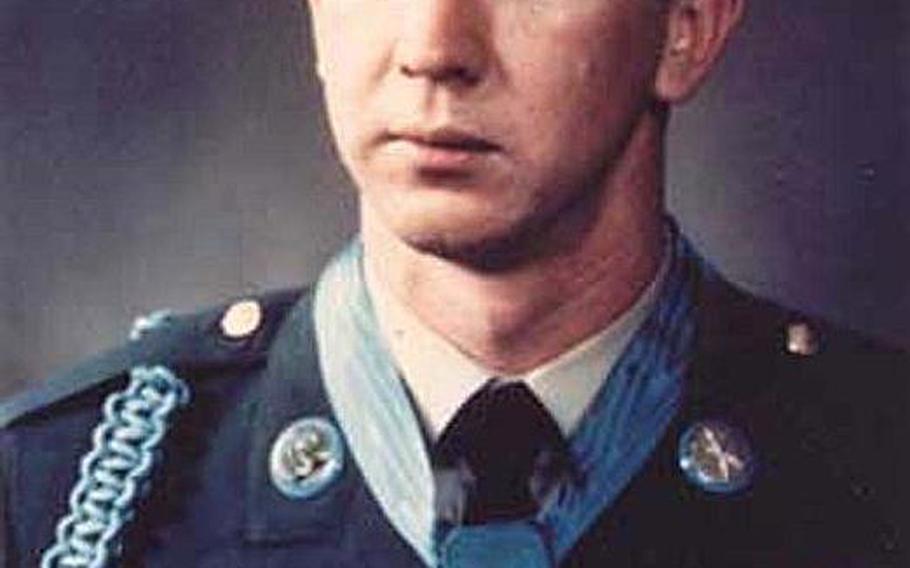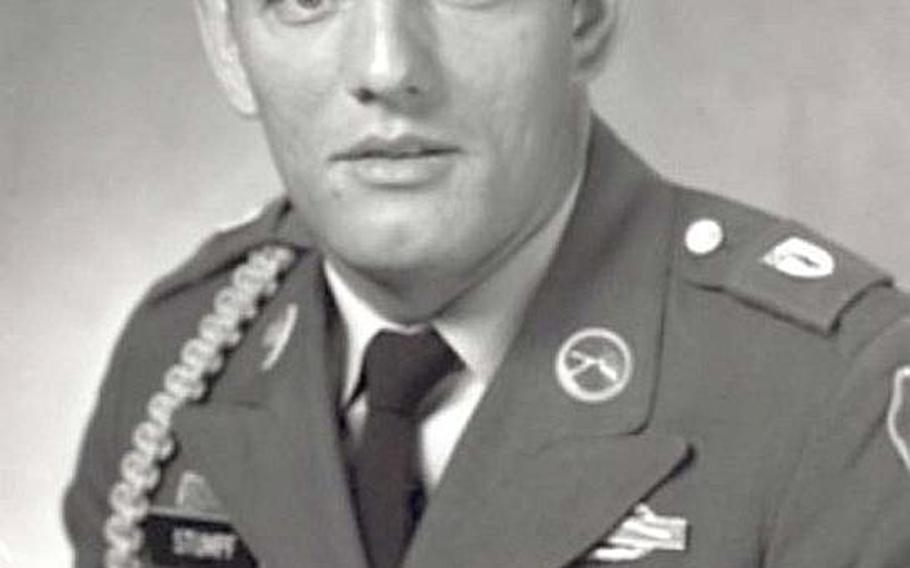 YOKOSUKA NAVAL BASE, Japan — Ken Stumpf and Don Jenkins appear to have little in common.
Stumpf, a gregarious career Army man from Wisconsin, readily shares his observations and opinions on just about anything you'd like to bring up.
Jenkins, a career Kentucky coal miner, graciously says exactly what he needs to say, and little more. If he were an old-time movie actor, he'd have been typecast as the "strong, silent type."
Bravery, it would seem, comes packaged in many different forms.
Stumpf and Jenkins are among the select few who risked their lives in combat to save their comrades, and in turn were awarded the nation's highest military commendation – the Medal of Honor.
On Saturday, the two men appeared at the Yokosuka Navy Exchange store to sign copies of the book "Medal of Honor: Portraits of Valor Beyond the Call of Duty," as part of an exchange-sponsored trip.
"They're amazing people," Coast Guard Lt. j.g. Kaitlin Powers, who serves aboard the USS John McCain, said while waiting in line to have a book signed. "If you're trying to pick examples of people you would want to be like, especially as a servicemember, you'd choose to be like them."
On April 25, 1967, near Duc Pho, then-Spc. 4 Stumpf, of Company C, 1st Battalion, 35th Infantry, 25th Infantry Division, was leading his 3rd platoon squad toward a village when a North Vietnamese rifle company ambushed them. Three of Stumpf's seven men were wounded in a barrage of machine gun fire, he told Stars and Stripes prior to the book signing.
Stumpf and the others moved to a deep trench. The thick enemy fire made it unlikely that they could reach the wounded without adding their own names to the casualty list.
"I said 'I'm going in,' " Stumpf recalled. "I didn't know where exactly they were at. I just went in … my mouth dried up, water came out of my eyes and the sound of gunfire was enormous. I was tremendously scared. But I knew they would do it for me."
Stumpf rescued all three men and brought them back to the trench.
Stumpf and his squad then eliminated two bunker positions, but one to the front of the advancing platoon remained a threat, according to Stumpf's award citation.
Stumpf ran over open ground toward the bunker and lobbed a grenade at the machine gun emplacement.
The grenade came right back at him, forcing him to take cover.
"Undaunted, he pulled the pins on 2 more grenades, held them for a few seconds after activation, then hurled them into the position, this time successfully destroying the emplacement," Stumpf's citation states.
Long after the fight, Stumpf heard a couple of soldiers whispering and staring in his direction during chow. That was how he heard about his award nomination.
On Sept. 19, 1968, more than a year later after the fight, he accepted the award at the White House from President Lyndon B. Johnson.
He then went back to Vietnam for two more tours and eventually retired as a sergeant major after 29 years in the Army.
Like Stumpf, Jenkins' defining moment as a soldier occurred when his comrades were wounded after a surprise attack.
As a member of Company A, 2nd Battalion, 39th Infantry Regiment, 9th infantry Division, then-Pfc. Jenkins went on a reconnaissance mission on Jan. 6, 1969.
A unit was pinned down under fire within meters of enemy soldiers. One soldier had already died and others had been wounded trying to reach the beleaguered men.
"You have buddies calling your name – 'Don? You alive? Come get me,' " Jenkins recalled.
As nightfall set in, ignoring the pain and blood of the shrapnel wounds he sustained earlier in the fighting, Jenkins dashed 100 meters through enemy fire to help the pinned unit – three times. Each time, he returned to the defensive perimeter with an injured comrade.
The next day, Jenkins found out his command was going to submit his case for the Medal of Honor.
But Jenkins saw no need to draw attention to himself, and grew concerned about it causing jealousy – something Stumpf said that he later encountered.
"I went up and got it," Jenkins said, referring to the medal. "Then I came back home and put it in the drawer."
After finishing his tour, Jenkins went back to the coal mines. He rarely took the award out of the drawer for decades, until he perceived a shift in how the American people viewed what he had accomplished.
"After 9/11, people thought differently about service and the troops," Jenkins said.
Since then, both men have toured and spoken several times about their experiences. Stumpf even brings a 1967 copy of Stars and Stripes when he goes to schools to talk about Vietnam.
He particularly relishes the chances he gets to talk with servicemembers during opportunities like the book signing in Yokosuka on Saturday.
"To be able to say thank you to them in so many far-off places is great," Stumpf said.
if(typeof(dstb)!= "undefined"){ dstb();}
if(typeof(dstb)!= "undefined"){ dstb();}
if(typeof(dstb)!= "undefined"){ dstb();}
if(typeof(dstb)!= "undefined"){ dstb();}
if(typeof(dstb)!= "undefined"){ dstb();}
if(typeof(dstb)!= "undefined"){ dstb();}
if(typeof(dstb)!= "undefined"){ dstb();}
if(typeof(dstb)!= "undefined"){ dstb();}
if(typeof(dstb)!= "undefined"){ dstb();}
if(typeof(dstb)!= "undefined"){ dstb();}
if(typeof(dstb)!= "undefined"){ dstb();}
---
---
---
---