STARS OF STRIPES
Jack Foisie: infantryman turned reporter
by
Nancy Montgomery
April 5, 2017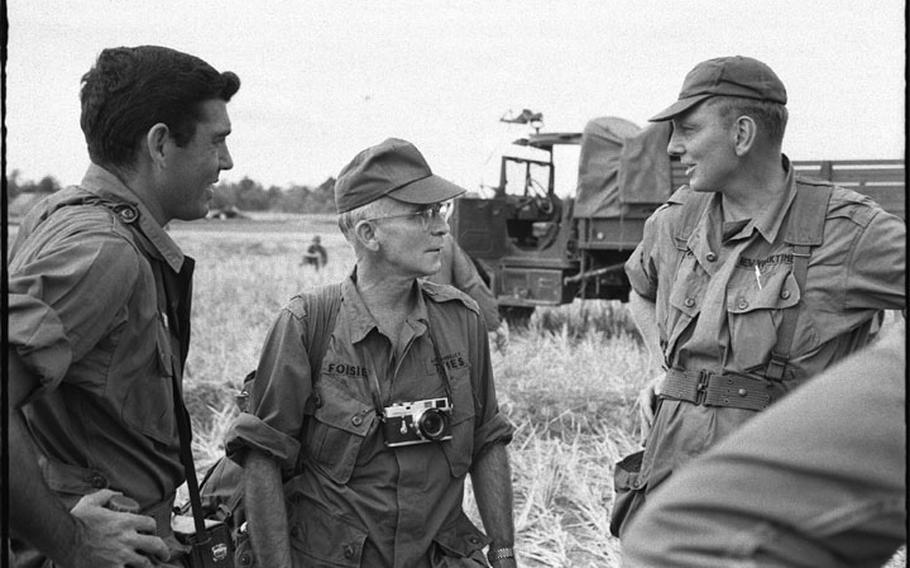 Jack Foisie was a sports and local news reporter on the West Coast when war broke out in 1941. Foisie, 22, quit his newspaper job, joined the Army and went into combat with the 1st Armored Division. He fought all through Tunisia, driving a half-track, operating a .50-caliber machine gun, keeping his typewriter handy until it was blown up.
After 15 months, he wrote to Stars and Stripes asking to join the staff. "Why not?" then-editor Capt. Bob Neville replied in a two-word letter. Orders arrived for Foisie to report to Naples, Italy, 10 days later.
It was the start of a beautiful friendship.
For his combat coverage of the 1943 invasion of Sicily, Foisie was awarded the Legion of Merit. When units requested a reporter from the paper to cover their exploits, they most often asked for Foisie.
"Americans today patrolled the gloomy streets of once sunny Naples," began Foisie's story about the city after it was taken. The story detailed destruction by retreating German engineers, leaving the city without lights or water. "As a result Naples has become — a city of 700,000 candles — about a candle per person," he wrote.
After the war, Foisie had a long, highly successful career, serving as bureau chief for the Los Angeles Times in then-Saigon, Bangkok, Cairo and Johannesburg. But he was best known as a top war correspondent, including in Korea and Vietnam, consistently questioning the official story in light of what he had witnessed.
In Foisie's 2001 obituary, his former foreign editor at the Los Angeles Times told the paper that Foisie had been a legend among war correspondents, not only in Asia but also in Europe. "All the civilians knew about Ernie Pyle, but the guys in the Army knew Foisie," Robert Gibson said.
Pyle knew Foisie, too. Perhaps the most famous and beloved correspondent of World War II, Pyle wrote about Foisie in his book, "Brave Men." Foisie had talent and an "ephemeral, intuitive sense" to be able to write stories from a soldier's viewpoint, Pyle wrote. And he was game.
"Among correspondents Foisie had the reputation of always being willing to go anywhere and do anything," Pyle wrote.
The Seattle-born Foisie was a member of news royalty. His sister, Virginia, was married to Dean Rusk, who served as secretary of state from 1961-69. Foisie's brother, Philip, was among the most influential foreign editors of The Washington Post, and later of the International Herald Tribune. Philip also was influential at Stars and Stripes: In 1989 he became the paper's first ombudsman and worked to eliminate military censorship.