'They are, and will always be, the greatest in my mind'
by
Michael Darnell
June 11, 2015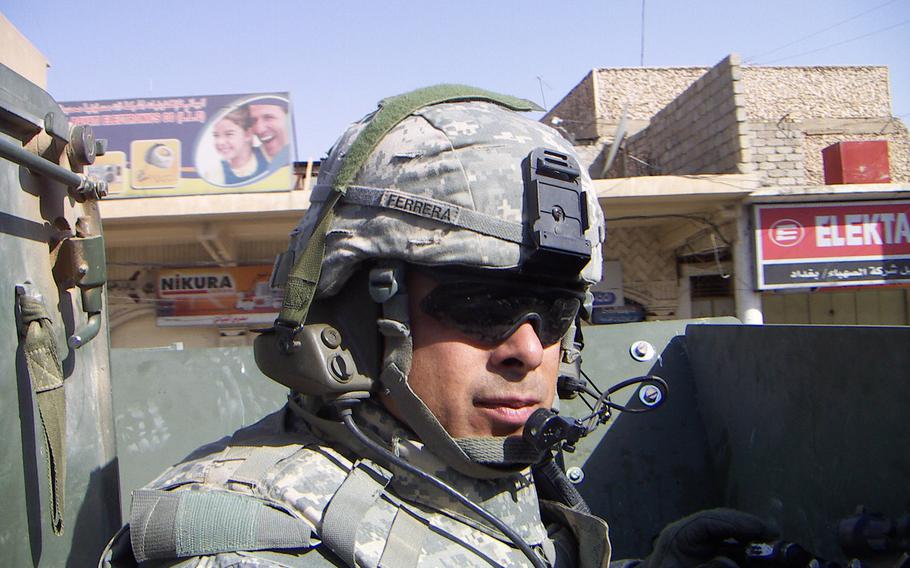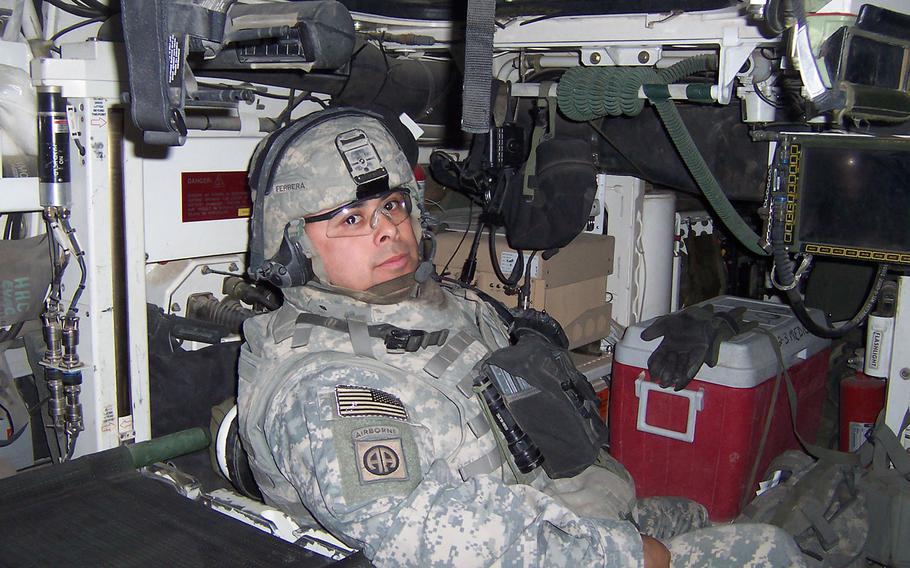 Najaf, Iraq — Jan. 28, 2007
As Sgt. Maj. Viriato Ferrera tells it, the morning of Jan. 28, 2007, started off uneventfully.
On that day, Ferrera — then first sergeant for Company C, 2nd Battalion, 3rd Infantry Regiment, 2nd Infantry Division — was running his troops through Stryker dismount rehearsals at Forward Operating Base Kalsu.
It was just another day, he said, as normal as any could be while deployed during what would become the bloodiest year of Operation Iraqi Freedom.
That relative peace was over soon enough, shattered by a tragedy from a battle raging near Najaf, Iraq, 90 kilometers from their position. A call for help would end with Ferrera and his company as the spearhead for one of the most complete coalition victories of OIF. More than 100 medals for combat valor would be earned for actions that day.
A fierce battle had broken out between Iraqi security forces — augmented by U.S. Special Forces from Operational Detachment Alpha 566 — and a mixed group of Sunni insurgents and a Shia cult known as "Soldiers of Heaven."
During that battle an Apache helicopter was shot down. Both pilots — Army Capt. Mark Resh and Chief Warrant Officer Cornell Chao — were killed on impact.
Ferrera's unit was called upon to secure the crash site. It took them only an hour to convoy to the edge of the city of Zarqa, more than 90 kilometers away. The nature of their mission meant expediency was of the utmost importance, so they had to roll in with a bare minimum of information.
"Once we got on ground, most of us were kind of surprised; we weren't completely aware of what was going on at the time," Ferrera said. "What we discovered is that the Special Forces and some Iraqi Security Forces that were with them had come under contact — heavy machine-gun contact by a large force in the town of Zarqa."
While attempting to reach the crash site, Ferrera left the relative safety of his armored vehicle to clear a roadblock. That's when his men came under fire. What had begun as a recovery mission quickly turned into a battle against a deeply entrenched foe that would last throughout the night.
"What we ended up discovering is that there were about four or five miles of trench dug all around the town," he said. "It was fortified; there were machine-gun positions in the trench line; there were AA (anti-aircraft weapons), which were what ended up shooting down the Apaches. They were ready for everything."
While the insurgents were well dug in, Company C had to weather the opening salvos relatively alone. They had begun a battle that wouldn't be wrapped up for nine hours.
"I had [Company C], so we were the first ones on site to link up with the special forces," Ferrera said. "I think [Company B] came up behind us about an hour. ... They came up on our southern flank to set up a blocking position. We surrounded the aircraft … then we commenced to push them back as we fought them."
That offensive maneuvering allowed the soldiers to recover the bodies of Resh and Chao. The battle continued for five more hours, in some cases in close enough quarters that hand-to-hand combat was a real possibility.
"There was actually a trench line that came out where the Apache crash was," Ferrera said. "I think they popped up on us somewhere around 0100 in the morning; they came out of that trench … about 150 meters in front of us. That was a pretty interesting moment. That was definitely a two-way rifle range for my guys."
The battle continued until around 3 a.m. At the end, more than 300 insurgents were reportedly killed and 279 were reportedly detained. Every member of Company C survived. But there wasn't time to celebrate.
At 7 a.m., Company C hit the edge of the town. Before the soldiers had time to catch their breath, they began getting requests for medical aid from one of the soldiers sweeping the area. What started as a trickle of pleas for help soon turned into a downpour.
"I had the medics with me and the surgeon. So I moved my Stryker to his location … which only took me three or four minutes to get to his location," Ferrera said. "In those three or four minutes we were up to 100 personnel."
That began a massive life-saving operation that continued for nine hours, until the company handed over control of the area to the Iraqi Army. Most of the troops had not slept in more than 30 hours, and all had survived a night of intense fighting.
"I remember sitting down on the ramp of my Stryker and I remember not wanting to stand back up," Ferrera said. "I was just so tired and exhausted."
Still, they managed to push through when it was time to save the lives of not only the women and children caught in the crossfire but the very people who were trying to kill them just hours earlier.
"That's the kind of the unique thing about the American solider," he said. "... I might be fighting you at one moment, but once the fight is done and I've won the fight, I'm going to provide you treatment. Because it's still about life."
The fighting and the aftermath took its toll on Company C, especially when an unexpected arrival of 100 women and children seeking medical care.
"The most difficult portion of that treatment was treating children," Ferreraramos said. "My wife and I have four children. So, we were a lot of times thinking with the children we were treating — they were essentially the same age as my children at the time. Sometimes I just starting picturing my children."
Every surgeon, emergency medical technician and anyone with any sort of medical training was pulled from their units to help with the sudden influx of patients. Some of the men were better equipped to handle the aftermath than others.
"I remember at one point, one of my staff sergeants walked up and said, 'I can't do this anymore. I can't do this,' " Ferrera said. "He was treating a young girl and when he touched her foot … he felt the bone and it was shattered."
It's impossible to know how many lives Ferrera and his men saved that day, but Company C performed incredible feats over the two-day ordeal, he said.
"All of the guys, regardless of what might have gone through their thoughts at the time … there was not a one of them that hesitated to go back and perform his duties," Ferrera said.
For his actions, Ferrera — now an operational sergeant major with the Joint Multinational Readiness Center in Hohenfels, Germany — was awarded a Bronze Star with "V" device for valor. This is the most prominent of his four Bronze Stars, each of which was earned while deployed to war zones. Few soldiers are ever awarded one, much less four.
"The actual credit should go to the soldiers of [Company C]," Ferrera said. "They were the ones that really did everything that day. They are, and will always be, the greatest in my mind as to the level of discipline, the level of professionalism and the level of care they provided to everybody that day."