FROM THE ARCHIVES
Eyes on drama at the tense Berlin border
---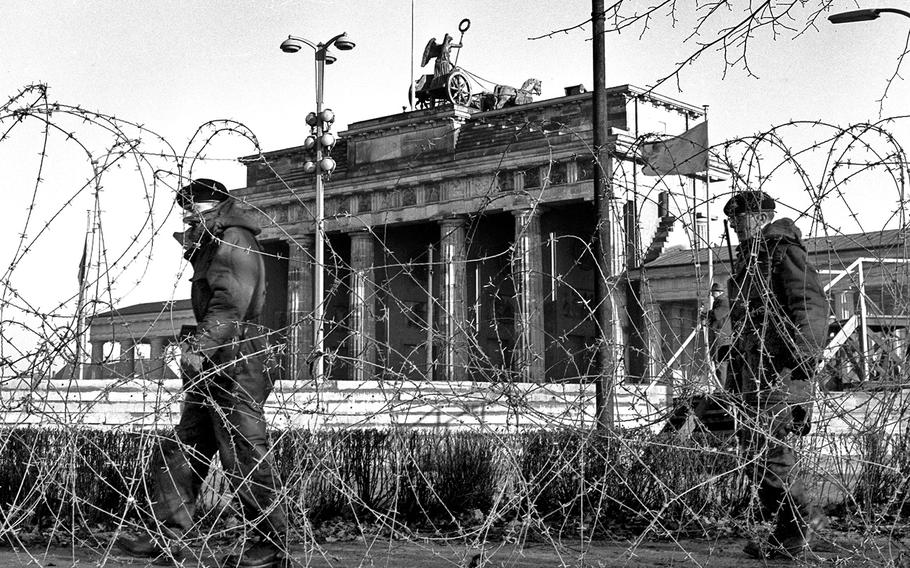 BERLIN — Thousands of curious tourists and West Berliners continued their vigil at the Friedrichstrasse crossing point here Monday [October 31], staring through binoculars and snapping photographs.
Things have quieted down at Checkpoint Charlie, the Allied crossing into East Berlin, but the crowds still cram behind roped-off corners 50 yards behind the white checkpoint shack.
The flow of traffic has picked up again with tourist buses making their regular trips into East Berlin.
Many American students and other visitors are crossing the barrier on foot now that restrictions on entering the Soviet sector have been lifted. Servicemen and official U.S. personnel in civilian clothes, however, are still asked not to go into East Berlin.
A certain amount of excitement still lingers in the area generated by the presence of heavily-armed U.S. soldiers and the four armored personnel carriers and 11 tanks parked down the street.
Troops in the personnel carriers are being favored with an exceptional brand of hospitality during their long vigil near the checkpoint. Coffee and bakery shops along the street bring the men coffee, rolls and cigarettes.
"This place brought us coffee at 3 o'clock this morning," said 1st Lt Joseph Brandl, of Hagaman, N.Y., indicating a small restaurant. "Later on, a bakery shop down the way came over with all sorts of buns, eclairs and sweet rolls, and ever since breakfast the people have been brining hot tea and coffee to us.
"I've been given three packs of cigarettes already today, but gave them to my men." Brandl is a pipe-smoker.
"One man brought us out a fifth of cognac," he continued. "We refused to take it, but these Germans won't take 'no' for an answer. So we put it away for after duty."
Some armored personnel carriers have flowers tacked on. Brandl said, "Overt the weekend there must have been 10,000 people passing through here and it seems most of them brought flowers for us. The APCs were practically covered with them."
Farther down the street, in an empty lot, were 11 tanks. They were lined up in two rows about 15 feet apart. The men had strung a net between the two rows and were playing volleyball while a crowd across the street watched.
Meanwhile, the press corps is camped in a small shop near the checkpoint shack, continuing to wait and watch, hoping for another daring escape to freedom such as the one Monday when an East German photographer inched his way up to barrier, waited for the right moment, then dashed across.
---
---
---
---