Some Japan-based sailors told to move from barracks to make room for quarantining personnel
---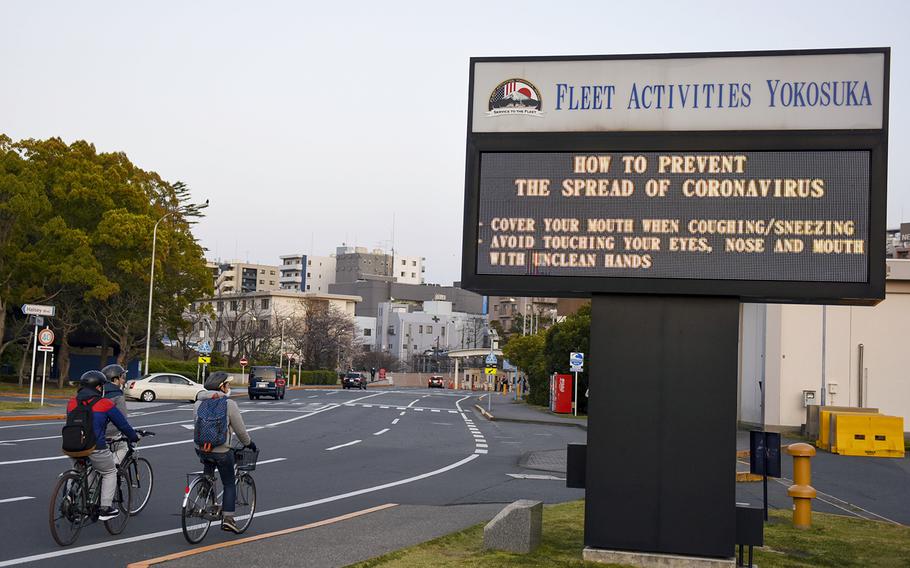 Stars and Stripes is making stories on the coronavirus pandemic available free of charge. See other free reports here. Sign up for our daily coronavirus newsletter here. Please support our journalism with a subscription.
YOKOSUKA NAVAL BASE, Japan — Some sailors were ordered out of the barracks here and onto their assigned ships to make room for quarantined sailors as the base battles a coronavirus outbreak, a base spokesman confirmed Wednesday.
The goal is to "free up space to create separation from quarantined or restriction-of-movement sailors," Randall Baucom told Stars and Stripes.
"Some barracks on base are being used to quarantine and isolate sailors that are being tested for or have tested positive for COVID-19," he said, using the official name of the new coronavirus.
Yokosuka has been under a shelter-at-home order since March 27, a day after the base became the first U.S. installation in Japan to have a service member test positive for coronavirus.
Two more cases were reported at Yokosuka on March 27, but the Navy has since declined to release the number of additional cases at specific installations.
Sailors assigned to the guided-missile cruiser USS Chancellorsville were ordered out of their barracks rooms Sunday "for [their] protection and to assist with Yokosuka preventative measures," their commander, Capt. Marc Boran, said in a post on the ship's official Facebook post Saturday. Sailors assigned to warships such as cruisers and destroyers often live in barracks while those ships are in their homeports.
"We are not operating business as usual and our number one priority is to fight COVID-19 while executing our daily responsibilities," Boran said in the post.
Additionally, some Yokosuka-based sailors undergoing restriction of movement were taken to Naval Air Facility Atsugi to wait out their 14 days of limited movement, Baucom said.
Restriction of movement is an observation period that the Navy last month required for all personnel coming to Japan from other countries.
While not naming Yokosuka specifically, "Navy personnel from other bases in Japan" came to Atsugi late Tuesday to wait out their 14-day restricted movement, Atsugi commander Capt. Lloyd Mack said in a post on the base's official Facebook page Wednesday.
"These personnel are asymptomatic and have not tested positive for COVID-19," he said. "There is no intent to move COVID-19 connected personnel to this installation as we have yet to have a confirmed case."
The Navy uses the term "isolation" for those who test positive or are "reasonably believed to be infected" with coronavirus, and "quarantine" for those who have been exposed to the disease but are not yet ill, 7th Fleet spokesman Lt. Joe Keiley told Stars and Stripes last month.
Other installations across Japan have also designated isolation areas for personnel awaiting coronavirus test results. Marine Corps Air Station Iwakuni furnished a barracks for that purpose, according to a Facebook post Tuesday by base commander Col. Lance Lewis.
At Iwakuni, some people may be allowed to isolate at their residences while medical experts trace personal contacts and a team of trained personnel clean up any potential hot spots the individual visited, Lewis said in his post.
Stars and Stripes reporter James Bolinger contributed to this report.
---
---
---
---