Ships from the US, Japan, South Korea, Australia sail together to Guam after RIMPAC
by
Caitlin Doornbos
September 9, 2020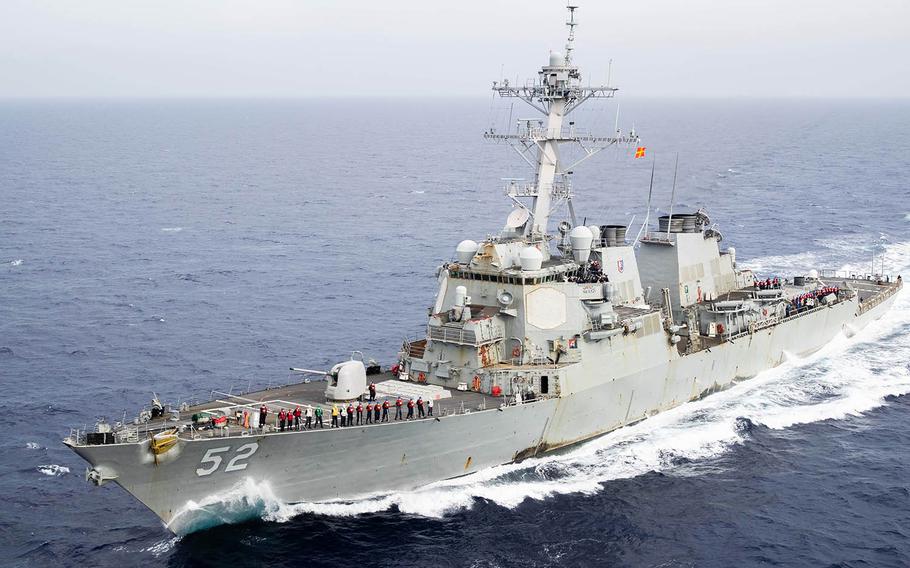 Warships of the U.S., Australian, Japanese and South Korean navies are sailing together from Hawaii to Guam following the Aug. 31 conclusion of Rim of the Pacific exercise, according to a Navy statement Wednesday.
The demonstration, which began Wednesday, is intended to "improve collective readiness and response to any situation," according to the statement. The navies will train and work together throughout the trip.
"This exercise provides opportunities that can enhance a steadfast and flexible coordination system," Capt. Kim Sung Hwan, commodore of the South Korean navy's Maritime Task Squadron 71, said in the statement. "It will also serve as an opportunity to strengthen joint response capabilities for various security situations by building up the friendship and coordination system between participating nations."
The statement did not disclose what the ships would do once they reach Guam.
The four nations recently completed two weeks of Rim of the Pacific drills, in which they also trained with forces from Brunei, Canada, France, New Zealand, the Philippines and Singapore. The biennial exercise held in waters off Hawaii represents the world's largest international maritime exercise, according to the Navy.
The multinational sail comes as North Korea criticized the U.S., South Korea and Japan "for deepening military cooperation even in the middle of the pandemic," according to a Tuesday report by the South Korean state-run Yonhap News Agency, which cited a North Korean propaganda website, Meari.
"The military collusion between the U.S. and Japan is strengthening more than ever, which is raising concerns within and outside the country," the North Korean website said, according to Yonhap. "It goes without saying that the frequent military plots and collusion between the U.S. and Japan threaten peace and stability on the Korean Peninsula and in the region."
U.S. Navy Cmdr. Christopher A. Gahl, commander of the guided-missile destroyer USS Barry, in the statement said the group transit to Guam "is a testament to each navy's professionalism and commitment to international maritime norms and regional stability."
"Every opportunity to train and sail alongside our allied naval partners from Australia, Japan and the Republic of Korea is rewarding and mutually beneficial," Gahl said in the statement.
Participating in the demonstration along with the Barry are the oiler USNS John Ericson and an unnamed fast-attack submarine; Australian frigates HMAS Stuart and HMAS Arunta; the JMSDF helicopter carrier JS Ise and destroyer JS Ashigara; and South Korean destroyers Chungmugong and Seoae, according to the statement.
doornbos.caitlin@stripes.com Twitter: @CaitlinDoornbos