Search continues for 10 missing sailors after USS McCain collision near Singapore
by
Tyler Hlavac
August 21, 2017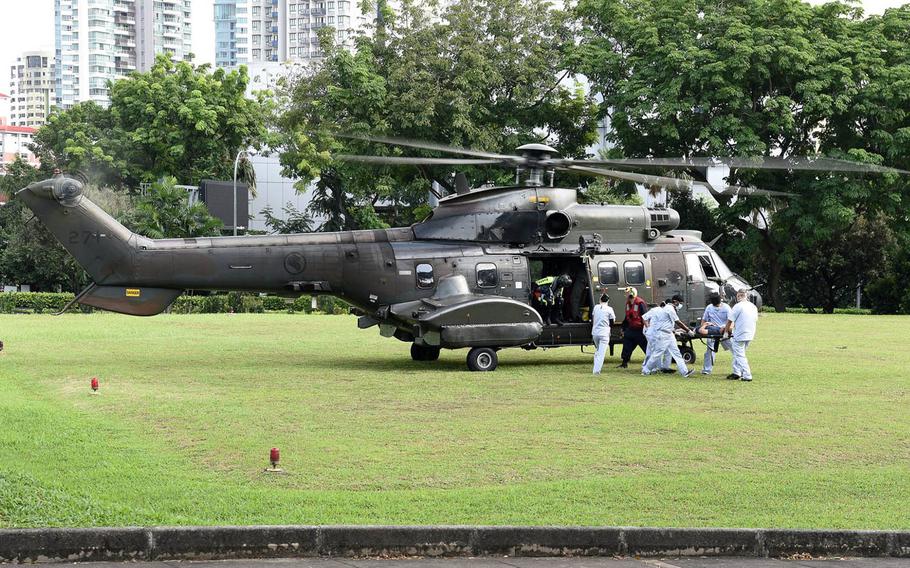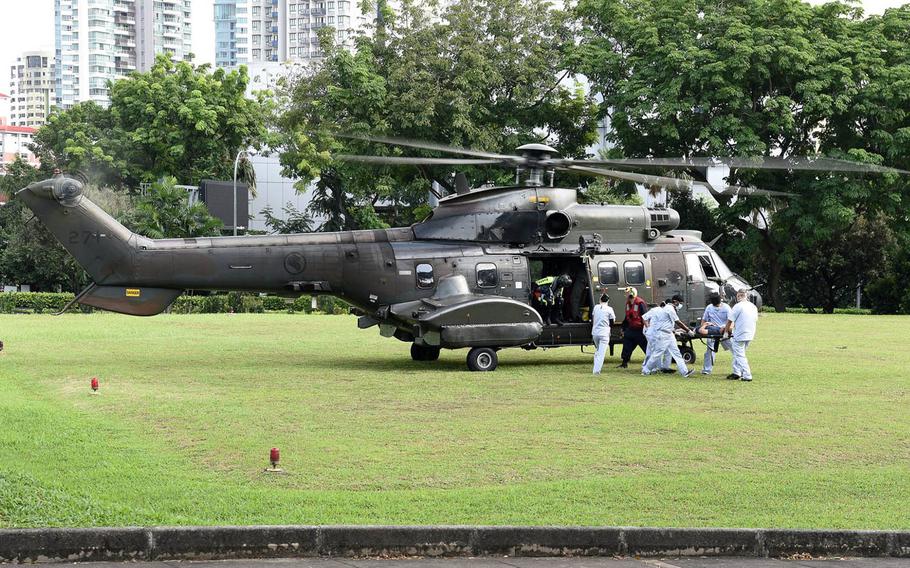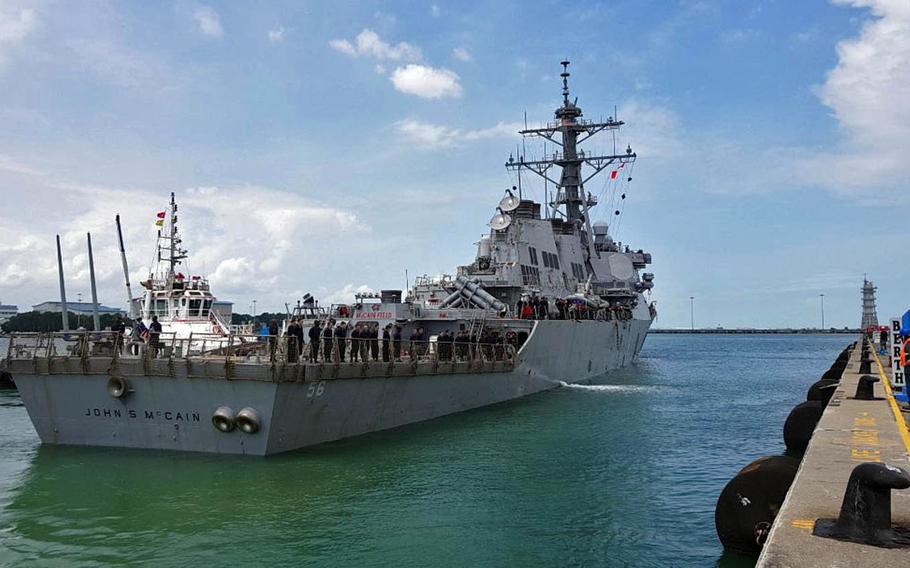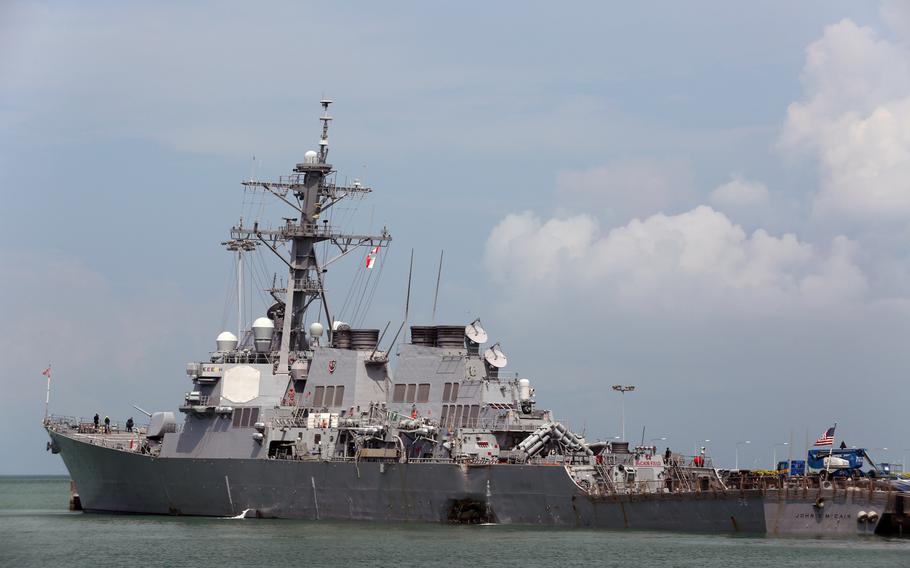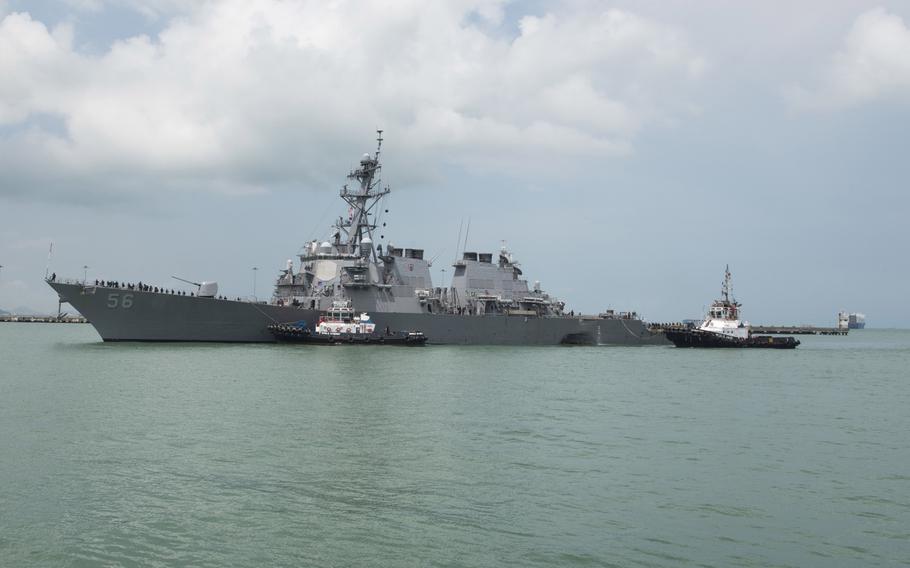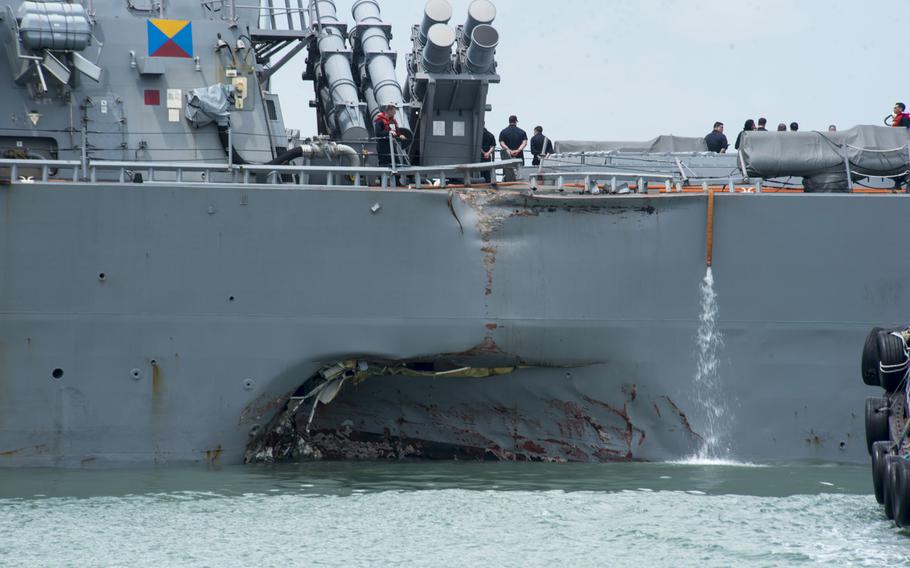 YOKOSUKA NAVAL BASE, Japan — Search-and-rescue efforts continued Monday evening for 10 sailors missing after the USS John S. McCain collided with a civilian oil tanker near Singapore, the second collision involving a Navy and civilian vessel in Asian waters since June.
The Yokosuka-based guided-missile destroyer was traveling to Singapore for a routine port visit when it collided with the Liberian-flagged oil and chemical tanker Alnic MC, a Navy statement said. The incident was reported at 6:24 a.m. local time.
Five sailors were injured in the collision. Four of those, whose injuries were not life-threatening, were evacuated to a Singapore hospital, the Navy said. The fifth injured sailor did not require further medical treatment.
The John S. McCain arrived at Singapore's Changi Naval Base under its own power, said a Navy statement issued just before 4 p.m. local time. The ship's hull suffered "significant damage" that resulted in flooding in the crew berthing, machinery and communications rooms. The crew's damage-control efforts halted further flooding.
Search-and-rescue efforts were still underway for the missing sailors, assisted by vessels and aircraft from the Royal Malaysian Navy, the Singapore navy and police coast guard, as well as MV-22 Ospreys and SH-60 helicopters from the USS America amphibious-assault ship, Navy officials said.
A temporary Emergency Family Assistance Center has been established at Yokosuka's Fleet and Family Support Center. The center can be reached by phone from on-base at 243-1728, off-base at 046-816-1728 and internationally at 011-81-46-816-1728.
The USS America arrived at Changi Monday evening to support the search-and-rescue efforts, the Navy said. The ship will provide messing and berthing services to John S. McCain crew and assist with damage-control efforts aboard the destroyer. Ship repair facility divers have arrived to assess damage to the hull.
A statement from the Maritime and Port Authority of Singapore said it was notified of the accident at 5:30 a.m. and that the John S. McCain had requested tug assistance. The roughly 600-foot, 30,040-ton commercial vessel suffered damage to its "Fore Peak Tank" 7 meters above the waterline and had no crew injuries, the statement added.
The John S. McCain is 505 feet long and weighs about 8,300 tons with a full load.
The collision happened east of the Strait of Malacca, which is the shortest sea route between India and China and one of the world's busiest shipping channels.
Sen. John McCain, whose father and grandfather inspired the ship's name, tweeted about the accident. "Cindy & I are keeping America's sailors aboard the USS John S McCain in our prayers tonight – appreciate the work of search & rescue crews," he wrote.
Media reports said President Donald Trump responded "that's too bad," when told about the collision. Trump later tweeted, "Thoughts & prayers are w/ our @USNavy sailors aboard the #USSJohnSMcCain where search & rescue efforts are underway."
'Thousands of ships'
Navy ships are frequent visitors to Singapore, which is home to Task Force 73 and Command Logistics Group Western Pacific — teams that arm, fuel, feed and support 7th Fleet operations in the region. U.S. littoral combat ships have been forward deployed there since 2013.
There have been serious accidents in the congested seas around the city state, said Ian Chong, an assistant professor in the National University of Singapore's political science department.
"Singapore is one of the busiest ports in the world. [The area where Monday's collision happened] is the eastern entrance to the port and there is a lot of shipping going in and out," Chong said.
Last year, an oil tanker collided with a container ship in the Strait of Malacca, damaging both vessels. In 2015, six Filipino sailors were reported missing after a collision between a freighter and a chemical tanker. In 2003, a Singapore Navy patrol ship collided with a cargo ship in the area. The freighter was only lightly damaged but the accident sheared off the aft section of the RSS Courageous.
Four crewmembers from the Navy ship were reported missing, and three bodies were recovered.
Maritime authorities in Singapore have tried to improve monitoring and signaling in the shipping lanes, but the volume of traffic makes their job tough, Chong said.
"There are thousands of ships going in and out … It's really difficult for operators to keep track of everything that is going on and provide a fair warning before a collision is imminent," he said.
Recent accidents
The John S. McCain is the third 7th Fleet ship to be involved in a serious accident this year. In January, the USS Antietam ran aground and spilled roughly 1,100 gallons of hydraulic fluid into Tokyo Bay. In June, a deadly collision between the USS Fitzgerald and a Philippine-flagged merchant ship killed seven sailors and injured three. The commanding officers of both ships were relieved from their duties.
Earlier this month, the destroyer conducted a freedom-of-navigation operation in which the destroyer sailed within 6 nautical miles of Mischief Reef – a disputed South China Sea islet being built up and militarized by China. The operation was condemned by the Chinese government, which said it, "violated Chinese laws and international law, severely undermined China's sovereignty and security, and seriously endangered the life safety of the frontline personnel from both sides."
Chief of Naval Operations Adm. John Richardson tweeted Monday that additional details will be released as they become available.
"Our first priority is determining the safety of the ship and crew," he wrote. "As more information is learned, we will share it."
Stars and Stripes reporter Seth Robson contributed to this report.