Rising casualty count takes toll on Afghanistan's veterans
by
Josh Smith
December 19, 2014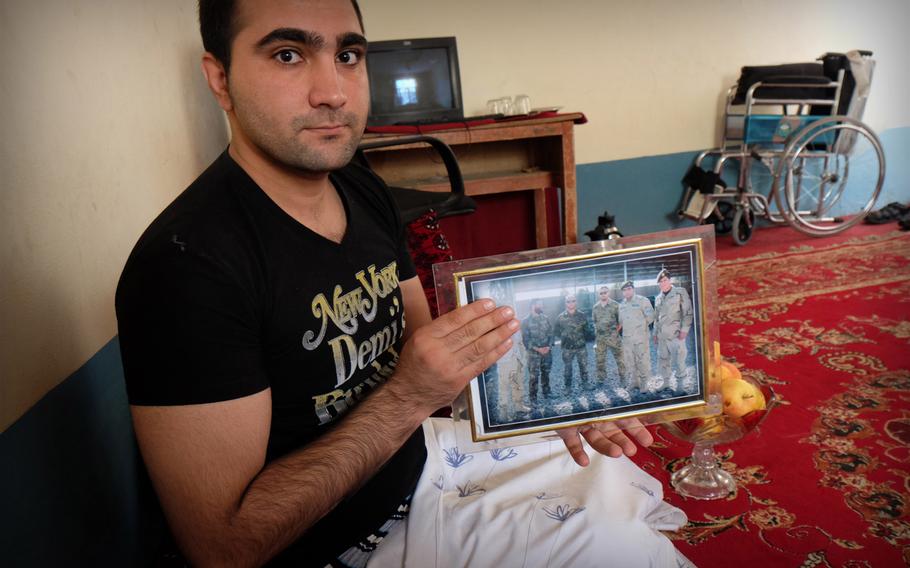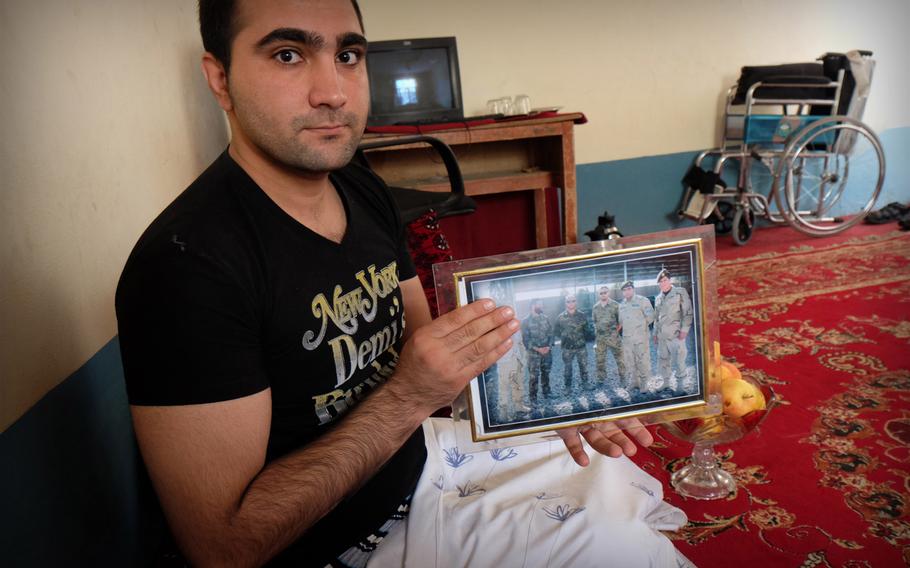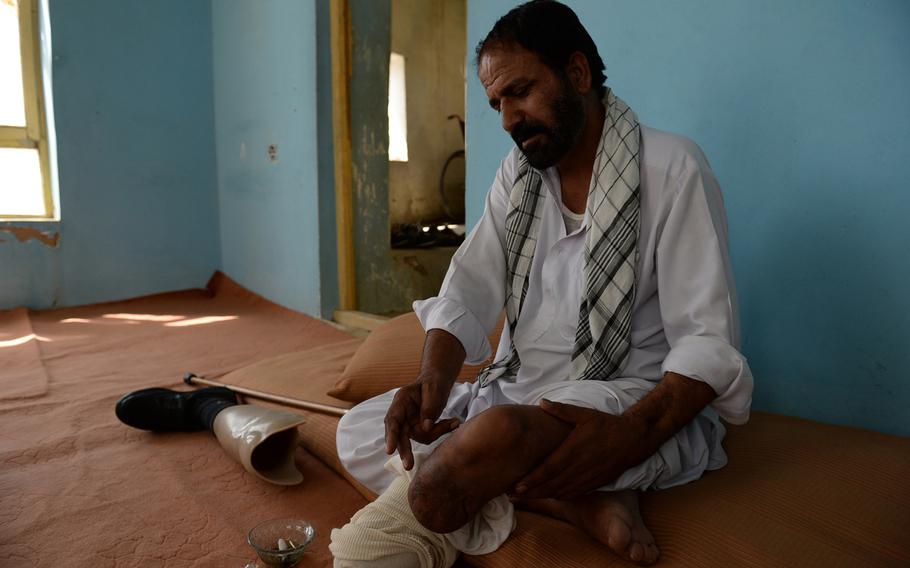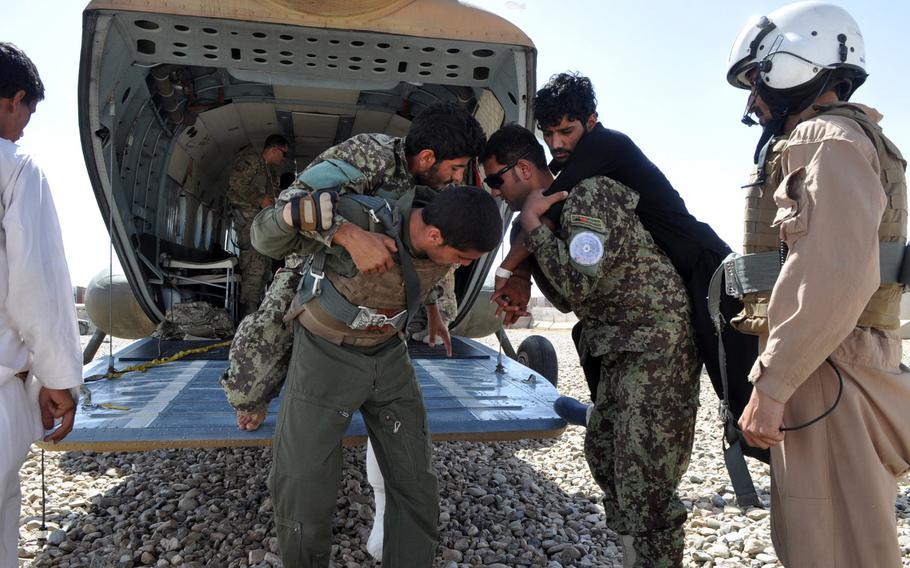 LASHKAR GAH, Afghanistan — The rocket-propelled grenade slammed into the side of the Humvee with a blinding explosion, creating a shower of broken glass.
Police commander Qandagha Qandaghari stepped out of the vehicle to return fire. As he ran for position he stepped on an improvised land mine, one of the most ubiquitous and lethal weapons employed by Taliban insurgents during Afghanistan's war. When the dust cleared, he was conscious just long enough to see where his legs used to be.
Stories like Qandaghari's have become more and more common as Afghan security forces have waded ever deeper into a conflict that shows no sign of abating.
As thousands of international combat troops prepare to depart, the Afghan forces they once worked with are facing a tide of casualties. The result is a growing population of injured veterans, orphaned children and widows in a country that often can't provide the most rudimentary health care, especially compared to the standards that coalition servicemembers are accustomed to in their home countries.
In September, Interior Ministry officials said that across Afghanistan, more than 1,500 policemen died and 2,500 were injured during the preceding six months. The Defense Ministry refused to release military casualty figures. But in October, Gen. John Campbell, the top U.S. and ISAF commander in Afghanistan, told reporters that as many as 9,000 members of Afghanistan's security forces had been killed or injured in combat in the first 10 months of this year.
Both the International Security Assistance Force and Afghan officials said care for veterans is an issue handled solely by the Afghan government. The international coalition has no treatment programs as part of the follow-on advising-and-training mission, which will take effect on Jan. 1.
Gen. Zahir Azimi, spokesman for the Afghan Defense Ministry, said the families of soldiers killed in the fighting receive 100 percent of their salaries, while wounded soldiers receive a range of payments depending on the severity of their wounds. Injured soldiers who are able to work are kept on in the army, he said.
Veterans' care in the United States has been the subject of serious scandals of its own recently, but American veterans are on the receiving end of an entire government department dedicated to their care, and former servicemembers are often eligible for health care, disability compensation and rehabilitation, pensions, education funding and vocational training, and home loans, among other possible benefits.
Although desertion remains a constant challenge, so far the high costs for members of the security forces have yet to reduce enlistments in an economy in which steady jobs can be scarce.
But many veterans of both the police and the army around Afghanistan say they still feel left behind.
"My children are faced with a bad future if I can't be the father they need," Qandaghari, 23, said at his house in Lashkar Gah, speaking of his 5-month-old son. He had been married for less than a year when he lost his legs.
Since his injury, he has been homebound. But Qandaghari said it doesn't have to be that way.
In 2012, he graduated first in his class from the national police academy and worked at the Interior Ministry for a year before becoming commander of an elite special-operations unit in Helmand, one of the most violent provinces in Afghanistan.
That experience didn't disappear along with his legs, Qandaghari said.
"When I had my legs, I fought in every one of Helmand's 14 districts. But now that they're gone, I am nothing to the government. All I want is to work. I am proud to be an Afghan police officer and to fight for my country."
That plea was echoed by Shah Zaman, 48, a former major in the Afghan National Army. Sitting in his home in a small village outside Kabul, he recalled the day his life changed.
A graduate of Afghanistan's military academy 30 years ago, Zaman joined the army in 2003 after the allied invasion that drove the Taliban from power. He was placed in charge of securing one of the army's largest bases in Kandahar province, a Taliban stronghold and one of the bloodiest for international and Afghan troops.
He was making his daily rounds one summer morning in 2008, inspecting defensive positions outside the base, when a car bomb exploded near the main gate.
When Zaman came to, he was being dragged from the flames by other soldiers. The blast killed two of his men outright and several civilians.
Doctors were unable to save the major's left leg, which was amputated just below the knee. They also wanted to remove his left arm, which had been shredded by shrapnel. Zaman had to borrow about $20,000 to travel to India to receive the care necessary to save his arm.
The burden of his medical expenses and the lost income meant Zaman was unable to send his oldest son to college. He receives 60 percent of his former salary as a pension, but he said he has had no other contact or help from the government.
The 24-year-old son now works as a security guard, helping to support not only his young wife and two children, but his parents and seven brothers and sisters.
Family tops the list of concerns for one current lieutenant colonel in the Afghan army. He asked not to be identified because he was worried about protecting his job.
"No one wants their family member to have a dangerous job in the military," said the officer, who is based in Helmand. "But if someone is killed or wounded, then it is the family that is ignored and pays the price."
While the tragedy may not have shaken his faith in the military or the job he was doing, Zaman said he has a hard time convincing his neighbors that it was worth it. "They see me and they see the problems and they think it was a waste. That I lost my body parts for nothing."
Like Qandaghari, Zaman said he had no regrets serving his country. "Once you wear the uniform, you know that this is a possibility," he said. "I just worry about the families of the veterans. They suffer the most."
Elyas Dayee and Zubair Babakarkhail contributed to this report.
smith.josh@stripes.com Twitter: @joshjonsmith