Poland, Lithuania add brigades near US presence to reinforce border with Russia
by
John Vandiver
January 30, 2020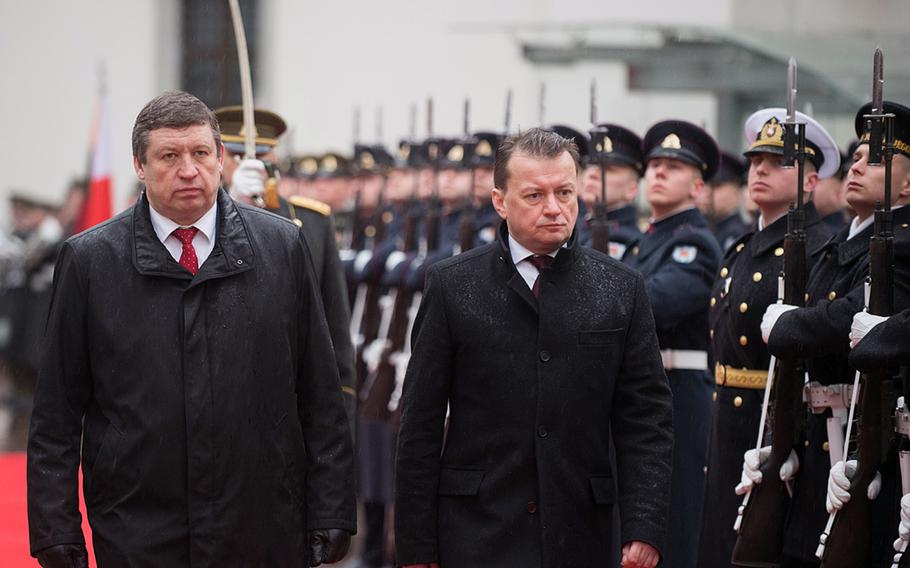 STUTTGART, Germany — Poland and Lithuania each have agreed to dedicate brigades to a swath of land where U.S. troops also have been dispatched to strengthen allied defenses near Russia.
On Wednesday, the two neighbors held their first bilateral defense council meeting to address joint concerns about air defenses, military mobility and the reinforcement of Poland's Suwalki Gap, the Lithuanian Defense Ministry said in a statement.
Lithuania's Iron Wolf brigade and Poland's 15th Mechanized Brigade will be linked with NATO's Multinational Division North-East as a way to "act together in order to protect the Suwalki Gap," the statement said.
"The affiliation will also facilitate a concrete and force-based NATO planning for our region at military and political levels," it said.
The Suwalki Gap is a roughly a 40-mile corridor that abuts Lithuania, Russia-allied Belarus and the Russian military exclave of Kaliningrad, where thousands of troops and sophisticated weaponry are based.
Although the brigades will be attached to NATO's northeast headquarters, they will remain under national command.
Reinforcing the area has been a focal point for NATO, which set up multinational brigades in 2017 to deter potential Russian aggression.
U.S. troops with the Vilseck, Germany-based 2nd Cavalry Regiment are currently leading an allied contingent in Poland some 50 miles from Kaliningrad.
Lithuanian Defense Minister Raimundas Karoblis said closer military ties with Poland are intended to showcase unity among allies to would-be aggressors.
"We will be able to ensure the security of our countries and the entire region only if we are sure how we would defend ourselves, in all – national, bilateral, regional and NATO formats – while it's still peacetime," he said.
The two sides also discussed at the meeting "the shared need of Lithuania and Poland to see longer deployment of the U.S. forces in our region," the Lithuanian Defense Ministry statement said.
The push for more U.S. troops by Poland and the Baltic states has been a priority for countries in the region, which see a larger American presence as key to deterring Russia. But while the U.S. has stepped up troop rotations in Poland and the Baltics, there is no plan to add large numbers of permanently based troops there.
vandiver.john@stripes.com Twitter: @john_vandiver