Paratrooper becomes France's first combat death in anti-ISIS coalition
by
Chad Garland
September 23, 2017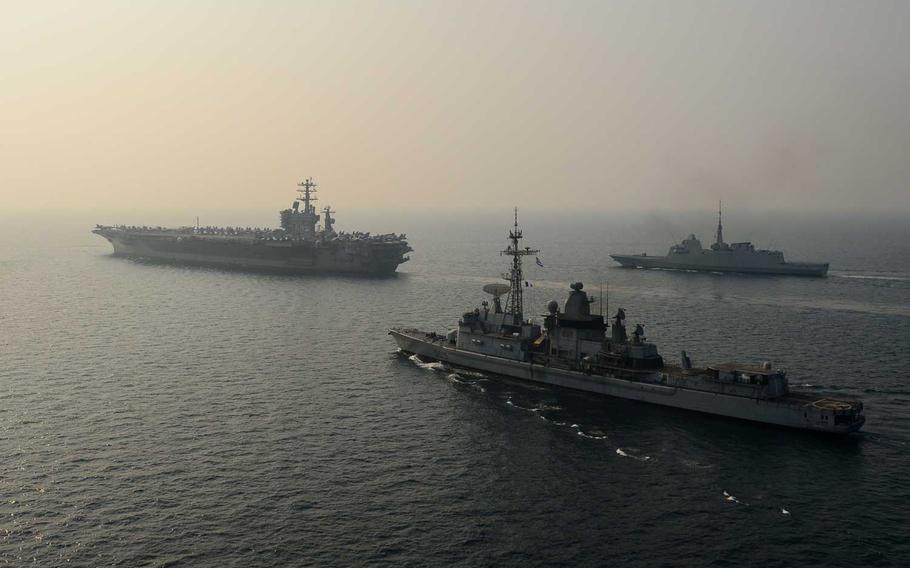 IRBIL, Iraq — The French military has announced its first combat death in the fight against the Islamic State, just days after marking its third year of operations in support of Operation Inherent Resolve.
A member of the elite French 13th Parachute Dragoons Regiment was killed Saturday at an unspecified location in the Middle East, the military said. The unit is part of the country's special forces, which is not officially acknowledged to be in Iraq and Syria.
The coalition confirmed the death, saying only that the servicemember was killed in a combat-related incident somewhere in the Middle East and would leave it to France to release further details.
French president Emmanuel Macron issued a statement saluting the paratrooper "killed in the accomplishment of his mission for the defense of our country, the protection of our fellow citizens and the fight against barbarism."
French paratroopers were advising local forces that were engaging ISIS when the advisers' position came under fire, a military statement said. The soldier was killed during the clash.
The statement expressed the army's deep sadness at the loss and offered its condolences to the family and friends.
"This non-commissioned officer was killed in the service of France," the statement said. "He showed the finest qualities of a soldier, of courage and self-denial, even to the sacrifice of his life."
A military video released earlier this month gave a unique look at the operations of the 13th Dragoons, as well as another elite French unit, the 4th Special Forces Helicopter Unit.
"In the Sahel (region of Africa) or the Near East, in the face of an ever more elusive and increasingly sophisticated enemy, the French special forces must adapt and innovate constantly," an introduction to the video says.
Tuesday marked the third anniversary of the French military's Operation Chammal – what it calls its part in the global coalition to combat ISIS – that was launched with airstrikes on ISIS positions in northern Iraq.
France's participation has been mainly aerial, though French CAESAR artillery vehicles have been positioned alongside U.S. and Iraqi forces near Mosul and elsewhere in the northern Nineveh province. It is not uncommon to see French armored vehicles on the roads in the region.
Coalition spokesman Col. Ryan Dillon on Friday posted a photo on social media showing the USS Nimitz and two French warships conducting a group sail on the operation's anniversary. Dillon captioned the image: "Combined Joint Task Force defined: US & French warships provide joint air/ground/naval force to #defeatDaesh."garland.chad@stripes.com Twitter: @chadgarland
---
---
---