OPINION
Stars are in the new SOUTHCOM leader's DNA
---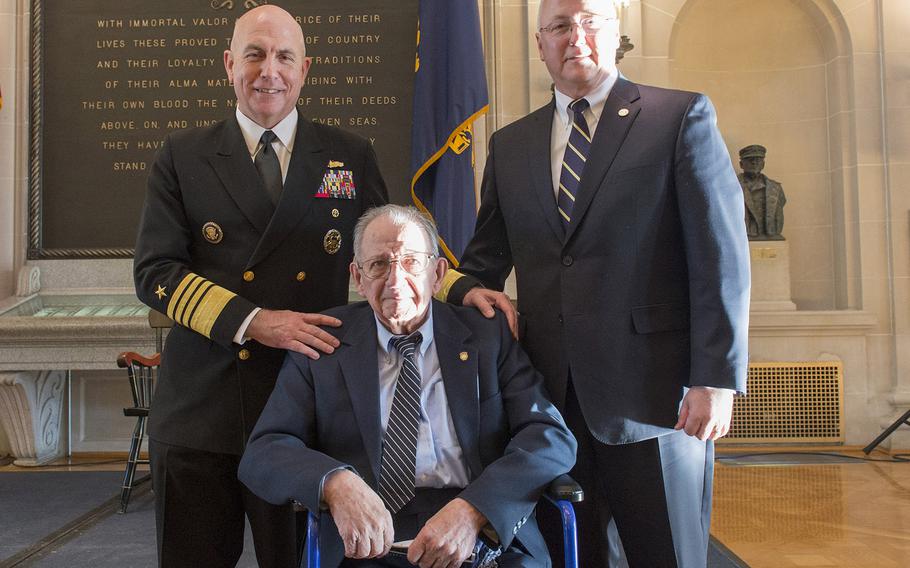 Jan. 2 was a day of mixed emotions for me.
Entering the U.S. Naval Academy grounds in Annapolis, Md., my visit had a twofold purpose — one bringing sadness; the other, joy.
Sixteen years earlier, on Jan. 2, 2000, my father died. A Class of 1943 Naval Academy graduate who graduated in 1942 due to the war, he reached the pinnacle of success for a naval officer. In 1970, he was selected, ahead of 33 senior flag officers, to become chief of naval operations — the Navy's highest military position. At 49, Adm. Elmo R. Zumwalt Jr. was then — and remains today — the youngest man ever to so serve.
My father lies buried, along with my mother (who passed in 2005), at the USNA cemetery — their gravesite easily found near the cemetery's highest point by its large black granite headstone. Standing there, a soul — living or dead — gets a magnificent view of the Severn River.
Visiting my father's grave on this special day brought back the sadness of having lost my life's hero. Although much time has passed, the pain remains — but, then, so too does the great pride of having had him as a father for 51 years of my life.
That pride will be shared with others as the U.S. Navy commissions its first-of-class stealth destroyer, the USS Zumwalt (DDG-1000), in Baltimore, later this year. Most distinct in capability, the ship fittingly bears the name of a man naval historians credit with having been a most distinct leader.
I will not dwell on my father's storied leadership here other than to comment, among his many recognized talents, he was visionary.
Ironically, it was just such a visionary experience he had in 1974 that provided the second reason for my visit that day.
Before my father retired in 1974, a dear friend who had served with him for many years, Vice Adm. Emmett H. Tidd, brought his son, Kurt, to meet my father. Kurt had just been sworn in as a first-year midshipman (plebe) at the Naval Academy. A proud father, Emmett wanted to have two of his favorite naval persons meet each other.
Upon meeting Kurt, my father looked him in the eye and said, "Kurt, I hereby appoint you my numerical replacement in the 21st century!"
While the comment may have been made in jest, Kurt may well have taken it as a subliminal command. The three men present never forgot what was said. And, as Kurt continued to rise up through the Navy's ranks, I remember my father sharing the story with us.
Sadly, Dad would not live long enough to see Kurt pin on his first star of flag rank. But, on Jan. 2, Kurt — whose career had taken him from lowly plebe to vice admiral — returned to the Naval Academy to receive his fourth star. I proudly attended the ceremony to witness my father's 42-year-old vision come true.
Now wearing four stars, Kurt takes over U.S. Southern Command on Jan. 14.
When I first learned about Kurt's selection for a fourth star, I sent him a congratulatory email, reminding him of my father's "numerical replacement" comment. Thanking me, Kurt responded, tongue-in-cheek, perhaps he had failed to fulfill my father's command — having not been selected as CNO. However, I assured him, with only nine four-star admirals authorized for the U.S. Navy, he was well within the margin of error.
That day's story does not end here, however. A most unique photograph was taken after Kurt's promotion — focusing on three distinguished men. While Kurt was the only one in uniform, the other two were also Navy flag officers. While that, in and of itself, is not particularly unusual, what made it so was all three flag officers were members of the same family.
In the photograph, Kurt and his older brother, Mark, who had retired in 2014 as a rear admiral and chief of chaplains, flanked their proud father, Emmett, 93, who had retired in 1976 as a vice admiral.
The Tidd family's collective service to country spans more than a century, tallying nine stars of their combined flag ranks — a remarkable accomplishment for one family.
Stars, undoubtedly, are a part of the Tidd family's DNA.
Observing Kurt's Jan. 2 promotion, I pondered whether, observing with great pride but invisible to all present, was the man who first foresaw this day so long ago. If so, I know my father had the best seat in the house for the ceremony!
---
---
---
---