OPINION
Army should weigh in on Vindman's conduct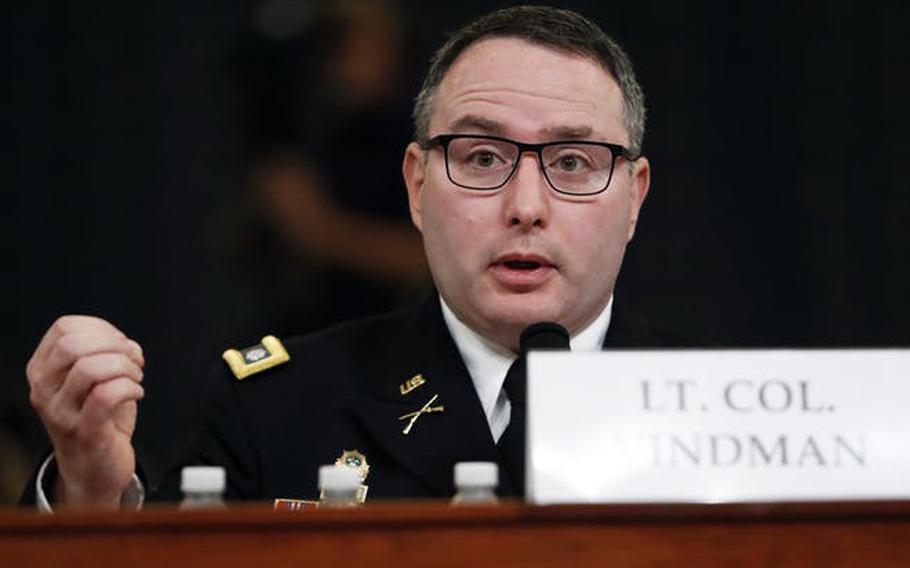 Lt. Col. Alex Vindman, a decorated combat veteran who testified in the congressional impeachment hearings in November, was fired from his job at the National Security Council on Feb. 7 and unceremoniously escorted from the building. Is Vindman a villain or a hero? Did he disobey his commander in chief or did he obey his oath to defend the Constitution? Did he betray secret proceedings or did he report illegal acts? Did he make the right choices?
An observer of the impeachment hearings might think that these questions about Vindman's actions and testimony are only being discussed in political and media circles, but in fact they are open questions among military leaders in the Pentagon and throughout the force.
This is an important moment for our military professionals, one that demands that they answer the questions above — one way or the other. To fail to properly identify and characterize Vindman's choices will leave our soldiers wondering what their moral and legal obligations are. Ambivalence about ethical choices in peacetime can be manifested by choices in wartime that cost lives.
What were the key choices that Vindman made? There were hours of testimony and questions and answers. There were attention-grabbing moments and interesting inside details. But in the end, Vindman made three key choices for which he is being, and will be, judged by his fellow soldiers.
Vindman's first key choice came on July 10 in a meeting at the White House between U.S. and Ukrainian officials. During the meeting, then-U.S. Ambassador to the European Union Gordon Sondland told Ukrainian officials that Ukraine had to "deliver the investigation into the 2016 elections, the Bidens, and Burisma." Vindman knew that asking a foreign government to investigate the Bidens was an inappropriate request. Vindman had a choice: He could remain quiet and say nothing or, he could confront a U.S. ambassador and tell him that his request was wrong. Vindman, in his testimony, said he told Sondland "that his statements were inappropriate, that the request to investigate the Bidens [sic] and his son had nothing to do with national security, and that such investigations were not something that the NSC was going to get involved in." Vindman also raised the issue to his boss, Fiona Hill, who agreed with him, and to national security adviser John Bolton, who told him to report the conversation to NSC chief counsel John Eisenberg. Vindman did so.
Vindman's second key choice came after the July 25 official phone call between President Donald Trump and then-Ukrainian President-elect Volodymyr Zelenskiy. Vindman heard Trump make essentially the same request of Zelenskiy that Sondland had made of lower officials two weeks prior: to investigate former Vice President Joe Biden and his son Hunter. Vindman had already confirmed with his chain of command that such a request was inappropriate and, following Eisenberg's advice after the first incident, he again reported his concerns that day to the chief counsel. Vindman testified to Congress that he did not know if the president's request was technically illegal. He just knew it was inappropriate.
On Oct. 8, counsel to the president Pat Cipollone notified Congress that members of the executive branch were ordered not to testify or provide documents to the congressional impeachment investigation. Cipollone said Trump had decided he "cannot permit his administration to participate in this partisan inquiry." In response, Congress issued subpoenas to witnesses, setting up Vindman's third and most public choice — whether to obey an order from the commander in chief or an order from Congress. Vindman chose to obey the subpoena from Congress. He was not the only administration official to make that choice. His two bosses, Hill and Tim Morrison, both chose to testify. Sondland, former U.S. special representative to Ukraine Kurt Volker, then-acting U.S. Ambassador to Ukraine William Taylor and former U.S. Ambassador to Ukraine Marie Yovanovitch all chose to testify. Others made a similar choice.
Vindman made his choices in each case believing he was doing the right thing. Today, many people are questioning his choices. Trump tweeted that Vindman was "insubordinate." National security adviser Robert O'Brien claimed that Vindman was trying to impose his own Ukraine policy. According to The Hill, Sens. Roy Blunt and Ron Johnson said they believed that Vindman wrongly went outside of the "chain of command" with his concerns.
According to The Atlantic, however, former White House chief of staff retired Gen. John Kelly praised Vindman's choices and said Trump's request to start investigations against the Bidens was "tantamount to an illegal order." Kelly claimed Vindman did "exactly what he was taught to do."
It is not enough for the leadership of the military, especially the Army, to state that there will be no retribution against Vindman for his choices. The leadership owes Vindman, and all service members, a judgment on whether he was right or wrong. My professional opinion is that I would be greatly disappointed in my Army if they do not defend Vindman's choices and make them teaching points for professional development. But whatever the decision, to let this moment pass without a clear and forceful verdict will be a judgment on the Army itself.
Kevin Ryan, a retired brigadier general, is a 29-year veteran of the Army, where he served in air defense and Russian area duties as well as in policymaking positions on the Army Staff and in the Office of the Secretary of Defense. He is an associate fellow at Harvard Kennedy School's Belfer Center.