North Korea says missile launch was training for targeting US bases in Japan
by
Kim Gamel
March 6, 2017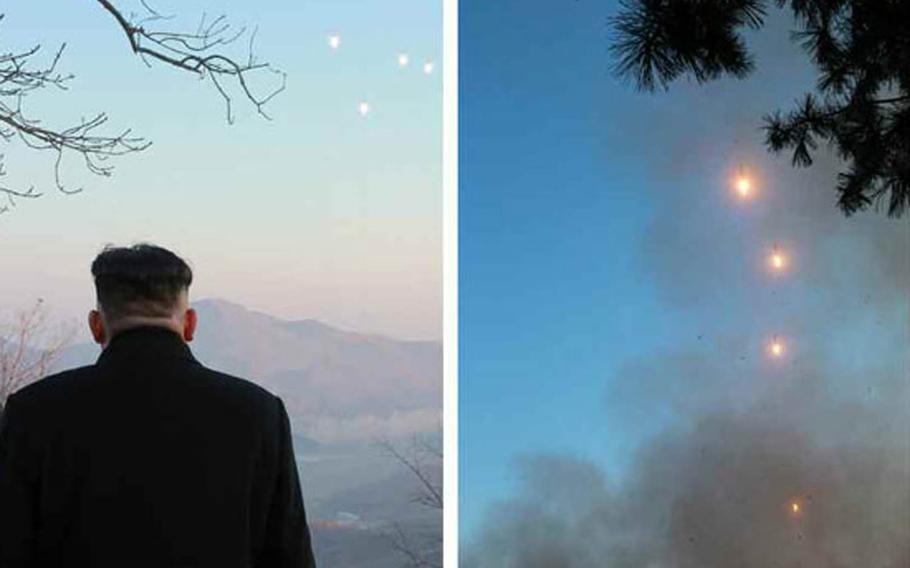 SEOUL, South Korea — North Korea said Tuesday that a missile barrage was practice for targeting U.S. bases in Japan, ratcheting up its rhetoric amid rising tensions.
At least four medium-range ballistic missiles presumed to be modified Scuds flew about 620 miles and reached an altitude of 160 miles after being launched Monday morning from the Dongchang-ri long-range missile site in the North, South Korean military officials said. The projectiles landed about 200 miles off Japan's coast.
North Korea's state-run news agency said the "rocket launching drill" was conducted by Hwasong artillery units "tasked to strike the bases of the U.S. imperialist aggressor forces in Japan in contingency."
The North Korean leader was briefed on the launching plan and gave an order to start the drill after touring the ballistic rocket launching grounds, the Korean Central News Agency added.
"Feasting his eyes on the trails of ballistic rockets, he appreciated that Hwasong artillery units of the Strategic Force are very good at organizing and commanding fire strikes and strictly ensuring rapid and simultaneous fire strikes," it said.
Photos published in the ruling Workers' Party newspaper Rodong Sinmun showed four missiles taking off with a cloud of smoke and flames trailing them. Kim Jong Un and aides also are shown laughing. In one picture only the back of the leader's head can be seen as he watches four fiery balls rising above mountains in the distance.
KCNA quoted Kim as saying "the four ballistic rockets launched simultaneously are so accurate that they look like acrobatic flying corps in formation."
As usual, the report did not specify the date of the drill, but missile tests are usually announced by its state media the day after they happen.
The South Korean military said the missiles appeared to be using technology from submarine-launched ballistic missiles, which Pyongyang tested last year.
President Donald Trump spoke to his counterpart in Japan, Shinzo Abe, and South Korea's acting President Hwang Kyo-ahn on Tuesday in separate telephone conversations.
South Korea's presidential office said the two leaders agreed they must use a stern approach against the latest missile launch and tighten their joint defense posture, including via joint military exercises that began last week.
U.S. Forces Korea began shipping parts of an advanced Terminal High Altitude Area Defense system to the South, with two launchers and other components arriving overnight on Monday.
Scott Snyder, a Korea expert at the New York-based think tank the Council on Foreign Relations, said the missile tests showed the need for a multi-tiered defense system.
"THAAD is one element of that, but the North Koreans have also conducted some of their tests in such a way to signal an intent to defeat that system," he said.
Snyder also said North Korea's activities, including the alleged assassination of leader Kim Jong Un's half brother in Malaysia, were likely overshadowing voices calling for a resumption of negotiations in favor of those pressing for a hard-line approach.
David Wright of the Union of Concerned Scientists said an analysis suggested the extended-range Scud missiles may have been designed to carry a warhead weighing at least 1,100.
"The four launches were said to be 'simultaneous,' leading to speculation they were intended to be a barrage attack to overwhelm a missile defense system," he said in a blog on the organization's website.
North Korea has threatened retaliation for annual U.S.-South Korean war games that began last week. It alleges the military exercises are a rehearsal for an invasion despite insistence by Washington and Seoul that they are defensive in nature.
Tensions have been high since last year, when the North conducted two underground nuclear explosions and test-launched some two-dozen missiles. It also fired an intermediate-range missile into the sea on Feb. 12.
The U.S. maintains about 28,000 servicemembers in South Korea, which remains technically at war with the North after the 1950-53 conflict ended in an armistice instead of a peace treaty.
gamel.kim@stripes.com Twitter: @kimgamel
---
---
---
---