Wickware court-martial case in child-abuse death goes to the jury
by
Kevin Dougherty
September 16, 2011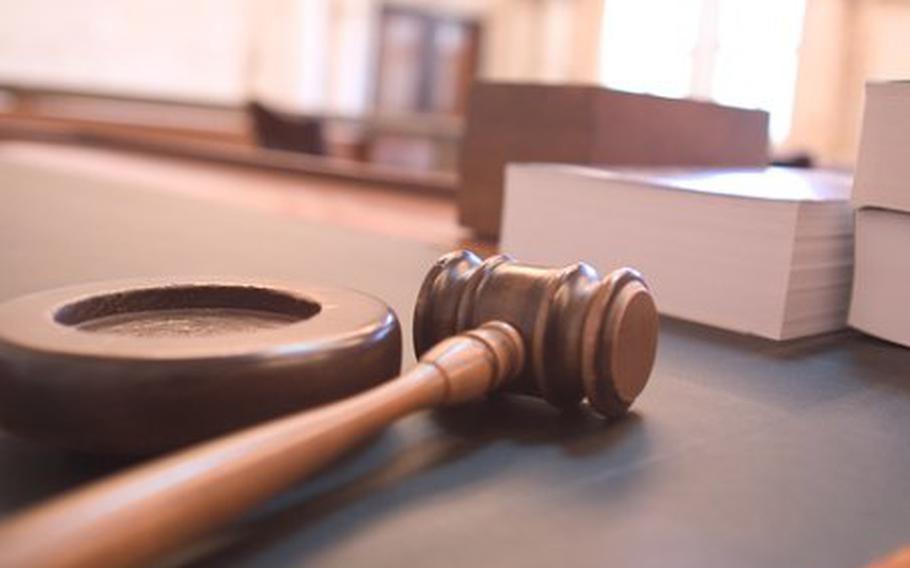 SPANGDAHLEM, Germany — In closing arguments Friday for the court-martial of a Spangdahlem-based U.S. airman charged in the abuse death of his infant son, the prosecution and defense offered different scenarios for who was likely responsible.
The eight-member jury, now deliberating, will have to determine whether the evidence presented supports the case against Airman 1st Class Horace Wickware as the abuser. After nearly five hours of deliberation Friday afternoon, the panel adjourned for the evening and was set to resume at noon Saturday.
The prosecution portrayed him as a disengaged father who didn't devote much time to his son, even in the final weeks of Cordale Wickware's short, painful life.
Col. Don Christensen, the lead prosecutor, told jurors Wickware delayed taking his son to the hospital for a couple of days with first- and second-degree burns suffered in August 2010, purportedly from a hot bath. Christensen said Wickware, who did not testify, feared he might be suspected of child abuse.
"It's his son, his baby," Christensen said during his hour-long closing statement. "Why would he not want to go to the doctor?"
Wickware's defense team sought to lay blame for the infant's death on the airman's wife, Jennifer Wickware, convicted in German court in May of maltreatment, negligence with lethal consequences and failing to adequately care for Cordale. She was sentenced to five years in prison. The prosecutor in her case said after her trial that he did not think she witnessed Cordale being abused, but that she should have taken action to protect the baby.
On Monday, prosecutors called Jennifer Wickware to the stand. During more than three hours of often tearful testimony, she told the court she had not suspected her husband of hurting her son, but changed her mind after seeing X-rays and other evidence that prosecutors say show the baby had been abused, with a burn and several fractures. The infant died Oct. 30, 2010, of a brain injury from being violently shaken, prosecutors said. He had been in the hospital on life support since Sept. 2.
In his closing arguments, senior defense counsel Lt. Col. Conrad Huygen said the prosecution built its case "on Jennifer Wickware's lying shoulders."
Huygen argued that the case against Horace Wickware is entirely circumstantial because no one witnessed the abuse. He said, "Cordale was injured by someone," but the prosecution witnesses "can't tell you who killed Cordale."
"In this courtroom, 'maybe' isn't good enough," Huygen said.
The prosecution called more than two dozen witnesses over four days. Doctors and other medical experts testified about the extent of Cordale Wickware's injuries, how they could have been sustained and whether doctors who examined him suspected abuse.
Throughout the trial, which started Sept. 8, Wickware sat composed as his attorneys inferred that his wife caused the injuries, or that many of the injuries were possibly congenital or associated with a disease.
Wickware's defense team wrapped up its case in one day Thursday, calling five people to the stand, including his supervisor, a computer forensic expert and a pastor who described Horace Wickware as "an extremely peaceful person."
Horace Wickware is charged with murder, involuntary manslaughter, assault, negligent homicide and child endangerment.
dougherty.kevin@estripes.osd.mil
---
---
---