Ugandan guards evacuated from US base in Afghanistan after positive coronavirus tests now waiting to go home
by
J.P. Lawrence
August 25, 2020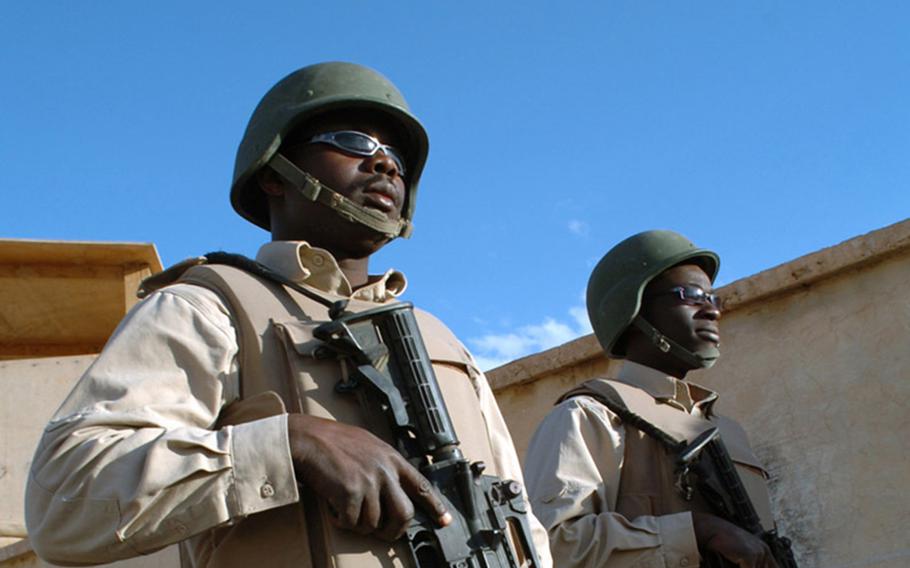 Stars and Stripes is making stories on the coronavirus pandemic available free of charge. See other free reports here. Sign up for our daily coronavirus newsletter here. Please support our journalism with a subscription.
KABUL, Afghanistan — A majority of the roughly 300 Ugandan guards who man watchtowers and provide security at entry points at a U.S. base in eastern Afghanistan have tested positive for the coronavirus, a lawyer and several guards have said.
The guards, who work for the Triple Canopy private security company, tested positive in June and were evacuated from Operating Base Fenty near Jalalabad, military and company documents shared with Stars and Stripes show.
"The outbreak was widespread at Fenty, with a vast majority of those tested, testing positive," said Tara Coughlin, a Mt. Clemens, Mich.-based attorney who specializes in injury claims for foreign contractors on American bases. Coughlin is representing some of the guards at Fenty.
NATO Resolute Support declined comment on the guards and didn't disclose how many troops or contractors in Afghanistan have tested positive for the virus, citing Pentagon guidance.
Ongoing violence, one of the world's worst health care systems and poverty mean Afghanistan has struggled to contain the virus, which according to a survey taken early this month by the Afghan Health Ministry has likely infected nearly a third of the country's 36 million people.
Most of the guards are still in Afghanistan waiting to be sent back home to Uganda, according to company emails and guards who spoke with Stars and Stripes.
Although the NATO Resolute Support mission in Afghanistan and Constellis, Triple Canopy's parent company, have been working with the U.S., Afghan and Ugandan governments to repatriate them, the guards might not be going home anytime soon. Several of the contractors' home countries have closed their borders and restricted flights because of the pandemic.
Some of the guards said they warned their superiors that they were at increased risk of contracting the virus, which can lead to severe respiratory illness, clotting disorders and sometimes death, because of their work, which included interacting and searching locals coming onto the base.
"We were exposed," said "John," one of the guards who tested positive for the virus, who insisted on anonymity for fear of reprisal. "We complained but all in vain, until they realized that we are positive."
Constellis, based in Herndon, Va., declined to discuss the guards' claims, citing security concerns.
Despite precautions taken at Fenty, the infection rate there rose steadily. By June, a majority of the base's guards had the virus and were placed in isolation, several of them said.
At least 78 guards out of one shift of 109 tested positive on June 19 and 20 after working in "high risk areas for COVID-19," an internal Triple Canopy roster said. Guards said other shifts showed similar rates of infection.
Later that month, the last of the sickened guards had been evacuated to Bagram Airfield, according to a travel document provided to Stars and Stripes.
After regular testing and observation by military medics, they were eventually released from isolation. Most have spent over a month in a Kabul hotel, waiting to be repatriated to Uganda.
John was one of them. The guard still had symptoms of COVID-19 as of Tuesday and worried that when he returns to Uganda, he could still be a source of infection, he said.
"I may be taking the virus to my entire family," he said.
lawrence.jp@stripes.com Twitter: @jplawrence3