U.S. military enters new generation of sea mine warfare
---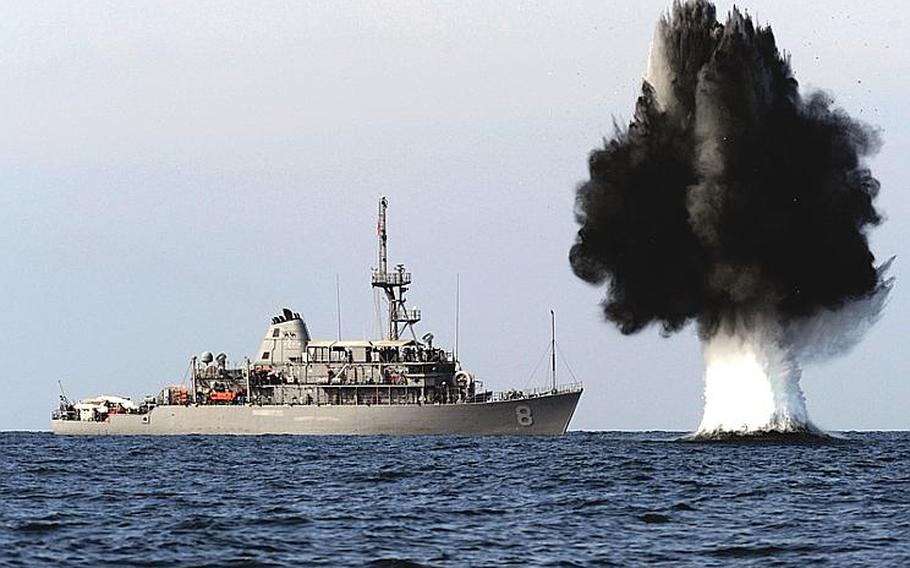 CHINHAE NAVAL BASE, South Korea — For many, a sea mine brings to mind the image of a rusted, seaweed-covered World War II relic bobbing in the surf toward the hull of an unsuspecting ship.
In conversations about modern warfare tactics and weaponry, the subject of sea mines gets lost in all the talk about satellite surveillance, stealth aircraft and high-tech artillery.
But those in the business of sea mine countermeasures want the world to understand that they are not manning any sort of museum wing of the U.S. military. In fact, they say, sea mines are more dangerous than ever and could be a key warfare component for countries and terrorist groups in future conflicts around the world.
"We ignore mines at our own peril," said Scott Truver, one of the United States' leading experts on sea mine warfare. "Mine warfare is not usually a priority until a (mine) goes off."
To address the very real threat, the U.S. will replace its fleet of 14 minesweepers over the next 15 years with multifunction vessels, including 24 that can be outfitted to find and eliminate surface and underwater explosives.
"There is a new generation of mines … that will cause us much more time and effort trying to find them," said Capt. Robert Lineberry, commander of U.S. Mine Countermeasures Squadron 7 based in Sasebo, Japan. "It's not just this little round spikey thing. Now they have mines that will bury, they have mines that don't look like mines — they might look like seaweed or rocks or whatever. It's a big challenge."
Not 'low-tech'
Those who know best say seaborne explosives should never be too far from the minds of U.S. military officials. Consider:
-Of the 19 U.S. Navy ships sunk or seriously damaged since World War II, 15 were the victims of sea mines.
-China has reportedly prepared to deploy 80,000 sea mines to help it claim control of the seas during any potential conflict.
-North Korea is reportedly developing nuclear sea mines with an eye toward neutralizing the naval supremacy of the U.S. and other countries in the event of a conflict.
"(Sea) mines are just as much of a threat today as they have ever been … so the importance of having a credible counter-mine capability is just as important for the U.S. Navy and our allies," said Paul Ryan, president of the Mine Warfare Association in California, a group whose mission is "to continue to advocate for a robust mine warfare capability."
"To think that mine warfare is low-tech is wrong. Mines can be very sophisticated and have capabilities that can create problems for the United States Navy," said Truver, who has assisted in the development of Navy and Marine strategy papers on mine warfare over the past two decades. "If we are intent on going into harm's way, one of the most effective ways to harm us is mines."
In what perhaps could be considered a nod toward to the sea mine threats posed by China and North Korea, four of the U.S. Navy's 14 minesweepers are forward-deployed and based in Japan, and two of them — the USS Avenger and USS Guardian — participated in this year's massive Foal Eagle military exercise in South Korea in March along with a number of other mine-countermeasure units from the U.S. and South Korea.
While in South Korea for the exercise, Lt. Cmdr. Patrick German, commanding officer of the USS Avenger, said developing sea mine countermeasures is constantly evolving because of advances in the technology of the weapons.
"There are mines that can actually pinpoint the size and shape of a ship in the water as it's passing by at various speeds," he said. "The technology out there is incredible. If they are doing (what they're doing) with an iPhone, what do you think they're doing with weapons?"
Lt. Cmdr. Zach Aperauch, the officer-in-charge of Helicopter Mine Countermeasures Squadron 14, Det. 1, based on Pohang, South Korea, said he and his counterparts are members of "an unappreciated community" in the U.S. military.
"A lot of people don't understand how prevalent (sea mine warfare) is (and) the versatility it affords," he said. "It's a weapon … that's always going to be used in the future.
"Obviously today the (execution) of the national military strategy is for the Navy to operate in a littoral environment, and to be able to project power ashore," he said. "So, elimination of the mine threat is critical to that mission being successful."
'A terrible thing that waits'
According to the Navy's 2009 report, "21st Century U.S. Navy Mine Warfare; Ensuring Global Access and Commerce," there are more than a quarter-million sea mines in the inventories of 50 navies around the world. More than 300 kinds of sea mines are produced by 30 countries.
"These figures are for sea mines, proper," the report said. "They do not include underwater improvised explosive devices, which can be fashioned from fuel bladders, 50-gallon drums, and even discarded refrigerators."
Sea mines not only come in all shapes and sizes, but they can be deployed from aircraft, ships, pleasure boats, submarines, and even pickups crossing bridges, the report said. Some rest on the ocean floor, some are designed to float freely, while others are moored by chains or other means at or below the surface of the water.
Once in place, it said, "a mine is a terrible thing that waits."
Mines detonate when they are struck by a target or set off by remote. Influence mines, according to the report, can be fitted with magnetic, acoustic, seismic and pressure sensors that can detect a ship's approach, determine what kind of vessel it is and the most effective time to detonate.
Along with the variety of mines and methods, there are many ways to search for and neutralize them from the air, the surface of the sea and underwater.
"It's a cat-and-mouse game," said Chief Petty Officer David Fuhrman, a mineman on the USS Avenger. "They build something. We try to build something better to find it. We find it and then they build something to counteract what we have to find it."
As part of that "game," the U.S. Navy's 14 Avenger-class minesweepers are designed to sometimes be invisible to the sea mine sensors that set off the explosives, while at other times they are equipped to act like a passing aircraft carrier or nuclear submarine.
Some mines are set to explode in response to changes in magnetic and acoustic fields, so the U.S. minesweepers all have hulls made of wood, glass-reinforced plastic or a combination of the two, Truver said. The amount of metal allowed on board is also tightly regulated.
"We try to match the magnetic field of the earth, so we are masked by the earth's magnetic field," Fuhrman said. "Almost everything that's on this ship … is non-magnetic. The engines are non-magnetic, all the way down to the grill in the galley is non-magnetic.
"We're not allowed to use wire coat hangers," he said. "If everybody on board brought 10 hangers, we'd kill our magnetic signature and we could actually set off a mine."
Sonar is the primary way potential mines are identified in the water when the Navy is hunting for explosives, according to the 2009 report, but explosive ordnance disposal divers, marine mammals, video cameras on mine neutralization vehicles and laser systems can also be used.
Divers can be brought in to detonate, disable or recover sea mines, according to Lt. Michael Bailey, an underwater mine countermeasures officer with MCMRON 7.
"That was a big lesson learned from the war on the ground in Afghanistan … to understand what the enemy is throwing at us and then we can better counter it," he said.
'A necessary tool'
Truver said less than one percent of the U.S. Navy's budget goes toward mine warfare, with $1.54 billion earmarked for that purpose in the proposed 2012 budget.
"Given the pressures on the budget, this is the best we're going to get," Truver said.
"Mine warfare – it's an insurance policy," Ryan said. "How much emphasis do you want to put on it to deter the bad guys?"
Plans call for the Avenger-class minesweepers now in operation to be replaced over the next 15 years by multifunction Littoral Combat Ships, 24 of which will be capable of being outfitted to carry out mine countermeasures in addition to other tasks.
The MH-53E helicopters being used for mine countermeasures will be replaced with the more up-to-date MH-60S helicopters.
Lineberry said the new ships, "will have different modules on board that will allow the Navy much more flexibility in its war-fighting in the future," and the new helicopters will employ "several different systems that will be decades newer than we are using today."
Mine countermeasures, he said, "are a big and growing business for the United States Navy right now."
---
---
---
---