U.S. airmen dismiss Uka's confession, apology
by
David Hodge Jennifer H. Svan
August 31, 2011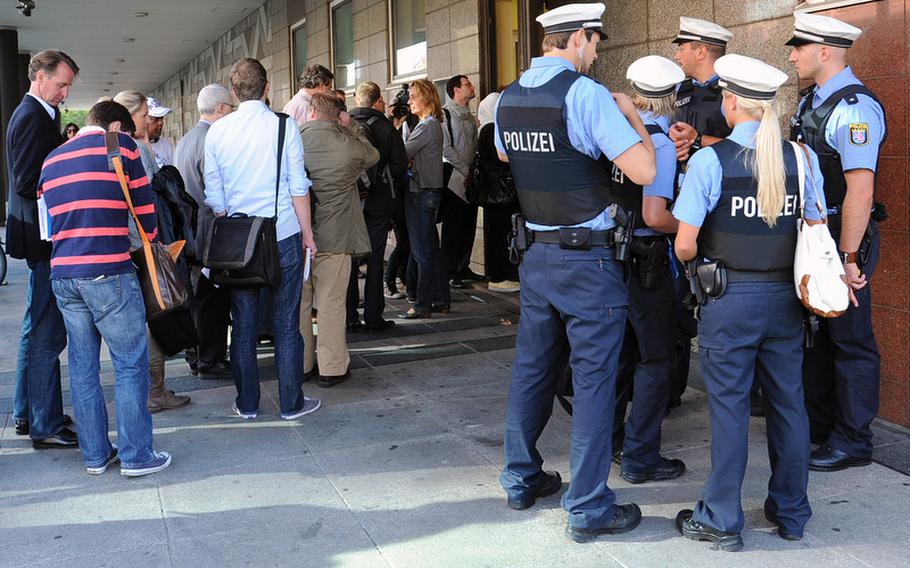 Arid Uka's emotional confession in German court Wednesday, in which he apologized for killing two U.S. airmen and wounding two others at Frankfurt Airport in March, elicited little sympathy from airmen at RAF Lakenheath, where one of the victims was stationed.
"I think he's trying to lessen the penalty," said Airman 1st Class Anthony George of the 48th Operations Support Squadron. "I think he should get life or the death penalty."
Uka, who law enforcement officials say confessed to the shootings soon after his capture, faces a possible life sentence if convicted, the most severe punishment in Germany.
Uka, a 21-year-old Kosovo Albanian, is accused of boarding a bus with U.S. airmen at Frankfurt Airport on March 2 and opening fire.
Killed in the incident were Senior Airman Nicholas Alden, 25, of Williamston, S.C., and Airman 1st Class Zachary Cuddeback, 21, of Stanardsville, Va. Alden was with Lakenheath's 48th Security Forces Squadron, while Cuddeback was assigned to the 86th Vehicle Readiness Squadron at Ramstein Air Base, Germany, and was the driver of the bus.
Two other airmen, Staff Sgt. Kristoffer Schneider and Senior Airman Edgar Veguilla, were wounded.
Master Sgt. Thomas Gallman, a member of the 748th Aircraft Maintenance Squadron, said Uka's confession "doesn't change the fact he did it. It's easy to say he's sorry after he did it."
It's hard to tell if Uka's statements in court are sincere, said Tech. Sgt. Leonard Campbell of the 48th Maintenance Group. "I have no idea how emotional his reactions are – if it's heartfelt. Who knows?"
The prosecution in Uka's trial has asked several airmen to testify as witnesses, said U.S. Air Forces in Europe spokesman Mike Kucharek.
USAFE, meanwhile, plans to have personnel from its legal office attend the trial to monitor the case, Kucharek said. Any airman, he said, may choose to attend the trial, which resumes on Sept. 14.
Several airmen and soldiers at Ramstein asked about the trial Wednesday didn't know it had started and hadn't heard that Uka had confessed and apologized in court.
The few who were following the trial declined to share their opinions, with one airman saying, as he quickly walked away, that the shooting at Frankfurt Airport was "too personal."
Airmen and soldiers at Ramstein, however, did talk about how the shooting has affected them, with most saying they're more vigilant when traveling off base, especially when going into Frankfurt or other large cities in Europe.
"You keep your head on a swivel; you try not to make eye contact too much, but at the same time, you want to keep your situational awareness," said Senior Master Sgt. Rodney Gaines, 42.
Gaines, who often travels around Europe as a member of the USAFE inspector general team, says even though airmen now use commercial transportation to get to Frankfurt – instead of the blue military bus targeted by Uka – pulling up to the terminal is still "a spooky moment."
In the wake of the shooting, U.S. forces in Europe took steps aimed at lowering the profile of its troops. Those steps included the Air Force suspending use of conspicuous blue buses to transport airmen to and from the airport.
"Being in that bus, you're a bunch of Americans … it definitely gives you a cause for concern," he said.
Most agreed the U.S. military is doing what it can to protect troops.
"You can only do so much. There's crazy people out there," said Tech. Sgt. Ryan Blume, 28, a member of the Air Force Security Forces assigned to Vogelweh.
"People know we're military, regardless if we wear a uniform," said Staff Sgt. Terri Smith, 27, of the 435th Contingency Response Group at Ramstein. "I think there are other things that make us stand out" as Americans.
In the days after the shooting, the U.S. military in Europe banned servicemembers from wearing their uniform off base, a policy that's since been relaxed some by individual service components.
USAFE and U.S. Army Europe members are now allowed to wear their uniform while commuting to and from work, officials said.
On Tuesday, USAREUR issued a new policy allowing unit commanders to permit their soldiers to wear their uniform to lunch at off-post restaurants, said USAREUR spokesman Bruce Anderson. Garrison commanders, however, can issue a stricter policy if they deem it necessary for security reasons, Anderson said.
While USAFE does not allow airmen in Europe to wear a uniform to public restaurants off base, it does allow airmen to wear their uniform off-base during essential stops, such as a gas station, while commuting, as long as they don't stay in the same place for more than 10 minutes, with the caveat that their stops aren't routine or predictable, Kucharek said.