Top senators call U.S. military plans in Japan unworkable, unaffordable
by
Erik Slavin
May 12, 2011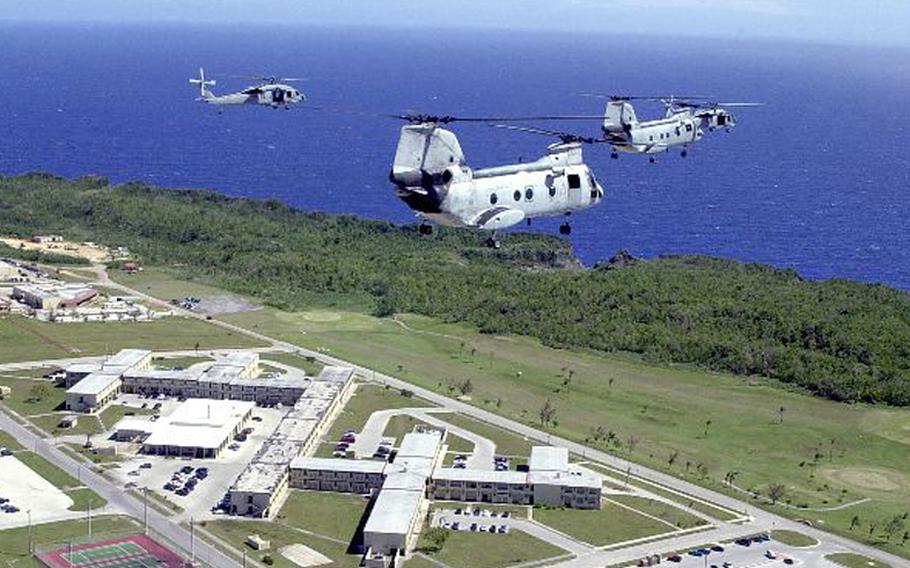 YOKOSUKA NAVAL BASE, Japan — Three influential senators called on the United States to drastically alter plans to move thousands of U.S. Marines from Okinawa to Guam and scrap other aspects of a 2006 U.S.-Japan realignment agreement, calling it "unrealistic, unworkable, and unaffordable" in a joint statement Wednesday.
The proposal issued by Carl Levin, D-Mich., John McCain, R-Ariz., and Jim Webb D-Va., would instead establish a headquarters in Guam and rotate combat units from elsewhere. The senators also called for the U.S. to abandon a proposal to build a runway at Okinawa's Camp Schwab to replace current operations at Marine Corps Air Station Futenma.
Okinawans have long called for Futenma's closing because of fears that it endangers the large civilian population living nearby, but have also fiercely opposed Camp Schwab's expansion.
The joint proposal also calls for postponement on the realignment of U.S. forces in South Korea, a billion-dollar plan that has been years in the making. The senators advocate freezing the move of thousands of U.S. Forces Korea troops at bases located between Seoul and the Demilitarized Zone to an expanded Camp Humphreys, south of Seoul. They also rejected the logic of allowing those servicemembers to bring their families to the country during their tours.
Levin and McCain are the highest ranking members of the Senate Committee on Armed Services and Webb, a former Marine and former Secretary of the Navy, is chairman of the Senate Foreign Relations subcommittee for East Asia and the Pacific.
Economic and political changes are driving the need to re-examine realignment, Levin said in the statement.
"The significant estimated cost growth associated with some projects is simply unaffordable in today's increasingly constrained fiscal environment," Levin said. "Political realities in Okinawa and Guam, as well as the enormous financial burden imposed on Japan by the devastation resulting from the disastrous March 2011 earthquake and tsunami, also must be considered."
What the senators planned to do about their opposition to current plans remained unclear late Wednesday. They cannot overturn international agreements or dictate Defense Department policy. However, they can influence the appropriations process and the defense budget, or seek President Barack Obama's cooperation in making the policy changes they recommend.
Levin's staff said he is considering legislative action, possibly tied to the annual defense authorization bill up for debate later this year, but no decisions have been finalized yet.
Webb said the recommendations were the product of years of study, as well as recent visits to Okinawa and Guam.
"I would like to emphasize that the recommendations we moved forward [Wednesday] are workable, cost-effective, capable of being implemented in a timely manner, will reduce the burden on the Okinawan people, and will strengthen the American contribution to the security of East Asia," he said in a statement.
Guam and OkinawaThe senators estimated that current plans would mean that 23,000 Americans would be moving to Guam around 2014, once family members for the 8,600 Marines moving from Okinawa are considered. That kind of population increase on an island of about 180,000 would require considerable off-base federal spending to improve infrastructure, according to the senators' statement.
Instead, the senators proposed rotating deployed units from other bases, citing Hawaii and Camp Pendleton in California as potential locations.
A Wednesday statement from Guam congressional delegate Madeleine Bordallo struck a cautious tone regarding the senators' proposal.
"A more transient presence of Marines, as the senators recommend, might reduce the number of family housing units needed, but it also would reduce the amount of [revenue] that would come from permanently stationed Marines on Guam," according to Bordallo. "The proposal also would likely reduce the number of military families on Guam and their important ties to our community."
Moving the Marines off Okinawa was the linchpin of a 2006 U.S.-Japan agreement to lessen the impact of the U.S. military presence on Okinawa, where U.S. bases take up approximately 20 percent of the island's land. The pact also included the plan to shutter Futenma and build a runway at Camp Schwab, in Okinawa's less populated north, which Webb derided Wednesday as unfeasible.
"This would be a massive, multi-billion dollar undertaking, requiring extensive landfill, destruction and relocation of many existing facilities, and in a best-case scenario, several years of effort – some estimate that the process could take as long as ten years," Webb wrote on his official website.
The senators instead called for the military to relocate Futenma's current Marine air operations to the nearby Kadena Air Base, which is owned by the Air Force.
Military planners have long panned that idea, saying relocating operations to Kadena would create a new set of problems.
The senators caught the Pentagon somewhat by surprise, sending a letter to Gates first but quickly following it with a press release, according to Defense Department spokesman Col. David Lapan.
"The perspectives of the senators, their release, doesn't change our commitment to our current plan to maintain a forward presence in the region that's geographically distributed, operationally significant and politically sustainable," he said.
However, given the new Japanese government and unpredictability of circumstances, Lapan said that all options, including Kadena, remain open.
"Since the mid- to late '90s we have held this position that we don't believe that it's a good idea," said Pacific Air Forces commander Gen. Gary North during a 2010 interview with Stars and Stripes. Moving those operations to Kadena would simply take the aircraft noise and potential for accidents and recreate them in the heavily populated Kadena area, he said at the time.
Webb said that the Air Force could make room by transferring some of its Kadena assets and ammunition dumps to Andersen Air Force Base in Guam.
Spokeswoman Cmdr. Leslie Hull-Ryde told The Associated Press on Wednesday that the Defense Department remained committed to its plans for Japan, reiterated in a May 2010 joint agreement between the two countries.
"These agreements are good for the people of Okinawa, Japan as a whole, and the U.S.-Japan alliance," she said. "After the relocation is completed, the average citizen of Okinawa will see and hear far fewer U.S. troops and aircraft than they do today."
South KoreaThe senators proposed halting ongoing construction to move thousands of troops within South Korea — a plan that has been more than a decade in the making — pending a strategic and financial review.
"We are not confident that the proposed basing realignment in Korea is proceeding from an operational posture that fits our future role in Korea and the region writ large," Webb wrote.
The senators recommended a "stringent review" to determine which missions in South Korea are redundant and whether others can be performed by South Korean troops.
They also called for greater congressional oversight of what they deemed as substantially growing expansion costs at U.S. Army Garrison-Humphreys in Pyongtaek, south of Seoul.
By 2016, the bulk of troops in and north of Seoul are scheduled to relocate to Humphreys, which will station 17,000 troops.
The senators also strongly criticized a plan to allow more troops in South Korea to live with their families on command-sponsored tours.
"There is an inherent contradiction in planning to increase the number of U.S. military family members in South Korea when there is the real potential that a destabilizing security situation in North Korea could unfold rapidly and unpredictably," according to a statement posted on Webb's website.
Many troops in South Korea, including much of the 2nd Infantry Division, have long served one-year unaccompanied tours.
Some bring their families unofficially to live near U.S. bases, sometimes paying out of pocket for substandard housing.
The 2008 decision to allow more command-sponsored tours was greeted warmly by servicemembers with families, though that was prior to North Korea's 2010 artillery shelling of a South Korean island and its reputed sinking of the South Korean navy vessel Cheonan.
U.S. Forces Korea commander Gen. Walter Sharp continues to support more command-sponsored tours. He told Stars and Stripes in February that he thought the chances of a large-scale attack on the South were remote.
"I'm very comfortable with what we're watching in North Korea," he said.
Under the realignment plan, about half of the 28,000 troops in South Korea would be able to bring their families, up from the roughly 4,400 troops currently allowed, military officials said.
U.S. Forces Korea and the U.S. Embassy declined to comment on tthe senators' proposal Thursday, referring all questions to the Pentagon.
Stars and Stripes reporters Leo Shane III and Kevin Baron contributed to this report from Washington.