Three Marines, two IEDs and a lot of luck
By
rabiroffj@pstripes.osd.mil Jon Rabiroff
November 24, 2010
---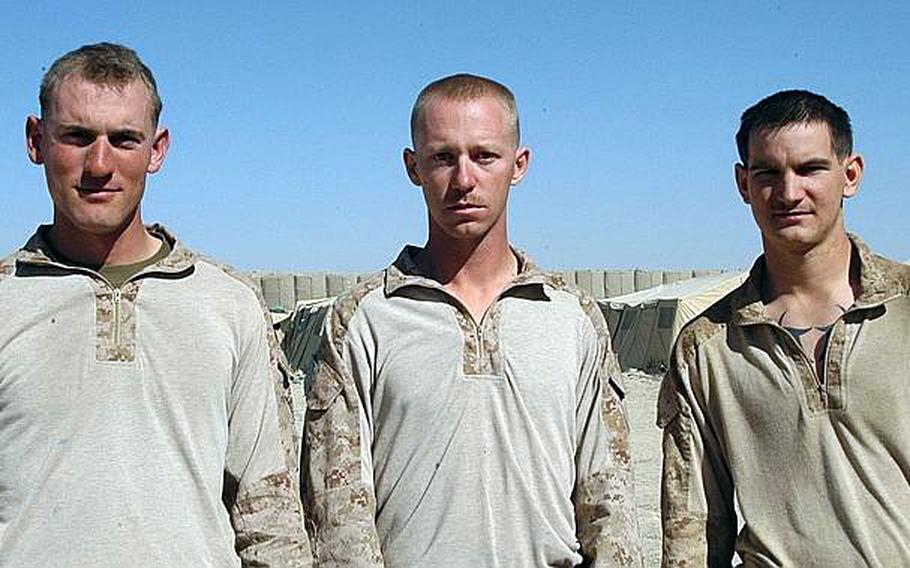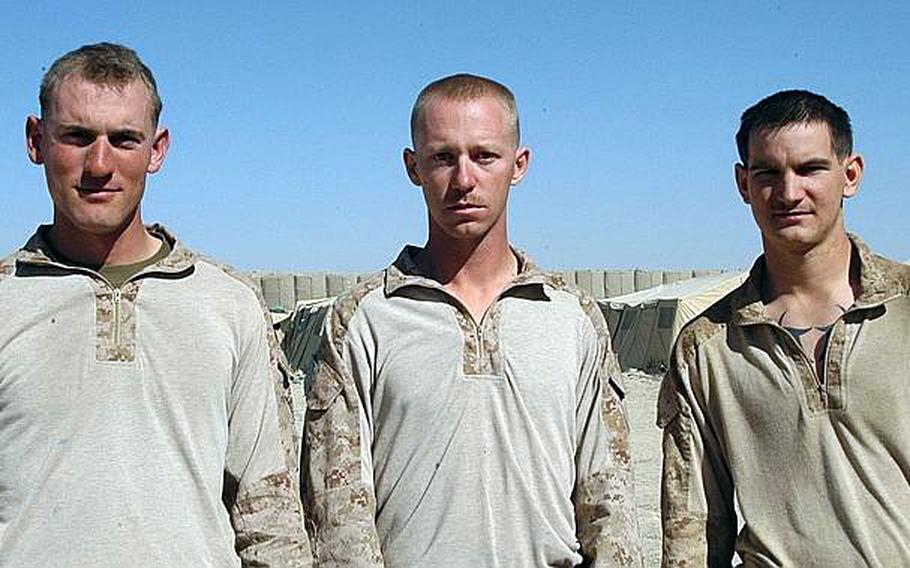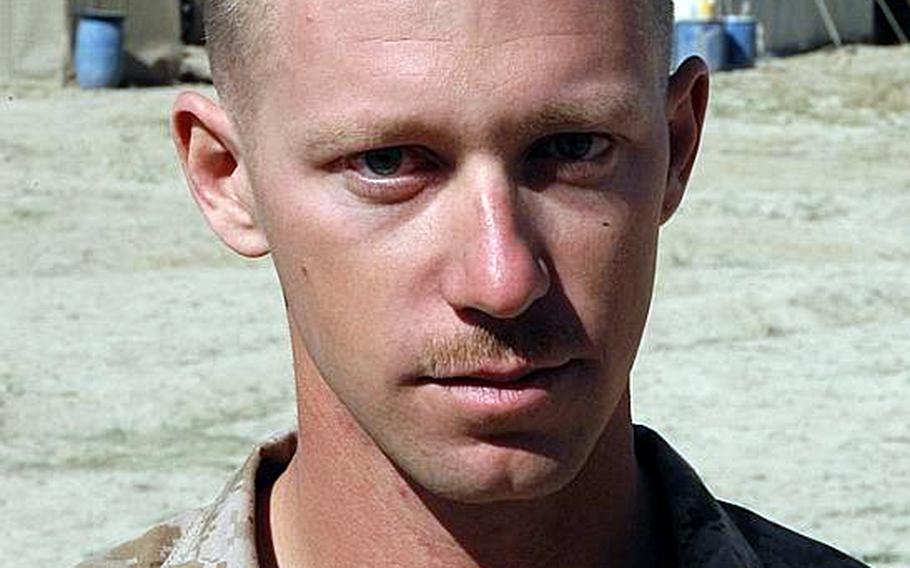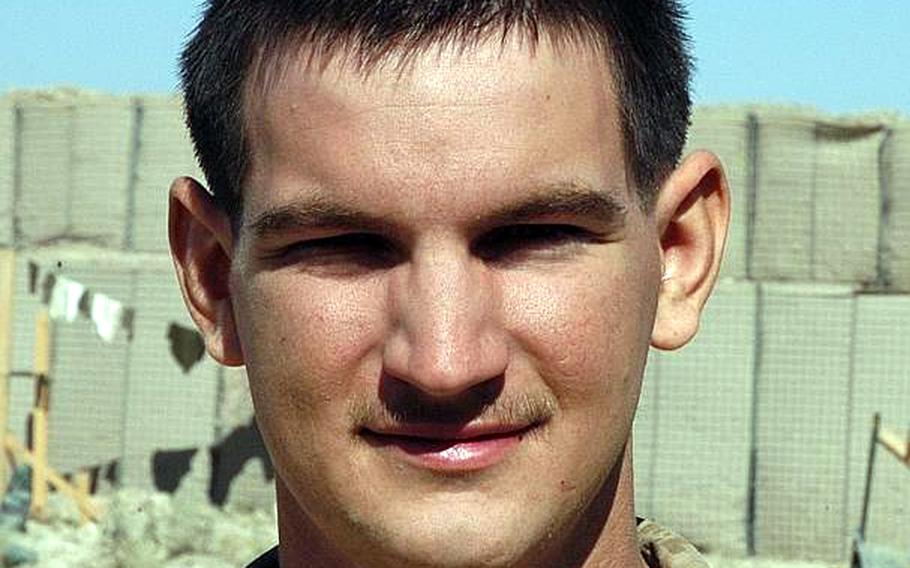 GARMSIR DISTRICT, Afghanistan — Cpl. Kenneth Bowles stepped on an IED late last month patrolling near a mosque.
Sgt. Thomas Hopman was standing right next to him. Sgt. Tyler Richards stepped on his IED on Nov. 10.
But the obituaries for the three members of the 2nd Battalion, 1st Marines' Company E will have to wait.
They all walked away from their close encounters of the worst kind without a scratch. The improvised explosive devices were essentially duds.
"I definitely believe that somebody's watching over me," Richards said.
Bowles, 22, of New Lenox, Ill., a motorcycle enthusiast, said after the blasting cap and about a quarter of the IED exploded, "I remember looking down and making sure I had my legs … and I was, like, in a dust cloud, so I knew no one could see me. So I just started yelling, 'I'm fine, I'm fine,' and then everybody was looking at me, and we all just laughed."
Hopman, 27, of Chicago, a home-brewer of his own beer, said, "It was just by pure luck that [our IED was made by] one bad terrorist."
Encountering such duds is rare — even more so to have two instances in the same company so close together, said Staff Sgt. Bryan Carter, the explosive ordnance disposal team leader for Company E.
"A lot of these guys are lucky to [come] away as double-amputees after these IED attacks," he said. "That's kind of the best-case scenario for a lot of these."
Carter said the IEDs in Afghanistan are homemade with cheap materials.
"Sometimes low-budget stuff doesn't work," he said. "And, with any homemade [device], a lot depends on who makes it and whether they're doing it right or wrong.
"It was just a lucky day for those Marines, really."
Richards, 24, of, Temecula, Calif., an avid Los Angeles Dodgers fan, was patrolling with his unit near a village in southern Garmsir district when he stepped on what he immediately thought was a pressure-plate IED, "because I felt a squish underneath my foot."
"That's when the insurgent pulled the kite string and tried to activate the IED," said Richards, a squad leader for the weapons platoon "But the … cord was bad and it didn't explode the right way."
Instead, only the blasting caps on the explosive beneath Richards' foot and another nearby — tied to the same string — went off, making a sound he compared to that of an M-80 firecracker. "
Some dirt popped up a little bit, but it wasn't too bad," he said. "I tried not to look like I was freaking out, not only so my Marines wouldn't think I was scared but so the Taliban wouldn't know I knew where the IED was."
The assailant, who was about 50 yards away, disappeared into a crowd and was not caught, he said.
This was not Richards'first experience with an IED. In Iraq in 2007, he was riding in a Humvee that ran over explosives, leaving one dead and three others injured. He was sitting behind the driver and escaped without injury.
After the scene of the recent IED incident was secured, and what was left of the explosive was taken care of, Richards said, "Everybody was kind of freaked and happy at the same time. Thirty minutes after the incident, we were laughing and having a good time.
"They said, 'Sgt. Richards, you're one lucky bastard.' "
Bowles and Hopman, both of Company E's 3rd Platoon, were on patrol when they came upon a line of rocks in the road — a warning to the locals to avoid the area.
"We were immediately going to set up a cordon … sweep the area and see if we could clear it out," Hopman said. "As I was calling up the team leaders to give them direction … Cpl. Bowles walked up, stood right next to me, stepped on a pressure plate and it went off."
Bowles said, "When I stepped on it, my foot sank a little bit and you could just feel it. The pressure plate that I actually stepped on got blown out from under my foot and shot left."
Hopman said, "There was a boom. . . . We all disappeared in a cloud of smoke.
"There was the immediate pucker factor of, 'Holy [cow], what was that?' You kind of do the: 'My legs are still there. I'm not missing anything.' And you go on about your business, because you can't really stop to think about it … because other things could happen."
The unit braced for a Taliban ambush, which often follows an IED blast, but there was none.
"The dust settled, and we kind of regained our composure, because everyone was pretty rattled at the time," Hopman said. "It was definitely an eye-opener."
The area around the small blast was searched and five more IEDs were found.
Hopman said he was told by Marine explosive experts, "They were probably trying a new batch of HME (homemade explosive) that didn't work as it was supposed to in that one IED, so we got very lucky that they decided to change it up at the wrong time.
"It kind of brought back bad memories," he said, referring to an IED blast in Iraq in 2005 in which no one was injured. "I was just far enough away that I wasn't injured, but it knocked me on my butt and kind of rattled my brain."
The three Marines say their IED experiences will not change the direction of their lives, other than to make them a little more careful when they are outside the wire. They are aware that another — more tragic — IED encounter could still just be one step away.
"I thought to myself, 'Well, they didn't get me this time,'" Richards said. "I definitely think it could happen again. Anything can happen. I don't really want to dwell on it too much. I've just got to do my job."
"It's just a fact of being out here," Hopman said. "I think I just got lucky twice. Hopefully, third time's not a charm."
---
---
---
---